Vietnamese in Spokane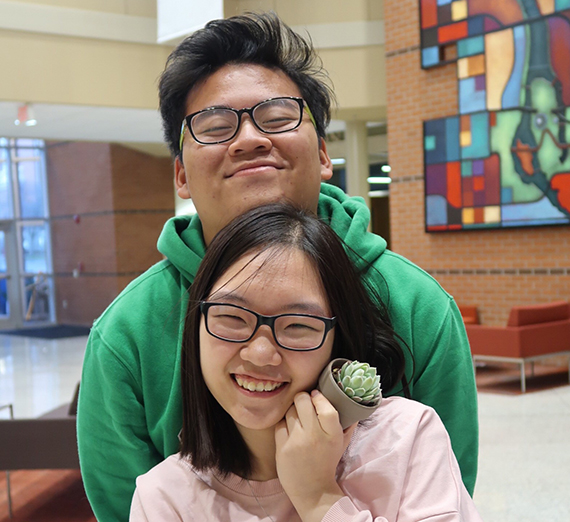 ---
Minh Anh Tuong and Duc Hoang both hail from Vietnam, but they met in Spokane. Each was drawn here for the dual high school diploma and associate degree program at Spokane Falls Community College, and then were heavily influenced by Zag fans – their American host families – to attend Gonzaga.
Minh Anh (pronounced "Mihn Ahn"), from Vietnam's capital city, Hanoi, arrived in 2016 and started her schooling at the Falls in winter. "There was lots of snow and I'd never seen it before. I was so excited to build a snowman and have a snowball fight," she says.
She also enjoyed Gonzaga basketball, thanks to her host family, which also suggested she consider GU for her bachelor's degree. She's currently majoring in biology with a minor in psychology. She says, "The deeper I go, the more I want to do something with people or education."
Duc (pronounced Duke) is from Ho Chi Minh City, and says studying abroad was his dad's idea.
The double-degree program at SFCC is offered at only select schools across the nation and they chose Spokane. Since arriving at Gonzaga, Duc has switched majors from biology to biochemistry and hopes to attend graduate school for a career in pharmaceutical research.
"My host mom was like, 'Why do you want to go away when we have a great school here?'" says Duc. He attended events, observed classes and explored Gonzaga's Center for Global Engagement. "I applied and decided to go here. I like the small class size, the more cozy environment because it's not a very big school."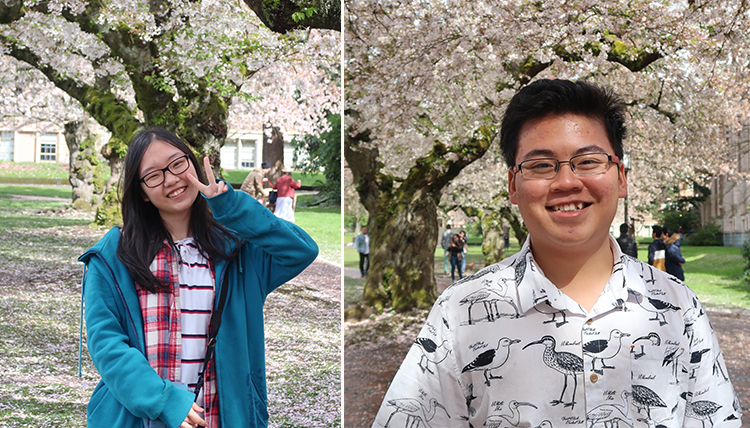 Coming to America after the 2016 Election
Following the January 2017 presidential inauguration, the new administration introduced tighter immigration policies, creating added stress for students like Duc and Minh Anh.
"There was a big thing in Vietnam about Trump being elected and people were worried that we couldn't get here," Duc says. Minh Anh adds, "We knew numbers of international students would really drop, and we were worried."
But Duc says he didn't have troubles getting his visa, and his host family also included an international student from China.
Both are grateful that in Spokane, "People treat international students well, compared to what we've heard from others," says Duc, whose brother went to England and encountered subtle but regular experiences of discrimination and microaggressions. "That was a tough time for him. Fortunately, I don't think I've had a lot of those experiences here in Spokane or places where I had visited in the U.S."
Cultural Advice
That said, Duc and Minh Anh say there are things people can do to be more welcoming to Asians.
"I'm really happy with my experiences" says Minh Anh, "so it's just really a minor thing, and I believe people are not doing it intentionally, but we notice." An example: Ask again if you do not understand what your international friend is trying to say and be patient as they attempt to explain it., she suggests.
Ask "Which country are you from?" instead of making assumptions.
Minh Anh recalls a time a man started speaking Chinese to her. She said she didn't speak Chinese, and then he asked if she talks Cantonese and Mandarin and other Chinese dialects. "It was super disrespectful," she says, especially because sometimes relationships between Asian countries can be tense.
Here's another tip: Ask how to pronounce their names – and ask again if you forget.
Many international students select an American name, either because they believe it's more acceptable, or because they know people will struggle with saying their real names.
"I used to have an American name, then I decided, nah, it's not worth it," says Duc. "And my host family said, 'no we want to learn how to say your real name because it is a part of your identity and you should be proud of it." Minh Anh says.
Minh Anh's name can sound harder to pronounce than it looks. She says, "It's important to show effort. I appreciate when people try to remember my name and say it right. My research partner and professor say, 'Teach us how to say your name right. Fix me whenever you want to.'"
Sometimes Americans resort to shortening a name they find difficult to say, but this shouldn't be done without asking. As an example, the result of abbreviating Minh Anh's name is to call her "brother" or to call her by her father's name.
Duc says he feels international students should be more lenient about the pronunciation, but also suggests that people who really want to learn international students' names can ask how they would be spelled phonetically.
For Minh Anh, the desire for understanding about some of these things is another outcome of COVID. "One year of COVID time equals not having a lot of social interactions. I couldn't make as many friends," she says.
The couple is looking forward to getting to know more people as students return to campus this fall. They're planning some fun videos to show off the cooking and baking they like to do at their apartment, and they might just share which local restaurant makes the best Pho.
They also love having dinner with friends and playing board games and ping pong. They're hoping to have the chance to do some paddle-boarding before summer is out.
Be sure to follow @GonzagaU on Instagram to see the duo sharing their stories.
Learn about services for international student admission: