J. Thomas Kearns Receives Prestigious Goldwater Scholarship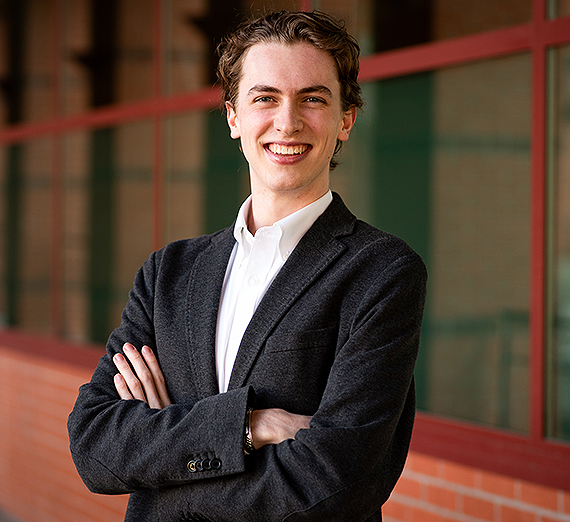 ---
SPOKANE, Wash. — J. Thomas Kearns, from Salt Lake City, Utah, a double major in psychology and communication studies at Gonzaga University, is the recipient of the 2021 Goldwater Scholarship, an award presented to 409 outstanding college scholars nationwide who were judged to have scientific preeminence.
Named for former U.S. Sen. Barry Goldwater of Arizona, the 1964 Republican presidential nominee, the scholarship is sponsored by the Barry Goldwater Foundation as well as the Department of Defense and is presented to college students entering their junior or senior years, with the goal of helping the United States maintain its global competitiveness and security by further developing scientific talent.
Entering his senior year, Kearns has a research concentration with an interest in better understanding the human mind and behavior under human-computer interaction.
"When people hear human-computer interaction, they think 'user experience' or 'user design'," says Kearns. "What I see is how technology is changing the way we communicate, the way our minds function, and what this means for human connectedness."
He is conducting research with several faculty members. Associate Professor Sarah Arpin, Ph.D., supports studies in social media use and human relationships in the Social Emotions Relationships and Health Research Lab. In the Cultural Psychology Lab with Professor Vinai Norasakkunkit, Ph.D., Kearns studies perceptions of control and attitudes toward climate change. Assistant Professor Alexander Bies, Ph.D., in the Visual Aesthetics, Perception and Individual Differences Lab, has also mentored him throughout his undergraduate career.
Kearns worked with Bies to evaluate the issue of missing data in psychological science and its implications on other broadening fields. The project was used in the application for the Goldwater Scholarship. Its implications focus on how researchers can make more reliable conclusions and results between variables when controlling for missing data from people who do not answer questions on surveys.
"When you delete participants from a data set because of their incomplete responses, you are changing and theoretically pulling a new sample," says Kearns. "This becomes problematic when clinicians or other social scientists delete or do not know what to do with missing data at larger quantities, and it would be unethical to delete larger quantities of participants from a sample who have a lot of missing responses/values."
Kearns has also been doing research and working on a paper with Associate Professor Heather Crandall, Ph.D., through a Jesuit Mission Fellowship, looking at how people create their own perceptions and narratives around artificial intelligence.
"He quickly understands complex ideas and their implications, and he loves to get lost in his studies," Crandall says. She observed his passion for learning as he presented on two topics of his original research at the Spokane Intercollegiate Research Conference — one on the intricacies of handling data ethically, and one on how a popular film offers a balm for cultural anxieties related to artificial intelligence. "He is sensitive, intelligent, honest, compassionate, and driven to learn as much as he can," Crandall says.
This spring, Kearns received a Civic/Wolff Fellowship to partner with Priority Spokane to address violence and trauma in the household, and how to address these problems in a more approachable way. This award will aid his work with the organization throughout his senior year.
Learning is Kearns' passion. He attended middle school at the Madeleine Choir School in Salt Lake City and performed in a choir modeled after the Westminster Boys Choir in England, traveling throughout Europe to sing in such places as the St. Peter's Basilica in Rome, the Duomo di Milano in Florence, Italy, and Notre Dame Cathedral in Paris.
"We also visited the Vatican and heard the pope speak. At the time I didn't realize that my experiences were developing my own character. Experiences like singing in grand cathedrals, and feeling the inside walls of a concentration camp in Austria, were (among) those that changed my perspective on the world and how we must strive to adopt and understand a global perspective on what it means to be human," Kearns says.
Those experiences turned into Kearns' college essay in applying to Gonzaga in 2018. He was admitted and he accepted sight unseen. "The first time I stepped on Gonzaga's campus was when I came for orientation. The sky was blackened with smoke from raging wild fires in the area. My first thought was, 'What the heck am I doing here?' Then I met the people here and I thought it was the best decision I ever made."
Kearns will pursue doctoral studies in psychology and communication following his senior year, he says, "striving to understand who we are and what we are building for ourselves and the world, especially with our newfound set of technological relationships and what that means in how we relate to each other."
Background
Kearns served as editor-in-chief of Gonzaga University's Reflection publication, and as president of the Psychology Club. He is a member of the National Honor Society of Jesuit Institutions of Higher Education, Alpha Sigma Nu, International Honor Society in Psychology, Psi Chi, and Lambda Pi Eta of The National Communication Association. He spent eight years as a competitive swimmer, and six years on a water polo team that competed in the Junior Olympics. He served a summer internship at the University of Utah doing psychophysiological research in the Child Adaptation and Neurodevelopment (CAN) lab and will attend a workshop at McGill University's Department of Psychiatry in the Social and Transcultural Psychiatry Division this summer.