Gonzaga's 2014 Graduates Shine with Many Gifts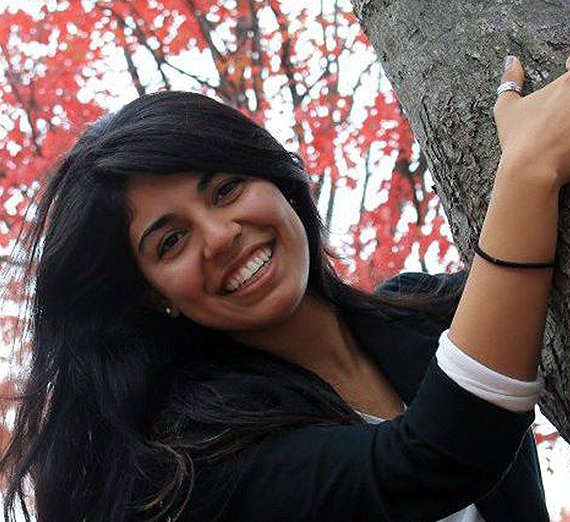 ---
(Above) Mariel Rodriguez
Gonzaga News Service
SPOKANE, Wash. — Following is a glimpse of some of the many outstanding students who graduated during Gonzaga's 121st commencement exercises May 9-11.
Jeff Rutherford, Storyteller Extraordinaire
Jeff Rutherford, an English major chosen to address classmates at Gonzaga's undergraduate commencement on Sunday, May 11, understands better than most that "all the world's a stage," as Shakespeare famously wrote. Rutherford, who says he has always been a writer, has played a major role in theater at Gonzaga on campus. During his sophomore year, he attended a Gonzaga University Theater Sports (GUTS) practice and discovered his passion for the arts. He teamed with classmate Michael Barfield to develop "Boone Street Hooligans," a sketch comedy that sold out its first show in fall 2012 and remains popular. In September, the group performed at the Sketchfest Seattle Competition. Rutherford's first full-length play was "Frozen Dinner," staged in fall 2013. With the support of seven actors and the Gonzaga community, the play became a campus hit. "People were endlessly supportive, and I was brought to tears after one of the shows because I was overwhelmed by the power of love and people's generosity of spirit," he said. Finally, Rutherford wrote and directed the short film "What They Bought" last month, shot by classmate and broadcast major Andy Bayley. Rutherford plans to continue writing and creating stories through words and film. "I'm thrilled by the idea of telling stories, making movies, and collaborating with other artists for the rest of my life, but I'm equally thrilled by the prospect of my life being pulled in a direction I've yet to imagine," he said.
Mariel Rodriguez: Person for Others
Mariel Rodriguez is a triple major, Gates Scholar, and a first-generation college student, and the achievements for her are just beginning. This fall, she will attend graduate school at Columbia University to pursue a master's degree in sociomedical sciences, a discipline that focuses on the social determinants of disease and health, including factors such as discrimination, stigma, and poverty. It's a career path much different than what she had envisioned as a freshman. "I always dreamed of being a doctor when I was young. Probably midway through my second year at Gonzaga I realized that I didn't know if that was the right thing for me, even though I knew I was super passionate about health," said Rodriguez, from Moses Lake, Wash. This realization led Rodriguez to the study abroad experience of a lifetime — studying public health Southern India, Argentina, and South Africa through the prestigious International Honors Program. The program teaches students about the influence of culture, community, and globalization on people's health. The program also will allow Rodriguez to continue her passion for studying abroad and a certificate in global health. She will spend six months abroad in a Third World country looking at some determinants of health. Rodriguez says Gonzaga has truly taught her how to be a person for others.
Amy Doneen: First Graduate of Gonzaga's Doctor of Nursing Practice Program
Amy Doneen, an international thought leader in cardiovascular disease risk assessment and treatment with a focus on women's heart health, is the first graduate of Gonzaga's Doctor of Nursing Practice program. She is the owner and medical director of the Heart Attack & Stroke Prevention Center in Spokane, and co-founder of the Bale/Doneen Method of heart attack, stroke, and diabetes prevention. Doneen has given more than 600 presentations to medical groups worldwide since 2002. She previously earned from Gonzaga a Bachelor of Science in Nursing, a Master's of Science in Nursing, and an Advanced Registered Nurse Practitioner degree (summa cum laude). Amy returned to Gonzaga upon the opening of the Doctor of Nursing Practice Program in 2012.
The Doctor of Nursing Practice Program aims to deliver clinical practice leaders who practice and live as people for others. The program, part of the nursing department in Gonzaga's School of Nursing and Human Physiology, develops students who serve as champions of change within complex healthcare systems. Doneen is a shining example of someone who lives out this mission and affects the healthcare industry for the better.
The program offers a Post-Master's DNP pathway and a new Post-Baccalaureate DNP pathway, which has Family Nurse Practitioner, Adult/Geriatric Nurse Practitioner, and Psychiatric Mental Health Nurse Practitioner tracks.
ROTC Officer to Commission Wife
Zach Ogorek, a 2013 Gonzaga honors alumnus and commissioned officer in the U.S. Army, had the honor of commissioning wife Briana Ogorek as an officer during the ROTC Commissioning Ceremony. Zach met Briana, an international relations major, in Gonzaga's ROTC program in the first week of her freshman year. "The first time we talked was after a 10K ruck march and I just remember thinking 'OK, if he's talking to me when I'm like this, then he's a pretty cool guy,' " Briana said. They started dating a month later and backpacked together through Eastern Europe in the summer after her freshman year. Zach visited Briana in Paris during her sophomore study abroad experience. He proposed in the Luxembourg Gardens in Paris and they were married May 18, 2013 at St. Aloysius Church — where Zach commissioned Briana an officer on May 9. Now they will take a late honeymoon in Greece. Then Briana will train in South Carolina before joining Zach in Fairbanks, Alaska where they will both be in the U.S. Army Finance Corps. Briana's ROTC experience also took her to Tunisia where she spent a month teaching English to members of the Tunisian military. "Being in ROTC at Gonzaga has definitely shaped who I am today," she said. "I have made amazing friends over the past four years that I'm sure I'll stay in touch with."
Honors Student Tucker Keuter Finds Harmony in Math, Music
Tucker Keuter has accepted a full scholarship to the Ph.D. program in biostatistics at the Medical College of Wisconsin, in Milwaukee.
Tucker Keuter, who conducted Gonzaga's band during men's basketball games and played trombone for the women's games, has always had an affinity for mathematics and music. The twin pursuits have brought success and personal harmony to the senior honors student from Albany, Ore., who has accepted a scholarship to the Ph.D. program in biostatistics at the Medical College of Wisconsin, in Milwaukee. "I'm really excited," Tucker said. "It's a full ride with a stipend for living expenses." When Keuter came to Gonzaga four years ago, he began a double major in biology and music composition — planning to go to medical school and become a physician. Instead, his love for math led him toward a double major in math and economics.
To satisfy his musical passion, he has played in Gonzaga's band for four years. In addition, he played in Gonzaga's Jazz Combos and Jazz Ensembles, which offered an ideal performance outlet for math, science and engineering majors (students of all majors are welcome) who love music.
"You see a lot of people coming in (to Gonzaga) who had success in math and physics in high school so they are becoming engineers or quantitative scientists, but they are still wanting to continue music because it's fun and they get a lot of pleasure out of it," Keuter said. "They want to keep playing but they don't want to do it as a career — they want to do, for example, math or engineering as a career." Music, he said, is both an art and a science. "There's this correlation between doing music and being good at math," he said. "There are studies out there that say success in both goes hand-in-hand."
Keuter aims to eventually teach in college. First, however, he wants to gain experience in the real-world application of biostatistics. Doing so, he believes, will make the material he teaches far more accessible to students.
Lauren Ferguson Develops Original Research
Lauren Ferguson's presentation of original research at the Spokane Intercollegiate Research Conference last month was the product of a year's work.
A sociology major, Ferguson presented her research findings on the children of divorced parents in a presentation titled, "Two Negatives Equal a Positive: Exploring How Middle-Class Young Adult Children of Divorce Benefit in Relationships." Her study focused on how children of divorce use their experiences to improve their own intimate relationships.
"The typical lessons came down to seeing the relationships they wanted to avoid," Ferguson said. "They learned that they wanted more time before marriage and moving in together, less time at work, more family time, better communication and honesty."
Ferguson, who began working on the project almost a year ago, interviewed 10 women and four men between ages 18-22. She found that a family's financial strength plays a major role in how children move forward from a divorce. The majority of her subjects came from middle- to upper-middle-class backgrounds that allowed them to grow up in environments where they could learn from divorce. She found that a key benefit of children living in dual households was they understood both parents' perspectives.
Ferguson plans to earn a master's in sociology at Portland State University and will continue to conduct research and possibly teach.
Alanna Archer Found Her Passion in Classical Studies
Alanna Archer, a double major in classical civilizations and political science with a minor in international relations, will combine her three degree disciplines to pursue a master's degree in ancient history at the University of St. Andrew's in Scotland — one of Britain's top universities. The native of Issaquah, Wash., who has completed two theses this year, aims to eventually pursue a Ph.D. in either ancient history or museum studies. "I plan to either become a college professor or a museum curator, though I have a preference for teaching," she said. Archer took part in the 2012 Gonzaga-in-Turkey study abroad program and found her passion at Gonzaga, the story of the ancient world, said Andrew Goldman, associate professor of history and chair of classical civilizations. Archer was involved in many clubs at Gonzaga, including GEO, Boundless and the Residence Hall Association, and served on the executive board for both GEO and RHA. In addition, she taught ballroom dance through Boundless for a year and a half.
Student-Athletes Achieve
Men's soccer player Nick Hamer and women's basketball player Haiden Palmer were honored April 28 as Gonzaga's Male and Female Senior Athletes of the Year, respectively, at the annual Evening of Excellence awards ceremony. Basketball player Drew Barham and rower Naseeb Bhangal are the Male and Female Scholar Athletes of the year, respectively. Baseball pitcher Karl Myers earned the Leadership Award, and baseball and women's soccer teams share the championship of P.R.I.D.E., a friendly competition among Gonzaga's 16 varsity athletic teams to promote fellowship, community service, and academic achievement.
Also, 20 student-athletes were inducted into Gonzaga's chapter of Chi Alpha Sigma, the national college athlete honor society. The following seniors inducted into Chi Alpha Sigma have maintained a minimum 3.4 cumulative grade-point-average while earning a varsity letter: Sarah Atkins, rowing; Drew Barham, basketball; Krista Beyer, cross-country and track; Naseeb Bhangal, rowing; Brian Bhaskar, basketball; Meghan Blanchet, cross-country and track; Michelle Davis, cross-country, track; Scott Davis, cross-country, track; Emily Eckmann, soccer; Brent Felnagle, cross-country, track; Muzeen Ismath, tennis; Madison Keaty, rowing; Joe LaMontagne, cross-country, track; Malori McGill, rowing; Pablo Mosquera-Perez, tennis; Karl Myers, baseball; Ali Ohashi, soccer; Andrew Owenson, soccer; Jordan Schroeder, rowing; Jennifer Wheeler, cross-country, track.
Hamer was named the West Coast Conference men's soccer Player of the Year this past season for leading the Bulldogs to a third-place WCC finish, their highest since 2008. A two-time All-WCC first-team selection, he was a second-team pick as a sophomore and was named to the WCC All-Freshman team in 2010.
Palmer was named an Associated Press All-America honorable mention this year, ending her career as a three-time All-WCC selection. She was named the 2012 WCC Newcomer of the Year and the 2013 WCC Tournament Most Outstanding Player. She was the 29th overall pick in the 2014 WNBA Draft, selected by the Indiana Fever.
Barham joined the Gonzaga men's basketball team in 2012 as a University of Memphis graduate. He volunteered at numerous events and attained a perfect 4.0 GPA twice in his four semesters at GU while earning a master's degree in organizational leadership. He appeared in all 35 games for the Bulldogs this past season. Known for his 3-point ability, he went on three goodwill tours with Athletes in Action, including last summer's tour to Lithuania. He was nominated for the Lowe's Senior Class Award and the 2014 Allstate NABC and WBCA Good Works Teams for his efforts on and off the court.
Bhangal, a double major in psychology and political science, earned a 3.95 GPA and received President's List honors every semester. She was inducted into the Gonzaga chapters of Alpha Sigma Nu, the Jesuit Honor Society, and the Gonzaga Multi-Cultural Honor Society, and completed Gonzaga's Comprehensive Leadership program.
Myers graduates with a degree in physical education and a 3.46 GPA. He has been on the Dean's List three times and the President's List twice. During his five years on Gonzaga's baseball team, Myers pitched 33 innings and spent countless hours supporting community outreach initiatives. He exemplifies the Jesuit philosophy of service.
Women's basketball seniors Jazmine Redmon, Stephanie Golden and Danielle Walter earned their degrees and walked in the Undergraduate Commencement May 11 at the Spokane Arena. Their junior teammates Sunny Greinacher and Lindsay Sherbert also earned their undergraduate degrees and took part in the ceremony.
Kevin Downs to Deliver Law School Student Response
Kevin Downs, the student speaker at the Gonzaga Law School commencement on Saturday, May 10, has accepted a judicial clerkship with the Montana Supreme Court starting in August. A native of Helena, Mont., and graduate of Carroll College, Downs spent nearly two years in Belfast, Northern Ireland, managing a L'Arche community for adults with disabilities. He then moved to Trujillo, Honduras, where he worked for nearly three years as an adolescent program coordinator for a Catholic orphanage run by the Franciscan Sisters of Central American. He returned to Montana in 2008 and worked for the Montana Department of Justice before choosing to attend Gonzaga Law School as a Thomas More Scholar. During law school, he was a member of the Gonzaga Law Review and participated on the Phillip C. Jessup Cup Moot Court Team in his second year and the National Moot Court team this past fall; both teams were regional semifinalists. Downs also worked for two years as a law clerk at the U.S. Attorney's Office in Spokane. He spent two months last summer working for the International Institute of the Bay Area in Oakland, Calif., where he helped crime victims. In addition, he worked as a graduate assistant for the Gonzaga University Institute for Hate Studies, and has completed five ultra-marathons — among many other accomplishments.
Engineering Graduates Receive Cheers
Gonzaga cheerleaders Becca Ryan, from Denver, and Cat Truong, from Spokane, were in the somewhat unusual position of receiving cheers instead of leading them when they graduated. Truong received an electrical engineering degree while Ryan earned a degree in civil engineering. They have heard all the clichés about cheerleaders, but these Zags — outstanding students — smash that stereotype. "We're as intellectual as anybody else," said Ryan. "By no means do we have a stereotypical 'dumb cheerleader,'" said Sam Wyss, a junior cheerleader and philosophy major from Denver. "We have a lot of really intelligent girls and guys." Truong and Ryan say cheerleading has provided a welcome complement to the rigors of their studies, and opportunities to engage with students with diverse academic pursuits and interests. For students to get the most from Gonzaga, they must take advantage of the many rich experiences beyond academics that add so much texture to their lives, they say. "It's not just about academics," Ryan said. "You are coming here to find out who you are. I wouldn't be the person that I am without this team."
More Power to Suriname
The Gonzaga School of Engineering and Applied Science is improving the Suriname power grid. Several engineers from Suriname Energy, the national power utility in Suriname, South America, have taken courses in Gonzaga's online power engineering program. Four of the Suriname engineers completed their master's of engineering in transmission and distribution degrees and took part in the ceremony. The graduates — Shung Tak Chan, Claudia Veldkamp, Robert Pancham and Fornelio Forster — say Gonzaga's program has had a significant impact on the Suriname power grid and will help them plan better for the country's future power needs. The Suriname engineers are the first international students to graduate from the program, which also includes engineers from Europe, Africa and Asia. Gonzaga's online courses have allowed international students to build networking relationships with engineers throughout North America.