UW School of Medicine-GU Health Partnership Celebrates 'Topping Off'
A Construction Milestone: Final Beam Placed on New Medical & Health Education, Research & Innovation Center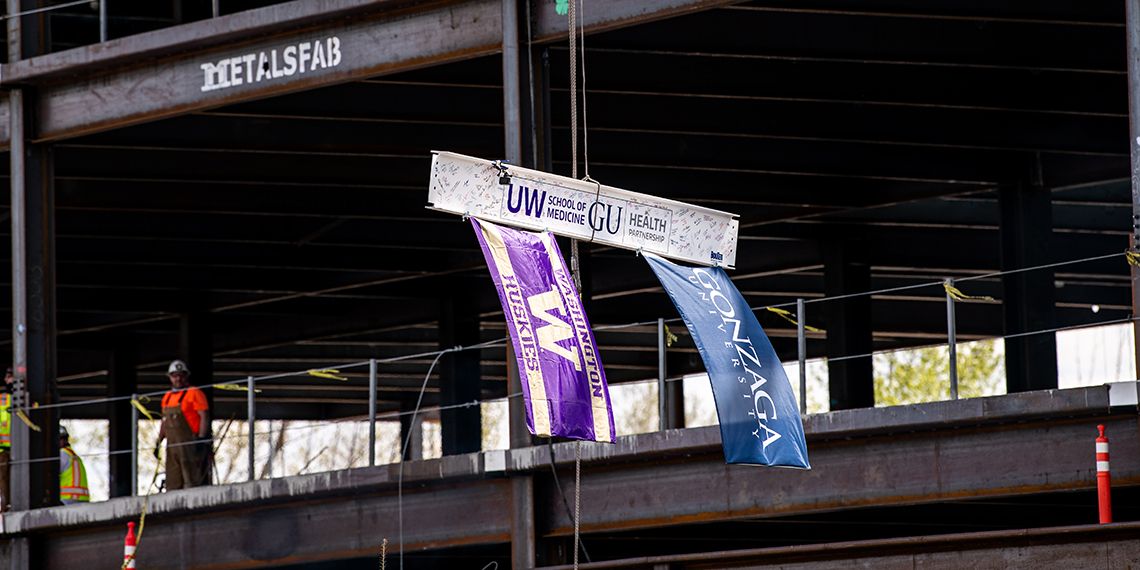 SPOKANE, Wash. — A construction milestone was reached this week when the final structural beam was placed, "topping off" the building that will become the new home for the University of Washington School of Medicine-Gonzaga University Health Partnership's medical and health education, research and innovation center.
The new four-story building will feature classrooms, an anatomy suite, research labs and administrative offices. These will be utilized by 120 first- and second-year UW medical students, faculty, staff and more than 500 undergraduate students from Gonzaga's health sciences programs. Construction is on schedule for the building's completion in July 2022.
The "topping off," which is a builders' rite that marks the completion of a building's structure —specifically the placement of the final steel beam at the highest point of the structure — took place atop the new 90,000 square-foot building under construction at 840 E. Spokane Falls Blvd. The building will house the UW School of Medicine Spokane and Gonzaga's Department of Human Physiology as well as undergraduate courses in nursing and health sciences.
"We think in terms of building places that matter," said Bill Bouten, president of Bouten Construction Company, general contractor. "When you think of the impact that this facility will have with medical education and the preparation of these students to go out and serve our community with a focus on rural health, it has purpose and meaning."
Prior to its placement on the structure, the 12-foot final beam was signed by more than 250 people involved in the new building project, including construction workers, subs and project partners, GU leadership, faculty and staff, UW medical school and GU undergrad students, community advisors and supporters of the Health Partnership.
Bouten added that approximately 780 tons of structural steel and an estimated 60 construction workers and 350 craftspeople are supporting the project.
The final steel beam was adorned with UW and GU flags, and a small evergreen tree. The tree is a Scandinavian tradition, and it is believed that if you place a tree atop your building, you are forgiven for having removed the trees for the building footprint, according to Bouten.
"We're grateful to work with Universities whose honorable missions will benefit the region for decades and with design build professionals that create smart, safe and vibrant places," said Patrick Farley, principal with Emerald Initiative, project developer. "Now is the time to invest in health education and infrastructure."
Located adjacent to McKinstry's historic SIERR Building, the new facility is designed to connect programs and people moving between the two buildings. With a combined 145,000 square feet of space the vision for this hub for health education and innovation is to attract private-sector medical and health research to join the UW and GU academic programs. The universities have signed long-term leases to occupy a combined nearly 60,000 square feet of space. The top floor is available for lease by public- and private-sector tenants.
A new facility was identified as a priority when the Health Partnership was formed in 2016 between the two institutions to expand and enhance medical education to serve the growing need for more high-quality health care providers in the region.
UW School of Medicine-GU Health Partnership
The University of Washington School of Medicine and Gonzaga University formed a first-of-its-kind public-private partnership in 2016 to advance the health of communities throughout eastern Washington through medical education and research. With a legacy of graduating innovative, community-focused students, the partners leverage their strengths and serve as part of a regional, community-based medical education program, WWAMI (Washington [Seattle & Spokane], Wyoming, Alaska, Montana and Idaho). Learn more about the Health Partnership.

About McKinstry
McKinstry is a national leader in designing, constructing, operating and maintaining high-performing buildings. From new construction and ongoing operations to adaptive reuse and energy retrofits, the company provides a single point of accountability across the entire building lifecycle. McKinstry focuses on people and outcomes to ensure the built environment serves owners, operators and occupants alike. McKinstry is your trusted partner for the life of your building. Learn more at www.McKinstry.com.
About Emerald Initiative
Emerald Initiative envisions, develops, owns and operates commercial real estate and alternative energy infrastructure. We craft creative, technology-enhanced solutions that help our commercial, industrial, and institutional clients to be resilient in a quickly evolving world. Our boldly sustainable buildings provide a healthy home for our curated communities and we focus on projects that make a difference to the people and neighborhoods that they serve. Emerald Initiative takes a long-term view to investing, and we proudly deliver financial returns that are enhanced by our environmental and community outcomes. Emerald Initiative is an independently owned affiliate of McKinstry. Learn more at emeraldinitiative.com.
Academics
School of Health Sciences
President's Office
University Advancement
News Center