Gaby Flake Graduates with Many Happy Memories, a Job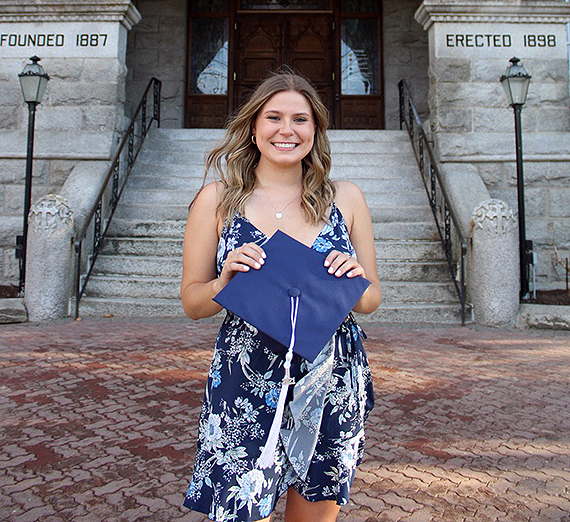 ---
Final Four Sealed Deal
SPOKANE, Wash. — Gaby Flake, who is graduating with a bachelor's degree in business administration, visited many top schools before deciding to follow her sister Alex ('16) to Gonzaga University after visiting campus during a historic weekend for the University in 2017.
"After seeing my sister's great experience at GU, I knew I wanted something similar. I kept my options open and looked for schools with a lot of school spirit, a liberal arts curriculum, small class sizes, study abroad opportunities, and a tight-knit community," Flake recalls. "I looked at schools in Southern California, Indianapolis, and Pennsylvania, but it was ultimately visiting Gonzaga's campus during the weekend of their Final Four game that put Gonzaga at the top of my list. I couldn't be happier with my decision!"
In its first appearance in the Final Four of the NCAA Men's Basketball Tournament in 2017, Gonzaga beat South Carolina 77-73 on April 1 before falling in the National Championship game to North Carolina 71-65 on April 3.
Flake, who is earning concentrations in finance and operations and supply chain management, along with minors in entrepreneurial leadership (from the Hogan Entrepreneurial Leadership Program) and Spanish, will follow her sister's lead to Amazon.
"I have accepted a position as a financial analyst in their Operations Finance Rotation Program, a two-year program broken up into four six-month rotations in fulfillment centers and corporate operation centers across the United States. I begin August 2," Flake said, noting her sister Alex earned the same major and concentrations at GU and is a senior program manager at Amazon's AMXL, the company's logistics network.
Flake, who graduated from Archbishop Murphy High School in Everett, Washington, says an internship last summer with Amazon was instrumental in securing the position.
"My internship was completely virtual, but I learned so much about myself, what I want out of a career, and advanced my professional skill sets tremendously. I feel so lucky to have had the opportunity of working in this internship and I'm very excited to begin as a full-time employee," she said.
Flake also took part in the Gonzaga-in-Florence, Italy, study abroad program and has been deeply involved in Gonzaga's New Venture Lab, student-run organization that works with entrepreneurs.
"I have participated in every role New Venture Lab offers to students, and each role helped develop my career in different ways," Flake said.
"I learned so much about being a professional and how to manage time and lead other people. This was one of the most rewarding roles I have been in because I felt like I could help students in every grade and experience level while helping the program grow," she said.
Flake also was involved in the Smile group mentoring program that places teams of GU students with kindergarten-through-sixth-grade youth and Campus Kids, a one-on-one, campus-based mentoring program focused on helping fourth-through-sixth-grade youth succeed.
"Campus Kids had a big impact on me," said Flake who volunteered throughout high school at a day camp for children with special needs and worked at a daycare after her first year at Gonzaga. "I have always loved working with kids."
Recently, she heard from a student she mentored who told her she had been accepted into Gonzaga Prep and aims to follow in Flake's footsteps.
"That really showed me how important volunteering and building relationships are for others as well as for myself," said Flake who benefitted from the Regent Scholarship and the Hogan Entrepreneurial Leadership Scholarship.
As for mentors at Gonzaga, she credits Mirjeta Beqiri, Ph.D., director of MBA Programs and professor of operations management.
"Dr. Beqiri has had a huge influence on me since meeting her my freshman year. She has given me so much advice for classes, my career, and for life. She has taken a personal interest in me and my career and is always supportive," Flake said. "I am so grateful for her advice and support throughout my college experience and to have had her as my instructor for two courses! I am also very grateful for my Hogan Program professors through the years because they have taught me so much about being a professional and how to use my strengths in class and in life."
Pinpointing a favorite memory of Gonzaga is difficult, Flake said, because there were so many wonderful times.
"During my freshman year, I grew to be close friends with the girls in my hall. We made so many amazing memories through the years and I am still friends with them to this day," she said. "I am so thankful to have had a college experience that places so much emphasis on community and creates an environment for students to excel and make lifetime friends."