AICPA Honors GU Accounting Alumna Julie Baker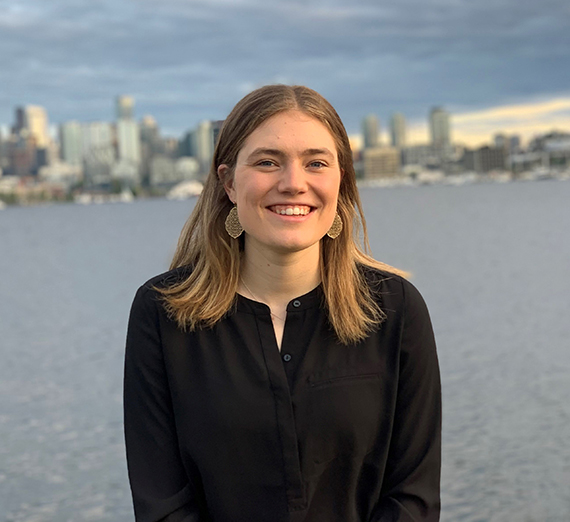 ---
SPOKANE, Wash. — Julie Baker, who earned a Bachelor of Business Administration degree in accounting and finance from Gonzaga University in 2020, is among 89 winners of the prestigious 2020 Elijah Watt Sells Award from the American Institute of CPAs (AICPA) honoring the nation's top performers on the Uniform CPA Examination.
To qualify for the award, CPA candidates must obtain a cumulative average score above 95.50 across all four sections of the Uniform CPA Examination, pass all four sections on their first attempt and have completed testing in 2020.
One of nearly 75,000 individuals who sat for the CPA Exam in 2020, Baker credited Gonzaga for preparing her to excel.
"The success I enjoyed on the CPA exams would not have been possible without my Gonzaga education. The faculty genuinely care about each student's success and they create a tight-knit environment where all students are motivated to thrive and to help one another succeed," said Baker, who serves as an audit associate at KPMG in Seattle. "In that regard, I must thank my peers who made the countless hours in the library bearable (if not fun). I'm honored to have been a part of the Gonzaga accounting program."
Matthew Hoag, Ph.D., CPA, coordinator of accounting, described Baker as a hard-working and inquisitive student.
"We are excited for Julie and congratulate her for winning the Elijah Watt Sells Award, which is an impressive honor and is a testament to Julie's hard work and technical acumen," said Hoag. "Throughout her time at Gonzaga, Julie excelled as a student and her natural curiosity and hard work made those around her better. As a student, she consistently asked insightful questions, she was diligent and driven to master the technical subject matter, and she engaged her classmates to facilitate the sense of community that makes Gonzaga accounting special. We celebrate Julie and her enormous success on the CPA exam, and we look forward to seeing her make her mark on accounting in the years ahead."
In addition, Baker spent a semester studying abroad at Gonzaga-in-Florence, Italy, and still completed her degree in four years.
Gonzaga ranks 10th best in the nation among large programs for its first-time pass rate on the Uniform Certified Public Accountant Examination, according to results recently released by the National Association of State Boards of Accountancy. Gonzaga also remains No. 1 among schools in the Pacific Northwest and on the West Coast.
With a pass rate of 82.4% across all sections of the exam, Gonzaga remains far above the national average for the first-time CPA pass rate of around 50%, according to statistics published by the NASBA.
The Elijah Watt Sells Award program was established by the AICPA in 1923 to recognize outstanding performance on the CPA Exam. Sells, one of the first CPAs in the U.S., was active in the establishment of the AICPA and played a key role advancing professional education within the profession.
For more information, please contact AJ Hawk, marketing and special projects manager for the Gonzaga University School of Business Administration, at (509) 313-7036 or via e-mail.