Alumna among Accounting's 'Most Powerful Women'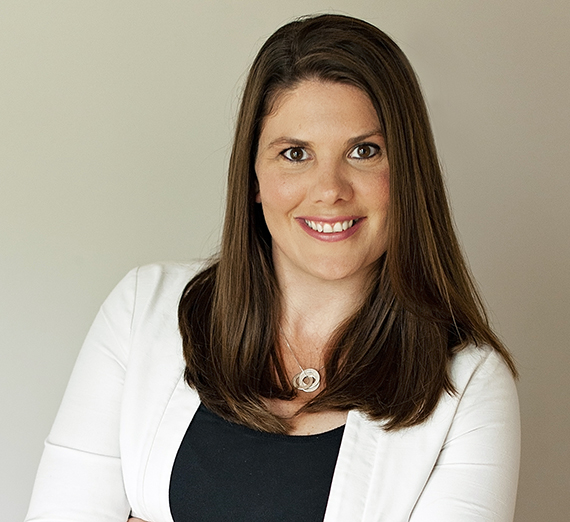 ---
When Lindsay Stevenson was in high school, her plan was to become a doctor and a Broadway star — at the same time. But right before she celebrated her 19th birthday, Stevenson gave birth to her first son. Her plans changed.
After graduating from Mead High School in 2000, she took a year off from school to figure out what she would do next. While earning an associate's degree from Spokane Falls Community College, Stevenson decided she wanted to pursue a bachelor's degree in accounting. Then she applied to Gonzaga University.
Fast forward and Stevenson was recently named one of the Most Powerful Women in Accounting by the American Institute of Certified Public Accountants (AICPA) and CPA Practice Advisor (CPAPA) for the second year in a row. Stevenson serves as vice president of finance and tax at 1st Financial Bank in South Dakota and is the CEO/founder of her startup, Origin Evolution.
For the Spokane native, Gonzaga had always been on her radar as the best university she could attend. Stevenson was a first-generation college student and young mother of two boys at the time — so while the same age as most of her peers, she was in a much different situation.
'So Much Support and Understanding' from Faculty
"I literally had a child in a car seat and I didn't have child care. I had professors that said, 'You know what, bring 'em.'" Stevenson said. "'If he cries, get up and leave. If he sleeps, great, just bring him to class, sit in the back.' When you have a nontraditional lifestyle, and you go to a Jesuit school you just make assumptions that you'll have to hide it or not bring it up, and there won't be very much support.
"But honestly, every professor worked around that I had a full-time job, and that I had two young kids and that I was trying to make school work. And through emails and phone calls and office hours, I had so much support and understanding. I can't fathom having gone to any other university because I had so much support from the professors that were there," Stevenson said.
The baby in the car seat is now old enough to be behind the wheel himself, her oldest child just graduated from high school and is off to college in the fall and her youngest child, also a boy, is 6 years old. Stevenson and her husband Justin, a kinesiologist and owner of Norseman BBQ in Dakota Dunes, South Dakota, will celebrate their 7th wedding anniversary this fall and have been together for almost 13 years.
Having graduated from the School of Business Administration in 2005, Stevenson credits Professor Gary Weber with helping her find her focus in the accounting profession.
Through his courses, Stevenson found that not only did she admire his passion, humor and engaging teaching style but she also enjoyed tax accounting.
For his part, Weber was impressed with Stevenson's clear-eyed goals and tenacity to achieve them.
"Lindsay has always been unafraid to take chances and to be a leader," said Weber, the director of Gonzaga's accounting programs. "She is one of the most remarkable leaders to ever come out of our program. She took a different path than her peers, but it has really paid off for her. She has had such career success in a relatively short period of time. It's been a pleasure and honor to see the success she's had. And it has been so gratifying to see Lindsay's hard work pay off."
After learning from Weber and Professor Eddy Birrer, Stevenson was sold on accounting.
"People assume that accounting is black and white and there's so many rules and you have to sort of color inside the lines but what Dr. Weber and Dr. Birrer offered, in the accounting side of things, was an invitation to recognize that the rules are more a framework in a judgmental space where there is a lot of opportunity to be creative and still comply and be individual with the way you deal with clients," Stevenson said.
With nearly two decades of experience and working in a top leadership position, last year Stevenson still didn't feel like she deserved to be on the list of the 25 Most Powerful Women in Accounting.
"There were two of the CEOs of the Big Four firms' women on the list and so I think my initial reaction was a bit of imposter syndrome," she said.
Last year she stood on stage among women she idolized and felt more like a fan than a colleague. Then she had earned her spot on the exclusive list again this year.
"Just being included in that list is just such an honor, it really is," Stevenson said. "I want to live up to that honor and that expectation. So, it's even more inspiring for me as I move forward in the next year and think about how I am going to make sure that I do things that are consistent with being honored on that list. And being really intentional about being a part of moving the profession forward."
Advocating for Women Leaders in Accounting
Serving on the AICPA's Women's Initiatives Executive Committee, she looks forward to continuing her advocacy work for women leaders in accounting.
"Making sure there are opportunities for women to be sponsored and advocated for — not to the exclusion of men but to the equitable efforts of including women," she said, noting that 22% of firms in public accounting had women in leadership roles in 2018, even though 50% of professionals entering the field are women.
"So, I am looking at those numbers and wanting to be intentional about moving that number up so it's reflective of the candidates that are coming into the profession," Stevenson said, adding she wants to ensure "there is a pathway to leadership that includes all of our talent and that women are included in that."