New Campus Safety App Available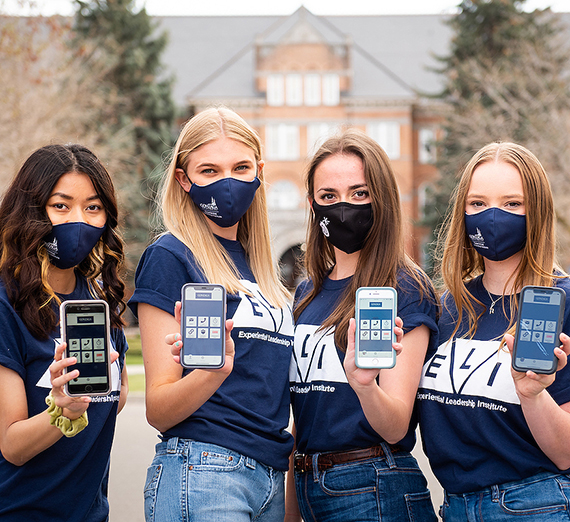 ---
SPOKANE, Wash. — In an initiative to enhance safety for Gonzaga University students, faculty, and staff, the University is launching the Rave Guardian safety mobile app. The free app is now available at the Google Play or Apple App Store.
The Rave Guardian app was initially proposed by Hannah Beighey ('23), Culver City, California; Kenzie Devening ('23), Highlands Ranch, Colorado; Elizabeth Freisinger ('23), Albuquerque, New Mexico; and Maria Truong ('23), Beaverton, Oregon. The students developed the idea in Gonzaga's Experiential Leadership Institute for a Community Impact Project presentation on ways to improve campus safety through an innovative and easy-to-use technology.
Gonzaga's campus security & public safety department and information technology services have collaborated to implement the application.
For years, traditional Blue Light Phone boxes located throughout Gonzaga's campus have offered one way for those on campus to notify campus security about safety concerns. The Rave Guardian mobile app presents a more user-friendly resource to keep the Gonzaga community safe and informed.
The app will provide users with six key features: an inbox, safety timers, call directory, content directory, campus security quick links, and emergency call functionality — allowing users and campus security to communicate more quickly. The quick links provide resources including the National Suicide Prevention Hotline, The Center for Cura Personalis, and Poison Control. In addition, the app features geotargeting capability between selected contacts while users are traveling on or near campus.
Becky Wilkey, Director of Gonzaga's campus security & public safety, is pleased with the new app.
"Keeping our students, faculty, staff, and visitors safe is a top priority for us at Gonzaga. Having a more robust way to do this through a simple mobile application helps provide peace of mind for everyone," Wilkey said.
For instructions on how to download the app and learn more about how to take advantage of each of its features, visit
Gonzaga.edu/Guardian
.