Alum Matt Teske Breaks Ground with Chargeway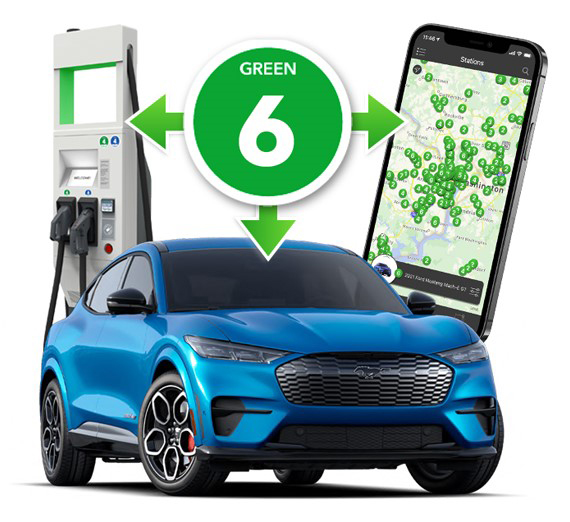 ---
Tell us a bit about yourself and your company, Chargeway!
My name is Matt Teske and I graduated from Gonzaga in 2003. I have spent the majority of my career working within the automotive industry focused on marketing, branding and communication projects. I founded Chargeway in 2017 after years of research into the electric car segment of the auto industry to help identify how we can more effectively accelerate the adoption of electric cars to reduce fossil fuel emissions and the impacts of climate change. Through our research we found that the lack of understanding for how to trust and use electricity to fuel a car was a primary barrier to consumers choosing to purchase electric cars. We sought to solve this problem using messaging tactics that simplifying the complex terminology of electric car charging to help everyone more easily identify how it works: Colors for plug types, numbers for power levels. The higher the number, the faster the charge. We then developed the Chargeway software platform to provide this service to both consumers and companies, which now use our solutions in both the automotive and energy sectors across the country.
What inspires you or motivates you in your line of work?
I spent most of my early career focused on marketing and branding products that, while fun, were not creating a lasting impact on society. The work I did was on primarily material goods that most people could do without. I want to know that the influence I have through the work I am doing every day will help create a lasting, positive impact on society and the lives of people in the future, not just sell "stuff". Today climate change is one of the biggest challenges humanity faces and much of the impacts of climate change come from the burning of fossil fuels within the automotive industry. Having a great deal of experience in this field I want to leverage my expertise in automotive messaging and brand strategy to create change in a global industry that will in turn help evolve how we move in a way that is more sustainable and healthier for our planet.
How did studying at Gonzaga prepare you for your work?
My time and education from Gonzaga really provided me with the ability to think critically and comprehensively. While my major and concentration was in business/marketing, this was combined with other courses including philosophy and science that helped me to see how the world of business is interwoven with other important factors of life such as social justice, engineering, and the environment. Gonzaga prepared me to be extremely thoughtful in my work, focusing not just solely on what I could accomplish within the world of business, but more importantly how my work could create solutions for society.
What changes have you seen since graduating Gonzaga regarding the advancement of renewable energy and electric vehicles? What changes or advancements do you anticipate in the future?
A lot has changed in the world of transportation and energy since I graduated from Gonzaga. For example, 18 years ago Tesla had just been founded and in that time has helped to transform the landscape of automobiles as well as how consumers interact with and understand energy at home. There is a true evolution occurring in the automotive and energy industries currently. The advancements in battery technology are impacting not only the performance of electric vehicles, but also the opportunity for integrating renewable energy into people's lives in a much more cost-effective way. This will fundamentally change how we move and how we power our lives moving forward, and most importantly in ways that are more sustainable. There has been so much progress in recent years that most people don't realize, but the advancements continue. In the next decade or two society will see a clear shift to clean energy awareness and use that will not require government intervention, but will instead be led by private sector innovation. To date most of this progress has been made through efforts by engineers, scientists and environmentalists, often times focused on trying to convince others to ad an ideology, but in order to accelerate societal change the public must want to buy into renewable energy products and services. This will become more prevalent in the coming years due to new company innovations that also influence legacy industry to make changes.
What advice would you give to current Gonzaga students interested in sustainability?
My advice to current students interested in sustainability is to take the time to understand the landscape of how the practice of sustainability connects from industry to industry, and within that appreciate the consumer psychology challenge of changing people's habits. Humans naturally do not like change and much of sustainability practices require a change in habits by the public. It is important to understand what a sustainable product or service is competing against in order to make it truly successful in transforming society. If the sustainable product/service is too complex compared to an existing product or habit that people have, it will have a hard time gaining traction. Success in sustainability is a combination understanding engineering, science, psychology and business. You do not need to be an expert in all of these fields, but you will need to appreciate how all of them work together to be effective in your goals.
What does sustainability mean to you?
For me sustainability simply means reducing negative impacts to our planet. This could be how I move, what I eat, what I buy, etc. In our society it is extremely difficult to be perfect in this practice, but I think it starts with asking if the product I am using or the habits I have somehow create a problem for society even though I perceive what I am doing as a personal convenience. And when multiplied by millions or billions is what I am using or doing part of creating a larger problem, and if so what can I do to change both personally and what could I possibly do to create wider spread change for good. It all comes down to getting the most out of what you do and use while impacting other people's lives and the planet as little as possible. Waste is easy to avoid if you are mindful.
Do you see renewable energy, Chargeway, or electric vehicles contributing to solutions regarding any social justice issues?
Very much so. As an example, many underrepresented communities in our country are the most negatively impacted by vehicle emissions. The faster we can transition to electric vehicles we can more quickly reduce tailpipe emissions in cities that impact the health of many that do not contribute to the problem themselves. Chargeway by design can help make everyone more comfortable with the idea of switching to "electric fuel". If consumers with means make the decision to switch to cleaner energy it will have a direct positive impact those on who are most affected by dirty energy. This will also help drive prices down for the technology, helping electric vehicles reach more demographics of consumers faster. In the end we need help society feel comfortable and excited about making the change to cleaner energy options. With technology that is most often a top-down business model that will reach underserved people more slowly if those who have the option to spend their dollars at the top choose not to. Through Chargeway we can help accelerate this consumer psychology shift more quickly.
Any final thoughts or ideas you'd like to share with the Gonzaga community?
We are actually already active with Chargeway in the Spokane area through a partnership with Avista and Gonzaga is included. There a few charging stations around campus that have been labeled with Chargeway's simple color/number identity system for charging options. For fun I invite everyone to find these chargers, take a photo with one and tag Gonzaga + Chargeway on social media. I have the opportunity to speak with stakeholders working within the realm of sustainability from all over the world ranging from the auto industry, energy, politics, non-profit and more. I think it would be fun for more people from these various stakeholder groups to see how fellow Zags see the value of Chargeway's work and how the Gonzaga community is engaged with the educational process for creating a more sustainable, better future for all.
Learn more about sustainability efforts at Gonzaga.