A Man With a Jolt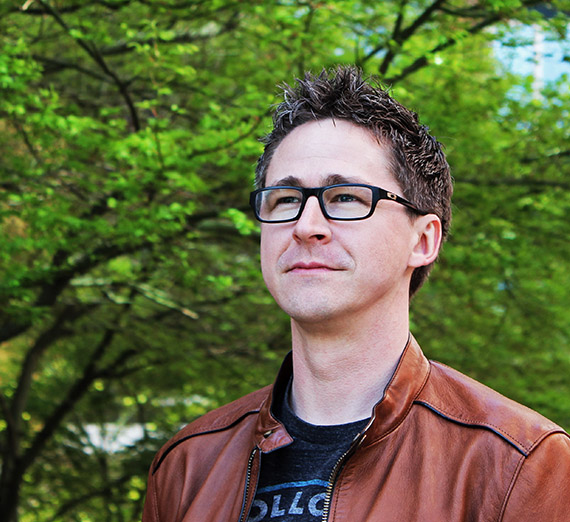 ---
By Dale Goodwin ('86)
Matt Teske ('03) placed an order for a Tesla Model 3 electric car, delivery expected in 12-18 months. But what he'd really like to be driving is a Chevrolet Jolt, an electric car he envisioned based on current technology.
He owns a Chevy Volt extended-range electric car and a 2017 all-electric Chevy Bolt is being introduced later this year. But what Teske is trying to convince his favorite automaker, Chevy, is this: Build an electric car that's fun, sporty and innovative, and the buyers will line up as they did for the Tesla Model 3.
Teske developed a website (www.chevyjoltev.com) to showcase his electric car design that would have a 230-mile range and go from 0 to 60 in 5 seconds. The website crashed within 24 hours from high usage. Point made.
Teske knew the "Jolt EV" would hinge on an eye-catching design. Chevrolet's Tru140s concept car, which GM introduced at the 2012 North American International Auto Show, became the basis for Teske's electric Jolt.
Teske sees the Jolt as a first step in helping Chevrolet "usher in a new era of brand loyalty from both young and affluent buyers," wrote Liane Yvkoff, nationally known automotive writer. "And Teske's website and concept are paving that way."
Always hatching new ideas
You look at this guy and know there is always a new idea lurking in his expansive, creative, freewheeling mind. Teske began his career after graduating from Gonzaga as an event planner and advertising liaison with companies like McDonald's and Sony, although his specialty was automotive.
Before you know it, he was creating a clothing line in his head – designing logos, catalogs and advertising strategies. He called his line Ekset, or Teske backwards.
That enterprise survived six years and lived alongside Teske Design, which allowed Teske to focus primarily on the automotive industry.
You see, Teske's passion for sporty cars goes back 18 years when Matt was 17 and designed and built his first car. It was a modified version of a Chevy Cavalier Z24.
"Matt was a responsible kid. We bought him a car to get around. He took good care of it. So when he asked if he could rebuild it, we knew he'd do it right," says Anthony Teske, Matt's dad.
Fast forward 17 years. Teske Design had grown, branching from automotive into sports, retail and entertainment. TD's marketing services palette was expanding rapidly; the company had an office and full-time staff. One of its clients had TD working on football helmet finishes, another on an ecofriendly car-cleaning product.
"I really wanted to focus on innovative things," Teske says, "things related to clean energy, and environmentally friendly products with longer lasting impact on the consumer market. I wanted to find opportunities to build brands and create success for companies that had deeper meaning than just being a product."
Through this process, Teske always had a finger on what was happening with electric cars. He monitored what the consumer market and manufacturers were saying.
Nudging automakers
"Traditional car makers were not stepping up like they should," Teske observes.
Battery range was an issue. Tesla introduced last winter a car that can travel 300 miles on one charge. This is the approach that has to happen to get consumer buy-in, Teske believes.
"Are people that excited by Tesla, or are they excited because Tesla is doing it right?" Teske asks.
So Teske came up with a "fun little project" to create a sporty version of an all-electric car. Chevrolet introduced its first extended-range electric car, the Volt, in 2011. Later this year Chevy will introduce its first all-electric car, the Bolt, with a 200-mile range per charge.
"Not everyone who wants an electric car wants a five-door hatchback utilitarian model," Teske says. The popularity of the new, snazzy Tesla, which won't be delivered for more than a year, is proof.
So after Teske designed the sporty Jolt, he posted it online to gather feedback. It utilizes the battery pack and motor design of the Bolt, and embodies lines and features of Chevy's Tru140s concept car.
What he got back was far more than even this big thinker imagined.
"I put the design on the internet, and thought it might take some time to gain steam. But it clearly caused a stir right off the bat," Teske says. He sent a link to Chelsea Sexton, electric vehicle expert and star of the documentary "Who Killed the Electric Car?" Once she tweeted it, people couldn't get to his website fast enough. "My website crashed within one hour. Contact forms were coming in every 30-to-60 seconds from all over the world, saying I love what I see, I want to know how to order this car," Teske says.
Within 48 hours, visitors had responded from every state and more than 120 countries around the world. "It validated that the demand was there," Teske says.
Raising eyebrows
Teske's first phone call came from Road & Track magazine, about three hours after Sexton's tweet went out. Subsequently, Motor Trend, Forbes and other media responded and wanted to know more. What Teske had hoped would take a few weeks to get rolling took only a few hours.
"I needed to adjust my website to remove Chevy logos and make it clear this is an idea, while still clamoring for Chevy to make this car. Chevy contacted me the next day. They were polite, appreciated my enthusiasm, and said their entire electric vehicle team looked at my design. They talked about all the things that were important to me: fast-charge stations at all dealerships, my sporty design concept, and new technology relevant to today's users. 'We'd love to reach out to you in the future about electrics,' they said. I told them I'm here to help, and I believe in electrics. Then it turned into a tug-of-war with them over keeping the website up. Chevy was a little uneasy.
"I believe a car is an extension of one's own personality. Right now, the electric options don't provide me with that. Auto manufacturers have long argued that there is not a demand for electric cars. Look at what happened when Tesla introduced a compelling electric car. And the response to my website was overwhelming," Teske says.
"My overarching goal was to give consumers a chance to express their desires to the traditional manufacturers, who say there's not enough demand. I want to prove that it's not demand, it's variety. The Jolt provides that. It's not pie in the sky. This could be on the market within two years," estimates Teske.
He said electric vehicles, by design, disrupt the traditional business model. Electric cars don't use oil or gas. You can charge the car at home using sun or wind power. "That's disruptive because the car and oil industries are very connected," Teske says. "Traditional automakers face the fact that electric vehicles require far less maintenance than do traditional cars. Parts for gas-powered cars wear out much more frequently than do parts on electric cars. Service, which has kept car dealerships profitable for years, is not going to be a big producer. And the auto dealers don't have an answer."
But thinking out loud, Teske reminds us that there are more than 3,000 Chevy dealer locations nationwide, in every major metropolitan area, along every major interstate and highway in the country. "Why not use Chevy dealerships across the country as charging stations," Teske reasons.
Smartphone changed the auto industry
He takes his new concept car thinking one more step.
"Cars are no longer seen as machines. They're turning into devices. More like a cellphone than a traditional auto now," Teske says. "The smartphone changed the auto industry. When you could get your driver's license at 16, it was a rite of passage. It was a means of communication to get out and see your friends. In the last 15 years, the smartphone changed how young people communicate. Kids today have access to information and communicate globally without having to move. So you have to give them a reason to use a car, and efficient operation and high-technology has to be part of the discussion as auto manufacturers look to the next generation of cars."
Around the same time Teske's Jolt website went public, Gonzaga friend Tom Briggs ('03) asked Teske to lunch. Briggs works for Drive Marketing Group (www.drivemg.com) in Portland. Briggs made mention of Teske to his boss, Drive CEO Eric Weckert, and soon Matt was sitting down with Weckert, who hired Teske to be the company's Chief Strategy Officer and Creative Director in June.
It'll be fun to see where this next road leads Teske. But one thing is for sure: he'll never be without great new ideas.
Teske is 35 years old and lives with wife Anna Wuitschick ('06) in Portland. Teske's older brother Ted ('00) is another creative soul, working in communications for the National Institute for Occupational Safety and Health's Spokane office, designing creative training videos, particularly for the mining and fishing industries. Both Teskes are former students of this story's author.