Reading for Fun in Spokane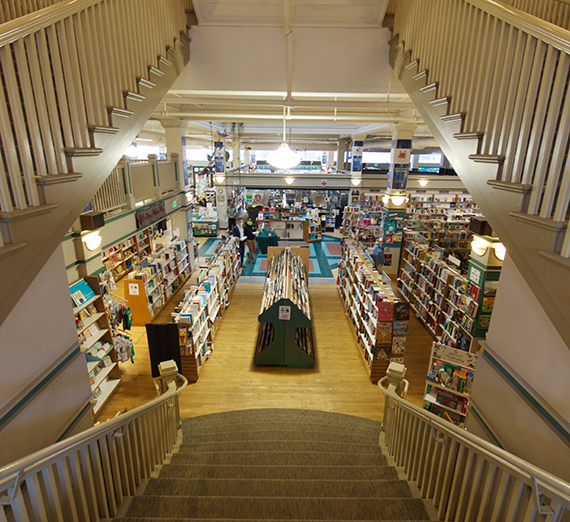 ---
At Foley we love reading, and of course we offer plenty to read! Besides supporting research and scholarship we also have a great collection of popular books, including a rotating selection of recent bestsellers. Stop by and browse our popular bookshelf on the main floor of Foley, or checkout our selection of eBooks and audiobooks online.
Of course, no library can offer everything, so our marketing student intern Benjamin Pham investigated some of the other bookstores and library options near campus. Please enjoy his take on a few of the other resources around Spokane to help meet your reading needs.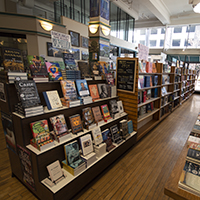 402 W Main Ave
In the heart of downtown, Auntie's Bookstore is a must visit location for any Gonzaga student living on or around campus. With an extensive and highly organized collection of books, Auntie's Bookstore is also defined by its fun knick-knacks, stickers, and socks. On top of that, the bookstore is also connected to a board game and puzzle store right on the first floor. With plenty of space, variety, and a second floor, Auntie's Bookstore is an incredibly fun place to explore while visiting downtown. As an independent bookstore, Auntie's Bookstore has served the Spokane community from 1978 with a great variety of books, board games, and great staff picks. Browse their collection online or make orders on their website . They also offer curbside pickup!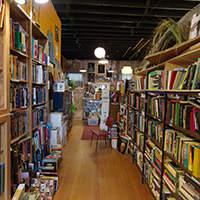 709 N Monroe St
Located right by Kendall Yards, Giant Nerd Books is an incredibly unique place that holds a wide variety of books for sale. In a small tight building, there's this almost "Hogwarts" or mystical atmosphere created by the structure and layout of the bookstore. With fun decorations and knick-knacks on the walls, shelves, and ceilings, I feel sucked in as I explore every nook cranny that this store has to offer. As a secondhand bookstore, Giant Nerd Books has an extensive collection for new and used copies of books, making this a book collector's dream. My favorite section in particular is the antique and vintage collection of books in the back of the store, with incredibly unique and vintage copies of classics such as Bambi or Winnie-the-Pooh for sale. At the time of this article, Giant Nerd Books is currently working on moving to a new location in the Garland District and has plans to open by April 1st. This new location will have three times the floor space and will have its own parking lot. But for now, I hope you all are able to enjoy all Giant Nerd Books currently has to offer in this quaint and mysterious bookstore. https://www.giantnerdbooks.com/
Bookstore Awareness: Page 42
2174 N Hamilton St
Located on Hamilton, this quaint little bookstore holds a variety of fun books for incredibly cheap prices! Co-owned by Alisha McCann and Emily Peterson, a Gonzaga senior, Page 42 is a great place for all Gonzaga students to visit. With 80% of their selection being under $3.00, you can easily find a variety of new books to read without breaking the bank. Additionally, Page 42 also holds a variety of video games, board games, movies, and TV shows for again, incredibly cheap prices. If you've got some books you'd like to pass on, Page 42 also buys books for cash and they accept book donations. Soon, they will be working on a punch card system that will help with regular shoppers by offering in-store credit. If you've got some free time on your hands, make sure to stop by Page 42 to check out their affordable collection!


Library Branches, hours and locations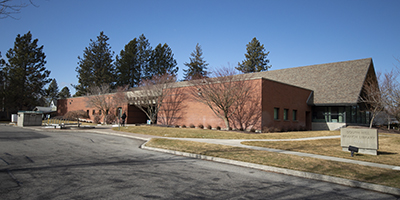 If you're looking for an alternative to Foley's collection, you can check out Spokane Public Library for free! SPL now offers grab-n-go browsing and holds pickup in person during certain hours of the day. But if you're looking for a free, and local method to meet your reading needs, Spokane Public Library is here and ready to serve! They also allow library card holders to reserve computer appointments at most locations. The Downtown main library is currently closed for construction, but they have a satellite location in the STA Plaza on Riverside downtown, and the Eastside branch library is not far from campus. Eastside will be moving to a brand-new building later this year at Liberty Park.
If you're interested in signing up, you can create an account online or in person. What you will need as a Gonzaga student is a valid picture ID, a Gonzaga campus address (including mailbox number) or street address if not living on campus, plus a physical home address. No proof of address is required however. Once you have a card you also get access to their extensive eBook and e-audiobook collection through a system called Overdrive, as well as streaming media through Hoopla and Kanopy. They offer a lot of online resources for library card holders, through their Digital Branch.