Curating a Masterpiece: Behind the Scenes at Jundt Art Museum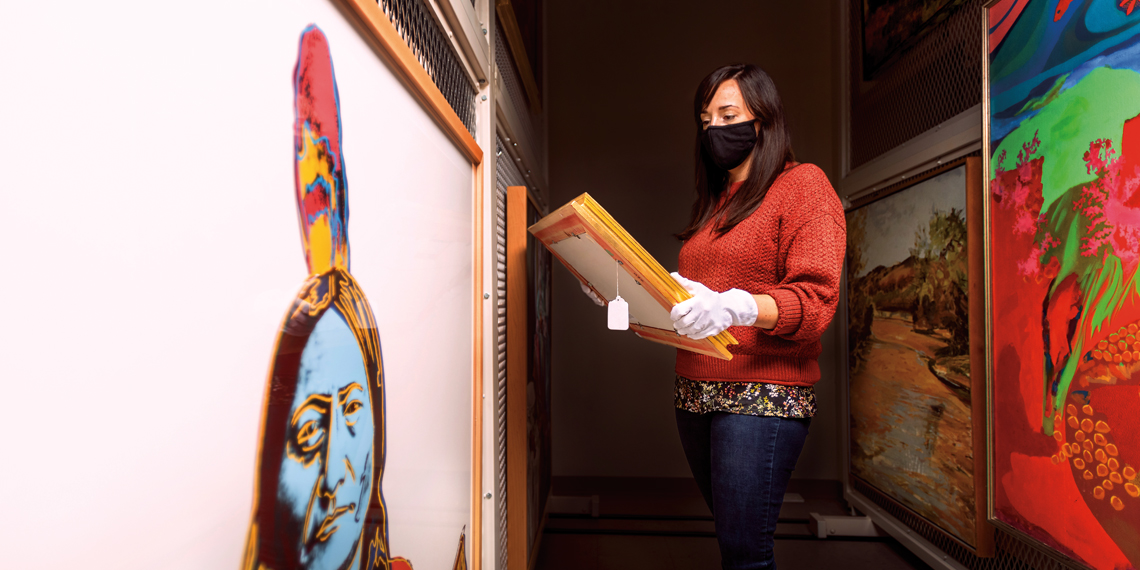 Rembrandt, Picasso, Warhol and Toulouse-Lautrec. Pieces of their original artwork are preserved and stored in the Jundt Art Museum, and on occasion, exhibited in the Jundt Galleries.
While the names Manoguerra, Kaiser, Dare and Stiles may not be as well known, these are the Jundt caretakers who attend to the more than 5,600 pieces of art housed in the museum for generations to come. You don't see much of them. By the time you enter Gonzaga's art museum for an exhibition most of their work has been completed, and they're busy preparing for the next show, everything from selecting art pieces, matting and framing and building display pedestals and cases, to scheduling tours for schoolchildren and college art students, planning marketing, and registering new gifts to the museum's vast collection.
Director and Curator Paul Manoguerra leads the operation. He came to GU from his 11 years as curator of American Art at Georgia Museum of Art, which employed about 30 folks in its museum. He arrived eight years ago, and this is his dream job. Curator of Education Karen Kaiser is the veteran on this staff, 15 years into her job and perhaps the team's most versatile colleague. Preparator and Art Handler Robin Dare worked previously as a fine artist, carpenter, teacher, gallery curator and framer, and in his five years here has applied every one of his many skills. Anna Stiles, three years on the job, is art registrar and program coordinator, and contributes in nearly every aspect of the museum's operation. You'll learn more about Jundt's Behind-the-Scenes crew as you travel through this pictorial feature.
The Jundt Art Center and Museum opened in 1995, and is celebrating its 25th anniversary this academic year, although the fanfare is not what was expected, with COVID-19 limiting museum access to Gonzaga faculty, staff and students. In a typical year, the museum would welcome in the neighborhood of 25,000 visitors.
Nevertheless, the toil has not changed. Exhibits are still going up and on display, GU students are taking tours in small groups and the print study room is available for any student or staff member to view a particular art piece in museum storage.
All this with the hope to reopen the museum and galleries for public consumption as soon as it's safe to do so, Manoguerra says.
In the meantime, enjoy Staff Photographer Zack Berlat's pictorial exhibit of what goes on behind the scenes in the Jundt Art Museum.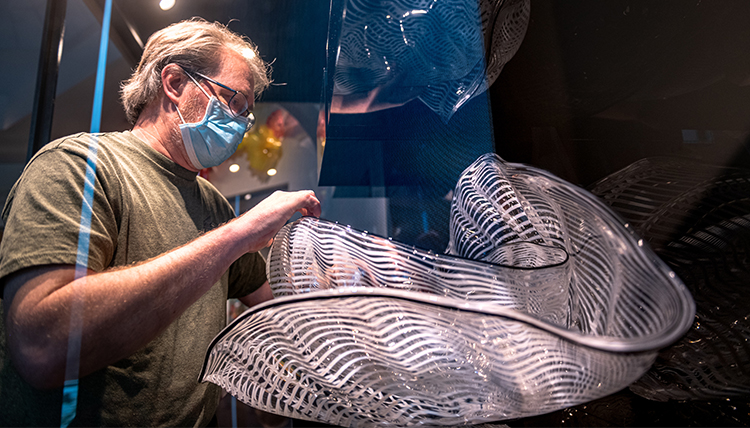 Paul Manoguerra | Director and Curator
A big part of Manoguerra's work is researching art from around the world. He is looking for traveling exhibits that complement Gonzaga's Jesuit mission, thinking about how the themes connect with the teaching and research going on at this university, and how it might interest the greater Spokane community. In addition, he always is seeking to find the right balance among photographs, prints, paintings and ceramics, contemporary and historical.
He earned his bachelor's degree in history at Notre Dame, his study abroad year in Rome cementing his love for art. He earned a master's in museum studies from George Washington, and his doctorate in American Studies from Michigan State.
His greatest joy comes when the exhibit goes up, he can stand back and simply watch visitors interact with his academic research as displayed on the walls. "Few academicians, artists and authors get to see people read their books or enjoy their art. But I get to see people react to my research," the director says. Lifelong learning is a big part of that joy, as well.
Exhibits typically range from 100-150 pieces, are changed three times a year in each of the museum's two galleries, and are split between traveling shows and works from Gonzaga's own collection.
Perhaps the most burning question is this: How do you clean the 800-piece Chihuly Red Chandelier in the Chancellor's Room? The answer: very carefully.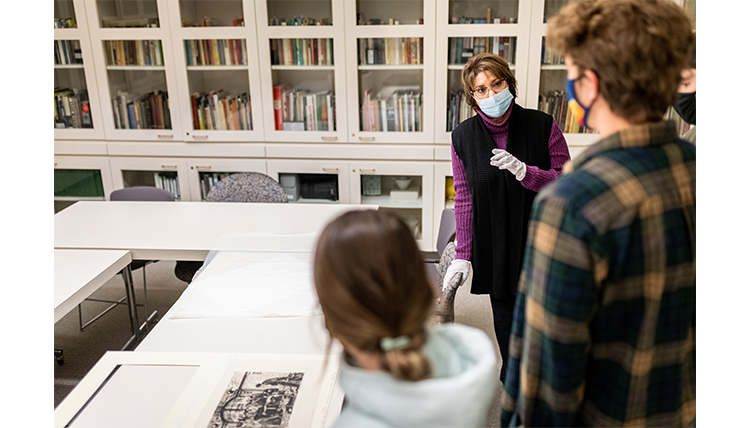 Karen Kaiser | Curator of Education
Kaiser's title is far from inclusive. In addition to serving as an art educator, she is a fine artist herself, with fine art degrees in painting and printmaking. She helps install exhibits, places exhibit labeling, writes news releases, and works with her printer to design exhibit postcards and brochures three months before an exhibit shows. She trains the docents by walking them through the exhibit and sets up a meeting with the artist for background.
But the part of her job that ignites her passion is taking groups through the exhibit and being able to explain what they are seeing. Her educational background in multiple fine arts lends itself well to her job.
She is elated when the third-graders from Sagle (Idaho) Elementary come to visit, "and they are always so well prepared," Kaiser says.
"We often have a high school group of students from Colville whom we take to the Print Study Room. They know what they are going to see, but when I place a Rembrandt or Picasso original in front of them, I've seen them get teary-eyed. They get to see the originals up close, pieces that could go back a few hundred years. We talk about how it was created and the process to do so.
"That's easily the best part of my job," Kaiser says.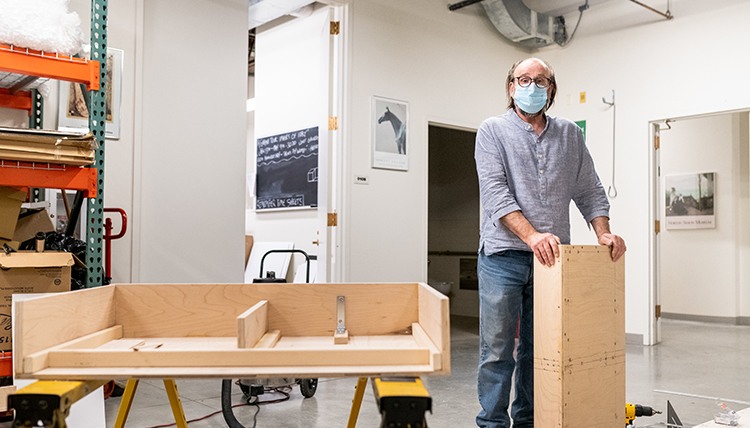 Robin Dare | Preparator and Art Handler
For the Roman Myth and Mythmaking show a few years back, Dare studied Roman history and built a replica of an ancient Roman lararium, an altar table in Roman homes 2,000 years ago that held figurines and incense burners, to offer goodwill to homes and meals served within. It fit nicely with authentic ancient Roman artifacts, coins, jewelry and sculptures. He also crafted a picture frame to display both sides of a coin, made securely enough to keep it from "walking off."
He recently built a case for 10 pieces of Gonzaga's Dale Chihuly glassware collection, using black Plexiglas for shelves to make the pieces look like they're floating in space. Just the way Chihuly likes it.
Dare, who has a master's in fine art, mats and frames the paintings and prints for the exhibitions of GU's collection, and is meticulous in his care for, and preservation of, the artwork. He has primary responsibility for hanging and presenting the exhibitions. He starts preparing for the next exhibition about three months out, and generally has two weeks to take down one show and install the next.
His scariest task: learning to operate the scissor lift, used to hang banners from ceiling wire. Best part of his job: "My job is a combination of all the things I have done previously."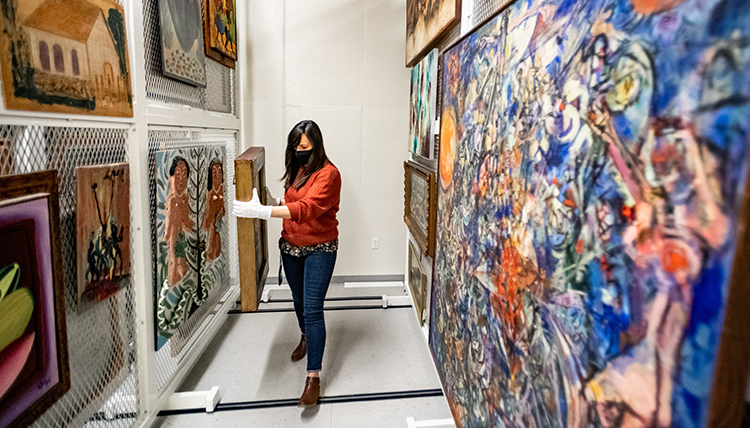 Anna Stiles ('10) | Museum Registrar and Program Coordinator
As museum registrar, she maintains the museum's extensive database on every piece of art in the University collection, and processes art donations (and purchases) into the collection. "Donating to the museum ensures the art you love will be cared for in perpetuity and used for education," she says.
She coordinates loans of artwork from other museums and traveling exhibitions, manages the shipping arrangements, handles insurance, orders catering for opening events and works with students to maximize social media exposure for every show.
With a Gonzaga bachelor's in sociology and an art minor, and a master's from University of Washington in museum studies, she is well-equipped to handle most museum tasks. She pulls the work for Dare to frame, and maintains the list for every piece in the exhibitions.
"Everything here is a team effort," Stiles says. "You can go to any one of the four of us for help, and you'll get it. Paul gives us the responsibility and autonomy to do our jobs well. For me, as a registrar, to be able to curate the Makoto Fujimura exhibition last fall was an opportunity I would not have gottenanywhere else."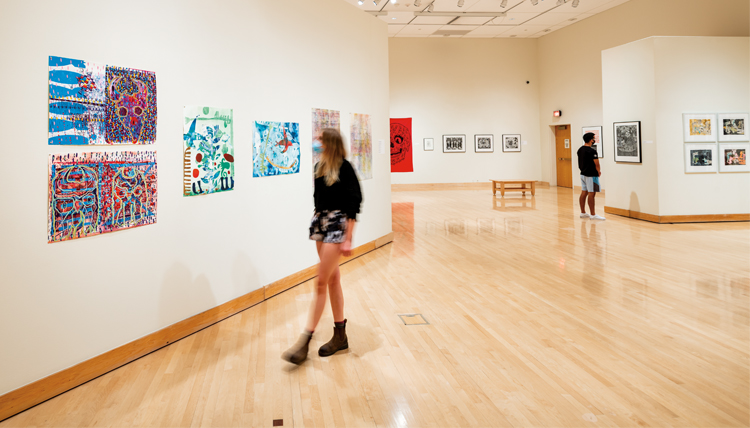 Fun Facts
LARGEST COLLECTION
Gifts from Dr. Norman and Esther Bolker constitute a significant portion of the museum's permanent collection. The museum's Bolker Collection was established in 1984 when they gave nearly 500 works on paper to Gonzaga. The Bolkers donated a second group of prints upon completion of the Jundt Art Museum in 1995 and, in 2003, a third major donation extended their gift to nearly 800 prints, drawings and watercolors.
FIRE PREVENTION
A pre-action dry pipe system with both ion and photoelectric detectors is in all spaces to sense both heat and smoke.
OLDEST PIECES
The museum owns a handful of ancient Greek and Roman coins.
THE STANDOUT
Once the objects are in the museum's possession they are all cared for equally. That said, the most unique and likely valuable piece would be Dale Chihuly's Gonzaga Red Chandelier.
Find out what's happening now at Jundt Art Museum.
Have a question for the Museum? Email editor@gonzaga.edu.
Academics
Arts & Culture
Careers & Outcomes
Academic Vice President
Gonzaga Magazine