A Legendary Legal Story of Love and Leadership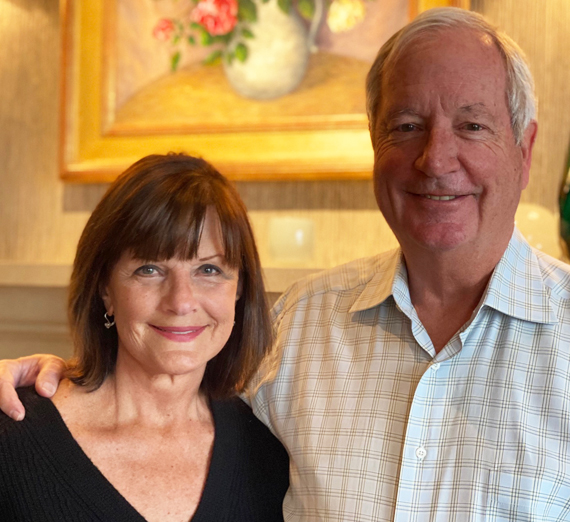 ---
"The law needs people from all walks of life," said Ralph Brindley of a notion his wife Katharine (Kathy) Witter Brindley (J.D. '84) couldn't exemplify more. She worked as an ICU nurse at Sacred Heart Medical Center as she put herself through Gonzaga University Law School and has used her experience in healthcare throughout her legal career, defending malpractice cases and advising healthcare providers and hospitals on risk management and healthcare business transactions. The pair met as opposing counsel in a health care lawsuit and have since built impressive family, professional, and community lives. They are now setting their sights on helping to remove obstacles to legal education, especially for underrepresented populations.
Beginning with a $50,000 donation to Gonzaga Law School to provide scholarships for Indigenous students, the Brindleys then gave $400,000 to help all students of color with scholarship support. Their most recent gift is the largest donation in support of diversity efforts at Gonzaga Law—one that the Brindleys hope will inspire others to join them in giving so that their gift will become a cornerstone for inclusive community enrollment.
Kathy Witter Brindley is a Spokane native who learned the value of family and hard work from her parents, Stanley G. Witter, Jr., and June Gagliardi Witter. She followed in her mother's footsteps and earned her Bachelor of Science in Nursing degree from Washington State University in 1979. While working as a nurse, she saw how she could put her medical background to work in conjunction with the law. Using her nursing degree in this way allowed her to graduate in 1984 with her J.D., magna cum laude, and with minimal student loan debt.
Ralph J. Brindley grew up in Gig Harbor, Washington, as the son of a forester, Ralph S. Brindley and special education teacher, Bonnie Chitty Brindley. Both parents encouraged Ralph throughout his education and taught him the values of personal integrity, fair play, and treating others with respect. As an undergraduate at the University of Washington, Ralph spent a summer working in La Push, Washington, which is home to the Quileute Tribal Nation. There, he witnessed both the economic hardship and the promise of the people who lived there.
Ralph graduated from UW in 1972 with honors and was immediately drafted into the Army. Ralph's service was a crash course in cultural awareness, as he saw soldiers of color experiencing hurdles in life that he had never imagined. When Ralph's service was over, he decided to go to law school using his G.I. benefits. He earned his degree from New York University in 1978.
Ralph and Kathy met in the courtroom. He was representing a physician, while she was representing the hospital in the same case. In October of 2021, they celebrated 30 years of happy marriage, shared careers and goals, three children, and the creation of a professional and philanthropic legacy that has touched Gonzaga University Law School in remarkable ways.
In 1992, Ralph took a job with the Luvera Law Firm in Seattle and began representing plaintiffs in medical malpractice cases. He retired in 2018. Kathy is currently Of Counsel with Bennett Bigelow & Leedom, where she continues to defend medical malpractice cases and advises healthcare providers and hospitals on risk management issues.
Kathy is a past president of Washington Women Lawyers, past president of JDRF Northwest, a former member of the Gonzaga Law School Board of Advisors, and Providence Hospice of Seattle. She has also been active in the National Charity League and local education councils. Ralph has taught at the National Institute for Trial Advocacy and is a past president of the Washington Damages Attorney Round Table.
In 2008, the WSAJ awarded Ralph the Tom Chambers Trial Lawyer of the Year Award for his hard-fought and well-won battles on behalf of his clients.
Both Kathy and Ralph are members of ABOTA, the American Board of Trial Advocates, an exclusive professional organization dedicated to "the preservation and promotion of the civil jury trial right promoted by the Seventh Amendment to the U.S. Constitution." There are only two members of the Washington chapter who are married to each other: Kathy and Ralph.
Ralph points to the attorney-client relationship as an example of why diversity within the legal profession is so important.
"I practice personal injury law, and my clients trust me with the most intimate details about their lives," he said. "It takes time to build that level of trust with a client under the best of circumstances." Having lawyers who represent their community across racial, ethnic, gender, and socioeconomic spectra can help reduce the hurdles to effective working relationships—and reluctance to engage with the legal process in the first place. So, he and Kathy looked for ways to foster diversity within the legal community. For them, it all starts with the Law School.
Along with diverse mentors and professors, supportive programs, and administration, both Kathy and Ralph understand the benefit and freedom that comes with earning a law degree and graduating from law school without a huge debt burden. Their goal is to reduce the barriers to law school and encourage students whose concerns about debt might turn them to other careers and fields of study. Kathy and Ralph Brindley both know that a diverse bar, a diverse community, and diverse leadership all help our communities grow stronger and better.
"The Brindleys' dedication to making legal education accessible to all aspiring to pursue it is truly a blessing," said Dean of Gonzaga University School of Law Jacob Rooksby, J.D., Ph.D. "Thanks to their support, the distinctive Gonzaga Law experience is within reach regardless of students' financial situations. I am very thankful for their leadership, vision, and generosity."
Join the Brindleys in making a difference for future legal professionals on their paths with a gift today.