Bringing the World to GU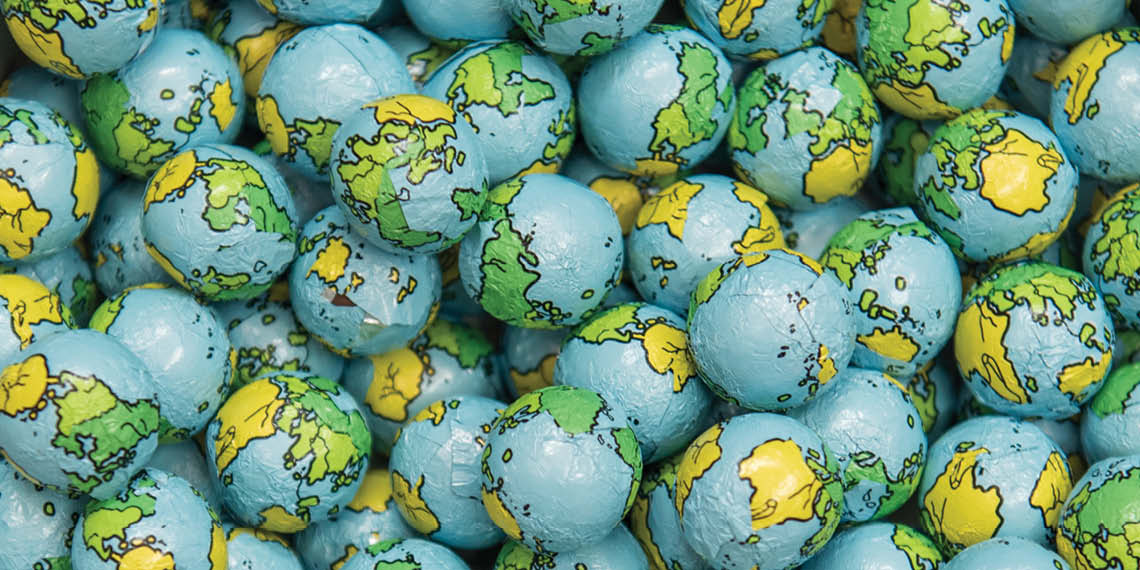 Bringing her own experience as an international student,
Ashley Davis
is director of International Student & Scholar Services (ISSS). She joined Gonzaga in 2021 after five years in a similar role at Community Colleges of Spokane, where she came to know a number of students who have since transferred to Gonzaga to complete their bachelor's degrees. With an undergrad degree from China, Davis came to the University of Idaho for a master's in organizational learning and leadership. She and her husband reside in Rathdrum, Idaho, fulfilling her penchant for a rural setting.
Davis oversees the complicated compliance regulations involved with immigration, provides support to students and graduates working in the U.S. under student visas, and supports key international partnerships.
Compared to larger cities, "Spokane is hard to recruit international students to," says Davis, "but not as hard as Moscow, Idaho."
She is excited about the developing programs now available through collaboration with Gonzaga's partner,
Shorelight
, which specializes in recruiting and retaining international students. This summer, Shorelight created two employee positions to reside physically on campus to support the combined efforts now known as
Gonzaga Global
.
One of the first priorities for ISSS in developing better support systems for global Zags is strengthening connections with university faculty and staff. From admissions counselors to professors, Davis says, "It's critical to work together to support students from different cultural backgrounds who have varying degrees of English proficiency in order to help them achieve their greatest potential."
Additionally, Davis is excited to see more celebrations of the rich cultural presence international students bring to campus, and acknowledgement of the incredible contributions global Zags achieve in a wide variety of industries. "They go on to be influential people who could make positive impact on the world," says Davis. "Having the community recognize that is part of my goal."
MAKING CONNECTIONS
No surprise, being a college student in a foreign land has its own unique challenges. Understanding and processing visa applications and completing the related interviews is one hurdle. Adapting to a different delivery of education itself also presents a challenge. With the added dimension of English not being a person's first language, academic achievement is no small effort. Working through culture shock and homesickness are others, as well as being part of a community with low representation of ethnic diversity.

For those reasons and more, international students often flourish in a community of other immigrants where they enjoy a variety of cultural expression. Gonzaga's Center for Global Engagement provides social outlets and excursions regularly – even during holidays and summers, because many international students remain in Spokane during their college tenure. Additionally, the International Student Union serves as a place of connection.
This year's ISU president, Thitikorn "Pluem" Chansasitorn, is excited about an increased number of opportunities not only for international students to be together, but also for domestic students to learn more about and enjoy getting to know global Zags.
WORLDWIDE ZAGS
150 international students enrolled at GU in 2021
76 undergraduate international students
74 graduate international students in master's and doctoral programs
40 countries represented across the globe
580: peak enrollment of international students in 2007
Top 5 represented international countries over the past 20 years: Canada, Saudi Arabia, Japan, Korea, China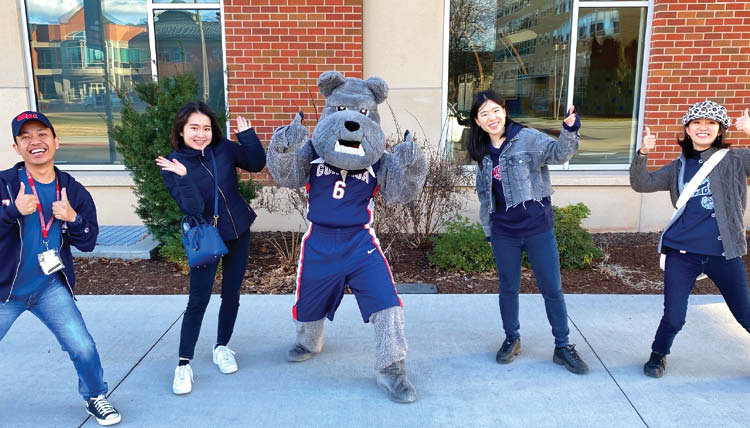 Stateside during a Pandemic
Numbers of international applicants dropped in 2019, but many students had already arrived in the States when the pandemic unfolded and were unable to return home. Pictured are some who found plenty of fun in Spokane anyway: (left to right) Reymund Lara, Fulbright Foreign Language Teaching Assistant from the Philippines, and visiting Japanese students Kumiko Abe, Chiharu Yada and Mitsuki Watanabe.

Lara, who chose Gonzaga for its size, location and holistic development, says one of his favorite campus experiences was watching the men's basketball championship game at the Hemmingson Center with other students. Lara also volunteered in the community at Spark Central, hiked Mount Spokane, and participated in many activities offered by the Center for Global Engagement. "I'm proud to say that I will forever be a Zag," he says.
Learn more about Gonzaga's mission to make GU a haven for international students.
Diversity & Inclusion
Global Impact
Student Life
Center for Global Engagement
Gonzaga Magazine