Gonzaga Students' Favorite Spots on Campus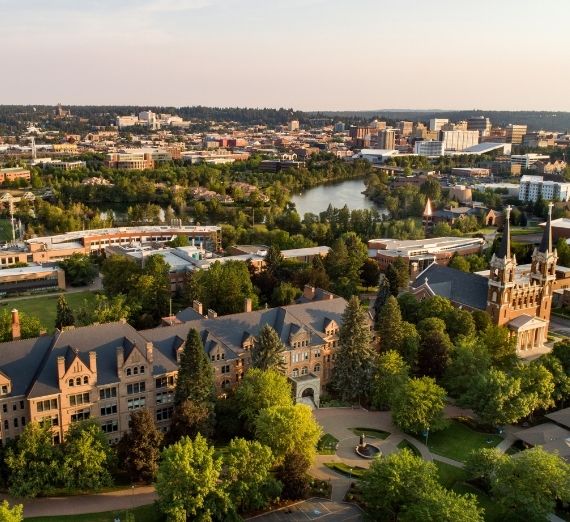 ---
College Hall
By Jose Reyes Bolanos '24
It is very difficult to simply select one favorite spot on campus as I typically enjoy all spots on campus, especially when I'm with friends. One place that I would say is my favorite isn't one particular spot, but rather any of the classrooms in the College Hall. When I first toured GU I was interested in College Hall due to its history as Gonzaga's oldest building and its former title of Gonzaga College. I find College Hall unique since you can receive a great balance in the atmosphere when you work there. Closing the classroom door provides a nice quiet and isolated workspace that can allow you to focus and get stuff done. However, it is popular enough that simply leaving the door open allows you to run into and meet new people, and you can typically hear those in other classrooms with doors that open, in which I felt like I was in a community rather than sitting alone doing homework. I enjoy studying in College Hall later in the evening because the classrooms remind me of my high school classrooms and it allows me to feel a bit nostalgic while I get work done. I also really enjoy the classrooms because they contain projectors so I will typically go study with friends and we watch Ghost Adventures while we work and spook ourselves to the point of running back home to our rooms in the dark. I've also really enjoyed passing through the halls of College Hall and seeing the pictures along the wall of former graduating classes and Gonzaga's history. I had my freshman orientation in one of the College Hall classrooms so it holds a special place in my heart as my first impression of Gonzaga but also as the starting point to my college experience as I met some of my now-close friends in College Hall.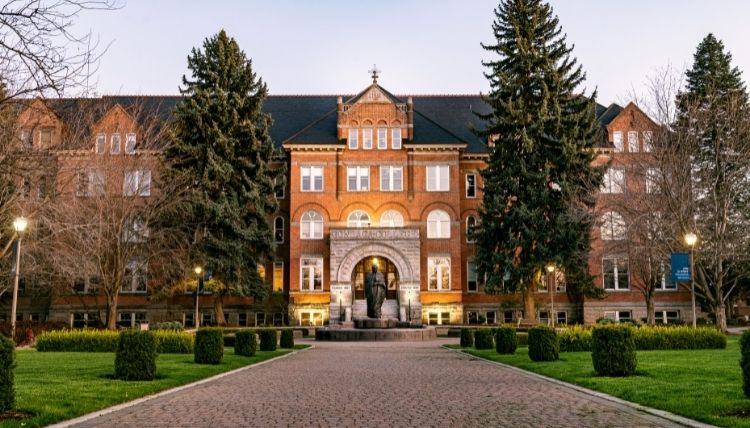 Foley Lawn
By Megan Baird '24
One of my favorite places on campus is Foley Lawn. With COVID last year, it felt like I was spending a lot of time indoors. Then, one day, the weather started to heat up and Foley Lawn became a fan favorite for many across campus. It soon became one of my favorite places to go to study and hang out with friends. With the lawn being located right outside the Foley Library and Hemmingson, it made it convenient to grab a quick snack if I needed or to print something out. Foley Lawn brings a sense of community; whenever you sit there and study or eat lunch, people you know walk past and say hi.
Some of the best parts of Foley Lawn are all the events that happen on it. From SpikeNites, to club meetings, to events, there is so much to do there. Personally, I am a part of a women's ministry on campus and, last weekend, we had an after-church donuts and coffee event on Foley Lawn. There, we were all able to converse about life and have coffee under the trees. Many other groups on campus host events that people can attend throughout the year; it is always exciting to walk by and see people hanging out.
In the winter, Foley Lawn is prime snowman-making territory. I love seeing all the random items that people find to make the snowmen's faces and arms. There is nothing better than seeing people attempt to tackle the snowmen at 3 am just to bounce off them. Last year, Foley Lawn was also the location of many intense, but extremely fun, snowball fights. I never had realized how many people hadn't experienced snow in the amounts that Spokane receives. Some of the reactions of my friends were priceless and seeing them try to traverse the snowy field or freeze their hands trying to make snowballs without gloves was something I will never forget.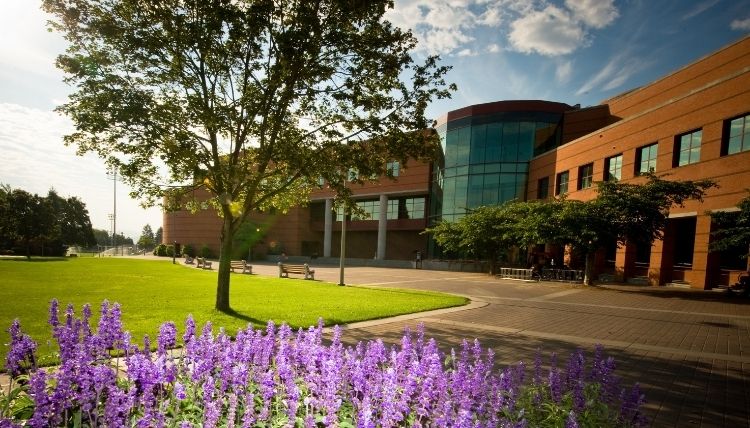 Hemmingson Center
By Annie French '24
My favorite place on campus is Hemmingson Center. I love grabbing a cup of coffee at Starbucks or a snack from the Marketplace (our campus grocery store) and then sitting in the lounge. I love the coffeehouse vibes and being able to study with my friends at the long tables/benches. I am a part of Setons, a service club here at Gonzaga, and one of the things we do is have one-on-one meetings with a different member each week. I love getting lunch or dinner with them at the Bulldog (a GU restaurant) since the restaurant has food to accommodate most dietary restrictions. Whether you are vegetarian or not, I definitely recommend you get the Impossible BBQ Burger; it is delicious.
If you are looking for a more quiet place in Hemmingson, Hemm Den is a great place to go. In addition to tables, there are couches and lounge chairs which creates the perfect atmosphere to get a lot of homework done. Hemm Den is not just limited to schoolwork though! Every Wednesday night, Gonzaga Student Body Association (GSBA) hosts Open Mic Nights or Coffeehouse Concerts. Anyone can participate; plus, it's a great way to de-stress in the middle of the week and appreciate some of the talent Gonzaga students have to offer.
There is no building that has more resources than Hemmingson, which is why it's my favorite spot on campus. To be honest, you could probably live in Hemmingson if you had to. Everyone there is really welcoming and friendly and, if you had any questions about Gonzaga, likely the answer would be found there. In addition, if you ever forget a mask, they have a stack of them at the Welcome Desk. Hemmingson also houses many services including the Study Abroad office. Since I plan on studying in Florence, Italy, this is an important resource to know about. In conclusion, Hemmingson is the place to go on campus.
Go Zags!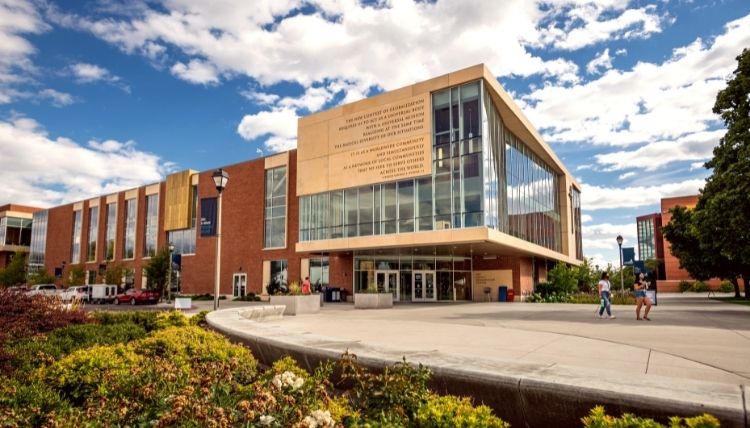 Hughes Hall - Third Floor
By Adam Chin '24
On this campus there are some absolutely amazing places, all with their own appeal and use. There are some really nice areas to eat, such as the Cataldo dining room or the outdoor lounge outside Hemmingson Center, and some serene places to just sit and enjoy the nice, or sometimes not nice, weather, like the amphitheater next to the lake or the tables next to College Hall. I have frequented these places a lot throughout my experiences as a student here at GU, but the places that I cherish the most are my study places. As an engineering major, and just a college student, I have a lot of work and studying I need to do and, unlike in high school, I can pretty much do work anywhere I want on campus at any time. Some of my favorite spots to study are the upper floors in Hemmingson because there is just enough going on to keep my mind alert, an open Herak computer lab because good computers with dual screens are a necessity, and empty College Hall classrooms at night with friends because it creates the best studying atmosphere I've ever seen. Although all these places are great, my absolute favorite spot on campus is the third floor of Hughes Hall.
Hughes Hall is the sciences building at Gonzaga and houses most of the science-based labs on campus as well as some small lecture halls. There are some amazing and interesting things in the labs, but my favorite part of the building is the corner in the third floor hallway. The third floor is home to two labs that aren't often used and a few offices, creating a smaller and much quieter area than the lower floors, giving it a more isolated feel that is great for individual studying. At the end of the hallway there are a few tables with various sets of comfortable chairs surrounded by floor-to-ceiling windows overlooking Bulldog Alley and Herak Lawn. I love this spot specifically because I can sit at the highest point in the area and just watch the hustle and bustle of the campus glide past below me, all while working in a quiet and well-lit spot. This place is also very accommodating to different study styles and even group work because it has a whiteboard to do work on and many outlets to plug all your essential gear into.
I found my favorite study spot by just picking a new place to study every day. I found, and still find, it really helpful to change up your study areas pretty often. It keeps my mind from falling into a rut, and it's just really fun to explore campus and all the amazing little spots it has just for us to study and find some peace and quiet.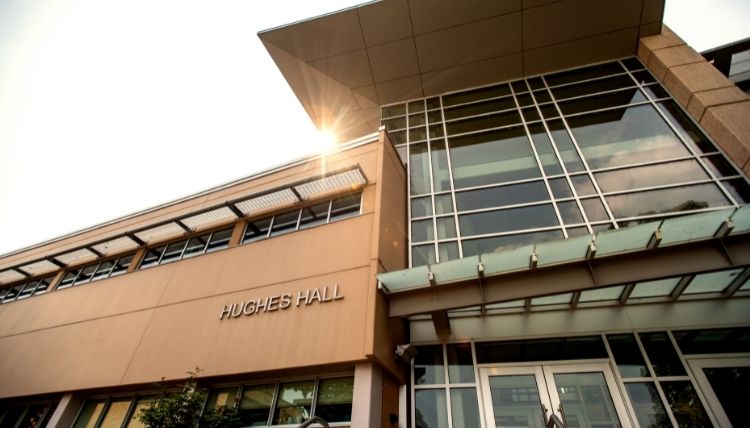 Lake Arthur Amphitheater
By Jade Treese '24
As a Gonzaga tour guide, my job is to know GU's campus from front to back! Though there are many amazing spots on campus to study, grab some lunch, or hang out with friends, I have a fond spot for the amphitheater steps near Lake Arthur. Being from San Diego, one of the things I miss the most about home is being able to go to the ocean whenever I'd like. Lake Arthur provides the perfect remedy for my homesickness! Lake Arthur is situated right behind Jepson, home to our School of Business, on the west side of campus next to the path for the Centennial Trail. On a nice day, the grass is green, the sun is shining, and it's the perfect place to have a picnic or get some studying done in between classes. It's a nice getaway from the busy days of homework and extracurriculars, providing a tranquil and peaceful place to re-center yourself and take on the rest of the day. I didn't pay much mind to Lake Aruther until one snowy day spring semester last year when I had to walk to Tilford, home to GU's Nursing program. While there, I picked up a chai tea latte and began my trek back across campus, when I noticed this beautiful little lake frozen over surrounded by beautiful trees. I had never known it was there! I remember stopping for a little, taking a moment to catch my breath and relax. I might have been freezing, but the view was totally worth it! I got so excited I took a picture and sent it to my Dad, who was just as amazed as I was. Ever since I have gone back anytime I feel overwhelmed or want to enjoy the Spokane sunshine. It's also a great place to practice your rock-skipping skills!
Rosauer Center, Residence Hall Communal Spaces, and the Quad
By Madelyn Archibald '24
When reflecting on the beautiful grounds that we call Gonzaga University, I find it difficult to pick one place to call my favorite. As a Gonzaga teacher candidate, I feel most at home in Rosauer Center (the School of Education building) and, as someone who really values time to myself, I love spending time in my dorm room which I decorate for every holiday. When I really must narrow it down however, it is not a where that is my favorite, it is a vibe.
On campus, I really love all the communal areas available to the students. I spend a large amount of time in the common room in my residence hall doing homework and visiting with the people around me. Especially when I lived on the fifth floor of Coughlin, I loved sitting in the common room and saying hi to everyone coming and going. I also appreciate the ability to gather in these areas and do homework with fellow students. Nothing gets me through an extended homework session like sitting with my friends and sharing snacks, jams, and an episode or two of Ghost Adventures.
Another one of these common areas I love is the lawns on campus. Spokane stays warm until middle of October and I love to spread out on the lawn and do homework with a friend or two. One of the most beautiful places to do homework is on the lawn in between Welch and Desmet. On a beautiful fall day, that area is calming to just sit in and enjoy the falling leaves and the squirrels. I love sitting in a well-trafficked area like this and seeing all the people I both know and don't, coming and going from class to class.
One of the greatest things about Gonzaga is its availability of space for students to meet and collaborate. Even though it is a fairly small campus, my very favorite spot changes all the time because I am constantly stumbling onto new places to enjoy either through word of mouth or just exploring.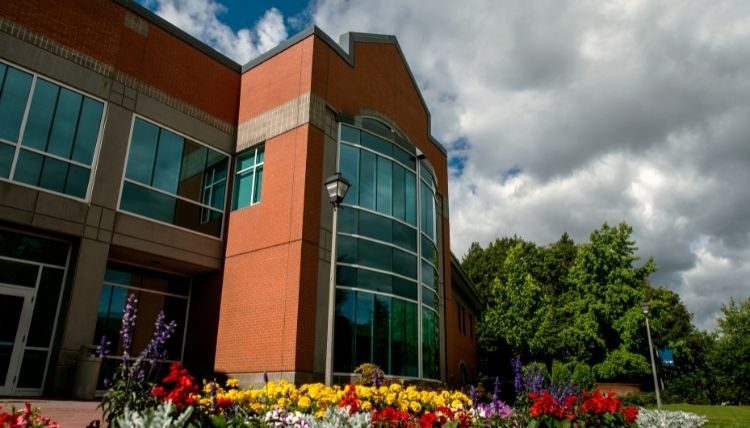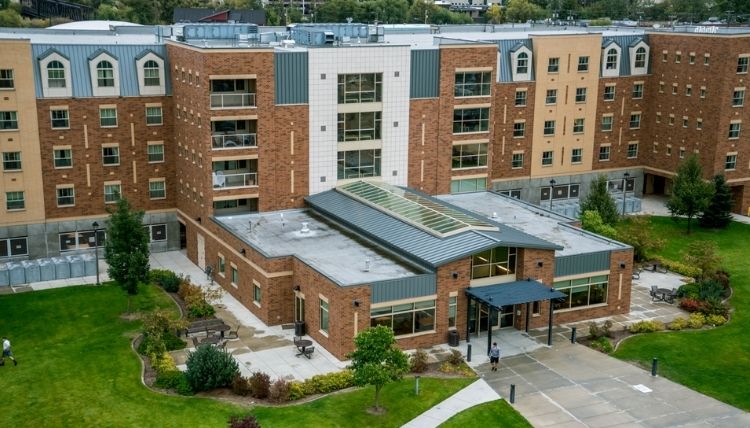 Interested in checking out campus yourself? Check out our in-person visit programming.