Incoming Fall Faculty: Reinaldo Gil Zambrano Joins Art Department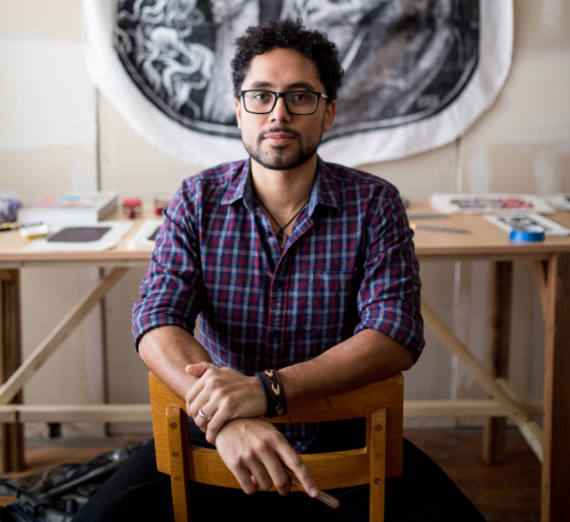 ---
In this short interview series, we will introduce the Gonzaga community to the College of Arts & Sciences' incoming Fall 2020 faculty. Our first interview is with the art department's newest faculty member, Reinaldo Gil Zambrano, who is also a vital member of the Spokane printmaking and art community. We sat down with Reinaldo to learn more about his background as an artist and to find out what he looks forward to the most at Gonzaga University.
Thanks so much for this opportunity to interview you. First off, we'd love to know what your background is as an artist and a teacher.
I have always been intrigued and fascinated by art-making and visual narrative since I was a little kid. Cartoons, graphic novels, and children's books created a bridge between images and words, allowing me to understand and interpret the world around me.
The more I learned and immersed myself in the making process, the more I realized that teaching is an extension of my practice. It allows me to be an eternal student and communicate more significant ideas with others. Passing on art-making processes to others and witnessing their growing empowerment and confidence, seeing them tell their own stories amazes me. The process is enjoyable, painful, and frustrating at the same time. Still, it is always rewarding. Having the opportunity to share it in a classroom with others doesn't get any better than that.
The Making of Reinaldo Gil Zambrano's "Walking Cloud" at Spokane Print and Publishing Center from Laree Weaver Photography on Vimeo.
What Spokane-based initiatives have you involved in? (SPPC, Print Fest, etc.)
Since I moved to Spokane 3 years ago, I have participated with several non-profits and art organizations. I was part of the Richmond Art Collective, where I started RGZprints: a small studio dedicated to fine art relief printmaking. Later on, Saranac Art Projects invited me to become a member, which I still am today.
In 2019 I joined forces with Millwood Printworks, Derrick Freeland, and Dorian Karahalios to open The Spokane Print & Publishing Center in 1920 N Ash. There we teach any old fashion, hands-on printmaking process, and more modern publication and board game development techniques. I have collaborated with Terrain, Spokane Arts, and the Emerge Gallery in Coeur d'Alene to develop the Spokane Print Fest and the annual Ink Rally. The Rally consists of using an asphalt roller as a makeshift print press to print large 5x6 feet woodcuts on fabric.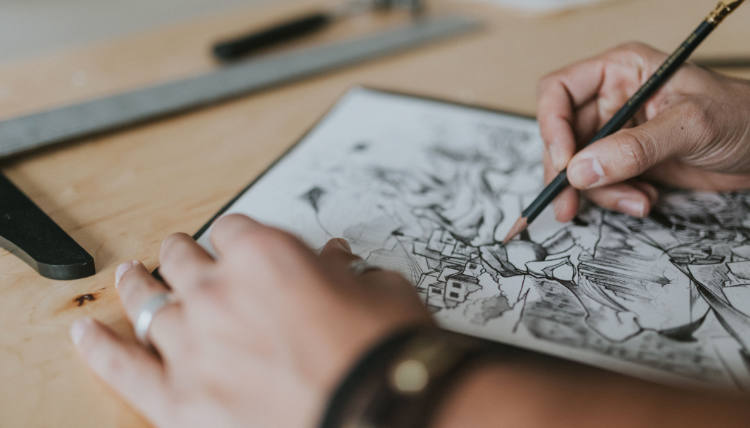 Photo by Laree Weaver
What art-related achievements of which are you most proud?
One of my favorite moments has been drawing, carving, printing by hand, and wheat pasting a 48x8 foot relief print with eight students from EWU, at three different university campuses as part of my Unconventional Printmaking course. The installations took place at Eastern Washington University, Washington State University, and the University of Idaho during the Rocky Mountain Printmaking Alliance Biannual conference of 2018. Having two of my pieces become part of the permanent collection of the Instituto TAGA in my native Caracas, Venezuela, was also a memorable moment in my art career.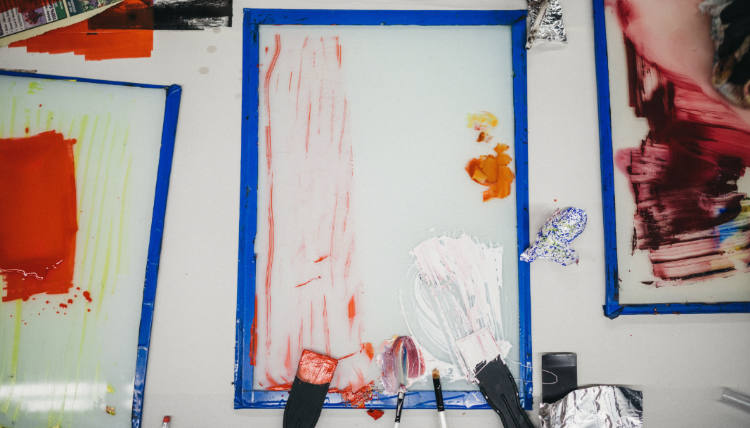 Photo by Laree Weaver
What makes you most excited about your new position at Gonzaga?
I am looking forward to working with Gonzaga students, exploring traditional and creative approaches in printmaking, and drawing to study new ways to apply art-making as a tool to become proactive participants in their communities. Spokane is a vibrant place that continues to develop its unique creative identity. I want Gonzaga art students to feel that they can actively participate in this growing visual world that surrounds their campus.