Caregiver Finds Passion in Compassion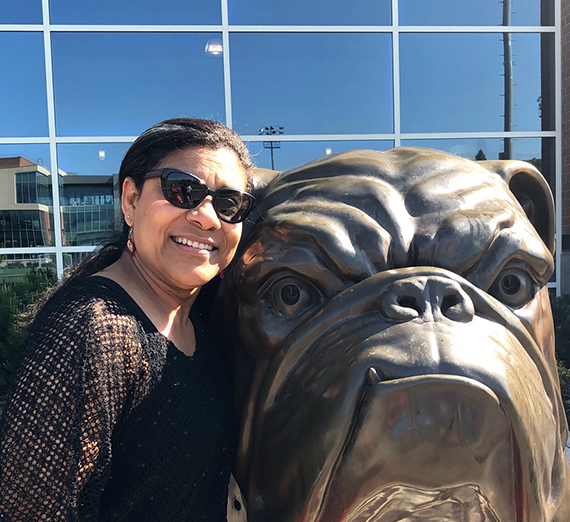 ---
A Liberian refugee and recent Gonzaga alum, Maddie Collins believes she was born with an intrinsic ability to nurture.
At the age of 5, Collins spent her days nursing frogs and other small animals with a little plastic doctor kit given to her by her brother, and in a house with many siblings she was always caring for someone.
"Those memories are fond," she said. "It was just part of my nature and I knew that's what I wanted to do from the time I was five."
Collins graduated in 2019 from Gonzaga's School of Nursing and Human Physiology with a Doctor of Nursing Practice (DNP) degree. This program is designed to prepare students to become nurse practitioners, helping to develop the skills to work at a higher level and to be leaders within the profession.
Classes are primarily online, designed to meet students where they are, a support system that Collins sites as being tremendously helpful.
Having worked as a nurse at a local VA hospital for many years prior to Gonzaga, Collins never strayed from her calling. However, somewhere along the way she began to wonder if there was more she could do.
"I started doing some reflection. I looked at my life and thought, 'Well, what do I really want to do?' And that's when I started feeling really motivated."
When Collins initially began her search for the DNP program that would best fit her needs, Gonzaga did not yet offer one. Educated in Catholic schools her whole life, Collins continued her search in that realm, drawing her back to Gonzaga.
By the time she was ready to make a decision, Gonzaga had launched its DNP program.
"It wasn't a hard decision," said Collins. "The Jesuit principles aligned with what I wanted to do."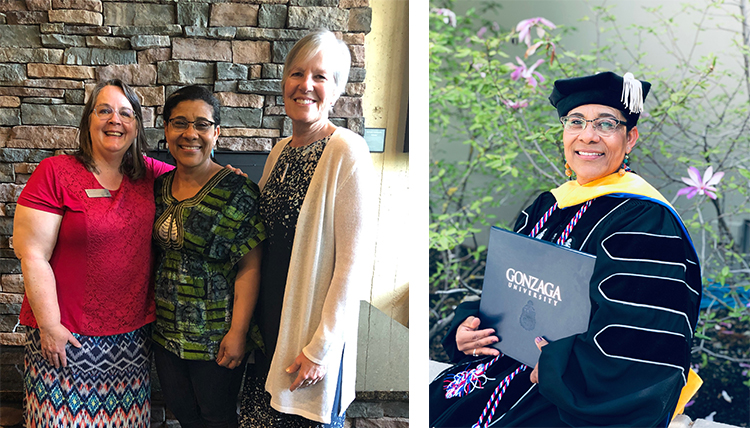 The principles that dictated Collins' decision are the same principles that she bases her life around. In the Jesuit tradition, those principles are life, love and liberty, but most importantly, caring for the least among us.
Collins believes this should be a global perspective for healthcare, always focusing on the underserved population. Whether this belief stemmed from her early days of caring for small creatures in Liberia or just a general acknowledgement for human rights, Collins used this to complete her quality improvement project, a requirement of the DNP program.
Her research focused on homeless patients and their inability to receive consistent healthcare because of socioeconomic inequalities and health disparities. She was moved to design and present an effective healthcare "passport" to encourage homeless patients' return for follow-up appointments.
This project, said Collins, helped her put her learning into practice and her principles into action.
A year out from graduation, Collins is taking this time to be with her family – which includes her husband, the mayor of Helena, Montana – study for her board certification, and further develop her independent work.
Based on the Aristotelian philosophical term eudaimonia, this ethics-based idea is rooted in the practice of human flourishing and prosperity, but to Collins it is a way of life.
"It's not just about being healthy or physically well, it's about your whole being," she said. "Not just the absence of illness, but the presence of prosperity that you get not from wealth, but from being within yourself."
Through it all, Collins attributes much of her recent success to the program that values educating the whole self almost as much as she does.
"If Gonzaga wasn't the school it was, I probably would've dropped my program or given up my career," she said. "I want to tell [the DNP program] thank you, and I hope one day my circle will bring me back to help Gonzaga because they have truly made a difference in my life."
There's more than one degree to match your passion for nursing and leadership.