Grace, Blazer Bound for Teaching Post This Fall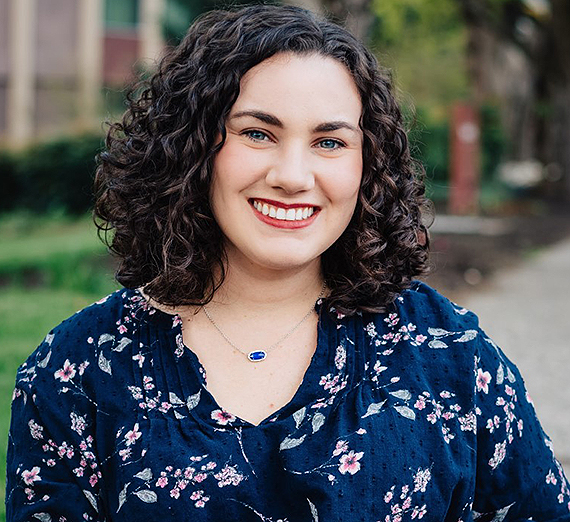 ---
SPOKANE, Wash. — Grace Meno, a May graduate of Gonzaga University's Master in Initial Teaching program for secondary education, persevered through a student-teaching experience cut short due to the coronavirus pandemic. Now Meno and Blazer, her service dog, have a teaching job lined up for the fall.
A 5-year-old Australian labradoodle, Blazer is a seizure alert service dog. He went to every Gonzaga class with her, and accompanied Meno at her student-teaching assignment at Central Valley High School in the Spokane Valley.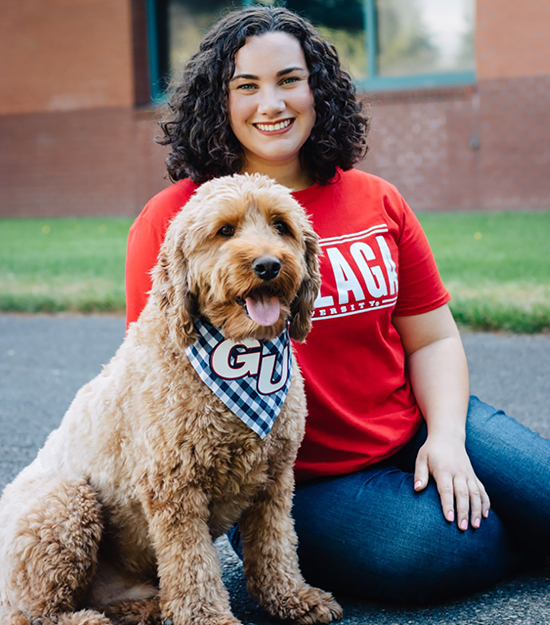 "My peers and the GU faculty were very receptive to him and respected his 'on duty' time," said Meno. "He fell in love with my cohort and became 'one of us' very quickly. During his break times, there often would be four to five people sitting around petting and loving on him."

Meno earned a bachelor's degree in history with a minor in religion from Pacific Lutheran University in Tacoma, Washington. Intending to teach, she decided to get her master's degree at Gonzaga.
Gonzaga's MIT secondary teacher emphasis is typically a two-year program but Meno opted for the 1-year program.

"It was a lot at times, but it was very doable if you have strong time management skills," said Meno, who chose Gonzaga's School of Education because the community made her feel at home. "I applied and interviewed at several other university programs before selecting Gonzaga and they never compared to the way I felt about GU," said Meno.
The best part of the program, she said, was the faculty and staff, whom she felt truly cared for her success and well-being.

"They honestly made the whole experience 10 times better," said Meno. "I felt all of the classes were very applicable to teaching and were designed for reality."
A positive attitude helped her through the coronavirus-shortened student-teaching experience, she said.

"I did learn a lot about myself and what I want to do and not do in my own classroom," Meno said.

Despite the trials and tribulations, Meno is confident she will succeed in teaching, thanks to the support from her professors in Gonzaga's School of Education.

"I will be teaching sixth-grade social studies at Lake Stevens Middle School in Lake Stevens, Washington," Meno said. "We aren't sure what the year ahead looks like yet, but I am excited to have my own classroom and students!"
Learn more about securing accommodations for service animals on campus.