Imprinted on Her Heart: Erin Bergmann Works for Human Rights in Honduras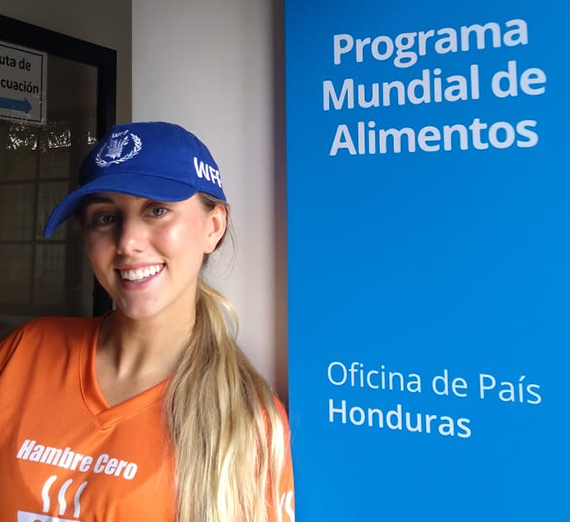 ---
When Erin Bergmann graduated from Gonzaga in 2015, working for the United Nations (UN) was her long-term goal. In December of 2019, she finished up a four-month position in Honduras created by the UN, specifically for her.
A self-described nomad, Bergmann has migrated countries and careers, not yet settling in one place or field but always adhering to the call for social justice. While studying international relations at Gonzaga, she interned for a local congressman, served with a non-governmental organization in Nicaragua and worked for World Relief Spokane. All while running in GU's track and cross-country program.
After graduating, the itch to keep moving never subsided as she accepted a job working for the World Food Program (WFP) in Rome. One of the largest organizations of the UN, the WFP is a leader in the humanitarian efforts to end poverty, hunger and inequality throughout the world. This position, though temporary, kickstarted her experience in global fundraising and provided a connection that would eventually take her to Honduras.
In Honduras, Bergmann's work with the WFP centered around creating a fundraising strategy that would ultimately combat the effects of the "Dry Corridor."
"[The Dry Corridor] is the most extreme and clear example in the world of the effects of climate change," she said. "The primary means of income and livelihood in Honduras is growing food, but they've had hardly any precipitation in five years. There is no way for them to make money or eat."
In a country of 9.1 million people, 60% live in poverty. This poverty, an issue at the root of chronic food insecurity, exists in vast disparities and is highly concentrated in indigenous populations, women, children under 5 and people with disabilities, according to the WFP website.
"It's heartbreaking and it's challenging," said Bergmann.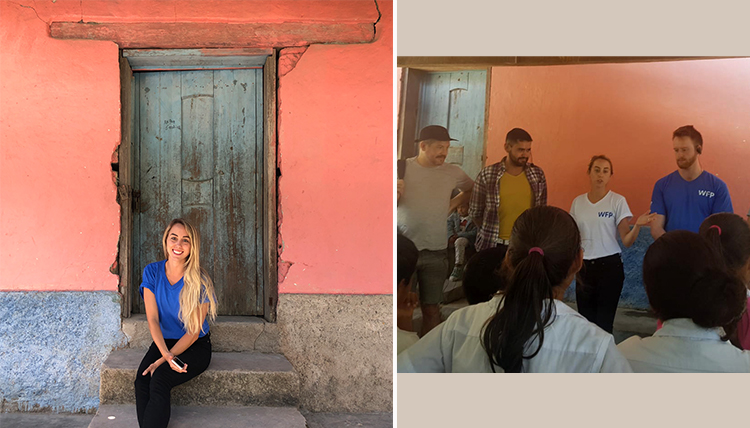 In 2019, U.S. humanitarian funding to Central America was halted, a move that would theoretically stop mass migration. However, a loss of funding of this magnitude meant there was little left to create the sustainable lifestyle needed for people to stay in Honduras.
Without support from the international community, the only way to help the people in the Dry Corridor was to secure funding from other places to implement new methods of farming and cultivate water.
"If we can't rely on governments to give to us because of politics and sensitivities surrounding that, then the focus is on foundations and corporations," said Bergmann.
Creating a plan to locate and maintain those crucial fundraising relationships became her lifeblood for four months.
"You want partners to be long-lasting and reliable, kind of like family," said Bergmann. "You want them to buy in, be there for a long time and build really sustainable, helpful, functional partnerships."
By the end of her fourth-month term, she had produced a strategy that not only fulfilled the necessary needs but would adapt and respond to strain in the country due to COVID-19.
The work she did in Honduras was both challenging and rewarding, but Bergmann highlights the learning opportunity as one of the biggest takeaways.
"It's not necessary to try to completely fix or save anything, but to open your eyes to another experience is always good."
The issues in Honduras are deeply complex. The country has one of the most unequal distributions of income and resources in the world, as well as high levels of poverty, violence and migration. Despite this, Bergmann challenges anyone who is willing, to learn about the difficult realities but also to witness the resilience, faith and love present in the country.
"Seeing that amidst hardship, Hondurans have a very beautiful sense of community, their family is everything, they have such faith, they have perseverance, and they have so much love," she said. "That was very beautiful."
For Zags still figuring where exactly they fit into the complex world of human rights, Bergmann has one suggestion.
"The more you truly expose yourself and learn about the world and injustices in the world around you, the more motivated you'll become. You'll have dreams about it, you'll be thinking about it when you go to bed and when you wake up," she said. "The more you expose yourself, the more it's imprinted on your heart."
Click here to learn more about the Honduras Country Office.