Graduating Zag Finds Silver Lining
Jordan Tolbert Launches Broadcasting Career During Pandemic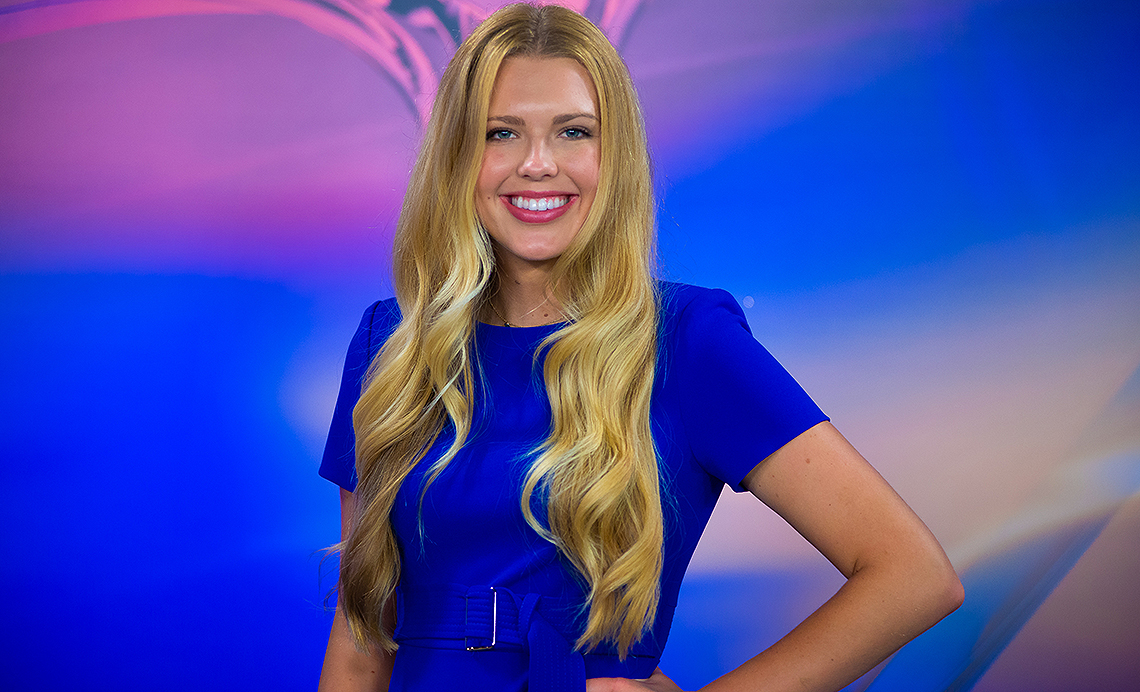 SPOKANE, Wash. — Jordan Tolbert, a graduating senior at Gonzaga University with a double major in broadcast studies and political science, could be a poster child for maintaining a positive attitude during trying times. Though her final semester this spring was disrupted by the worldwide coronavirus pandemic, Tolbert found a job in her career.
Gonzaga closed campus due to the pandemic in mid-March
and began delivering education online March 23 to more than 5,000 undergraduates
. In April, Tolbert was hired as the new Saturday wake-up anchor/producer and weekend regional reporter for KNDU-TV in Tri-Cities, Washington. She is responsible for reporting, anchoring, and producing.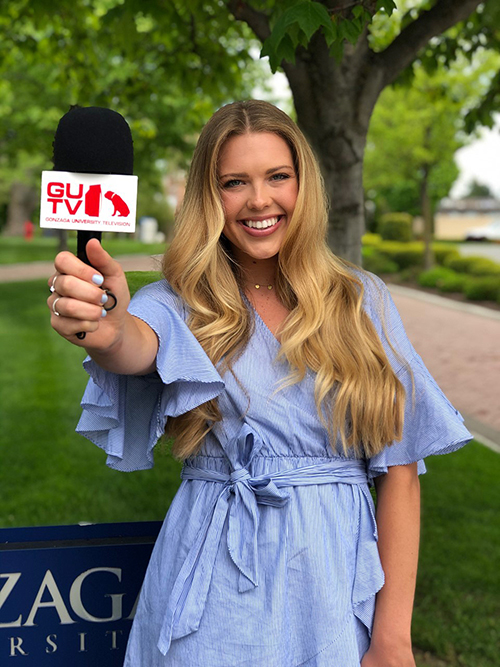 A graduate of Mt. Carmel High School in San Diego, California, Tolbert has been thoroughly engaged during her four years at Gonzaga. She was involved in the Gonzaga Student Body Association as a sophomore and senior, and served as a staff writer for The Gonzaga Bulletin from January 2019 to May 2020.
The close-knit community on Gonzaga's campus was the defining factor in Tolbert's decision to attend Gonzaga.
"Everyone says this but whether I was walking to class, in line at Thomas Hammer, or even in the gym, I always saw kind people whom I was so excited to be around," says Tolbert. "I think GU is a really crazy, cool place because everyone here is so gifted in some way. I saw so much kindness, love, and compassion in so many people and I think I will miss that feeling of being surrounded by great people constantly."
Tolbert appreciates how she was able to grow her professional skill set as her academic programs evolved.
"It was dynamic because I've seen a lot of changes within the department with my advisers, professors, and classes," Tolbert says. "I ended up getting a really great understanding of a lot of cool aspects of media."
She reflected on the most rewarding aspect of her Gonzaga experience.
"I'd say it's the fact that I feel like my worldview was expanded," says Tolbert. "It feels really rewarding to know I gave it my all and did things that were out of my comfort zone — volunteering locally, working at a middle school, GSBA, and I even changed my major. I really developed the parts of me I lacked — patience, problem-solving, and the ability to fail."
In addition to her studies, Tolbert has had internships with news stations, which she has felt were instrumental in allowing her to put her passion into action.
"I worked at NBC 7 San Diego two summers in a row, which really was where I met some of my greatest mentors and learned lessons about being a reporter," Tolbert says. "I also worked at KHQ and KXLY in Spokane, both of which improved my work ethic dramatically because I worked some really cool shifts I wasn't used to. Having a variety of internships also helps you figure out what kind of person you are in a professional setting, what kind of people you want to surround yourself with, and really allows you to grow as a professional."
Tolbert is planning to attend the undergraduate
commencement ceremony
, which has been rescheduled to Sunday, Sept. 6. Despite having her senior year interrupted, Tolbert remains a model of positivity as she moves forward.
"Good things come out of grim situations," says Tolbert. "Stuck inside all day? Spend time with your family that you never get to see and bond with your little brothers. I found a silver lining for almost everything, but before that I definitely allowed myself to feel sad. I knew though that as sad as it is, you can't stop a pandemic by being angry at it."
Equipped with the skills gained from her classes and work experience, Tolbert is confident of professional success.
"I used to be afraid of messing things up, failing, or disappointing people, but now I realize the only thing I can do is be kind, try my best every day, and never stop learning," says Tolbert. "I think Gonzaga has prepared me for this position because it's taught me how to fail gracefully. Now I'm a news anchor/reporter and I'm going to be on camera in front of thousands of people weekly."
Tolbert, who received a Dussault Scholarship and a Gonzaga Grant to help pay for her education, commented that Gonzaga has helped her to be kind to herself and learn not to feel too much self-induced pressure.
"We are always evolving and learning, so I make sure I tell myself that. A flower can't grow unless it is nourished," says Tolbert, who has truly blossomed at Gonzaga.
Academics
Careers & Outcomes
College of Arts & Sciences
Communication Studies
Political Science
News Center