2020 Gonzaga Staff Awards for Mission & Innovation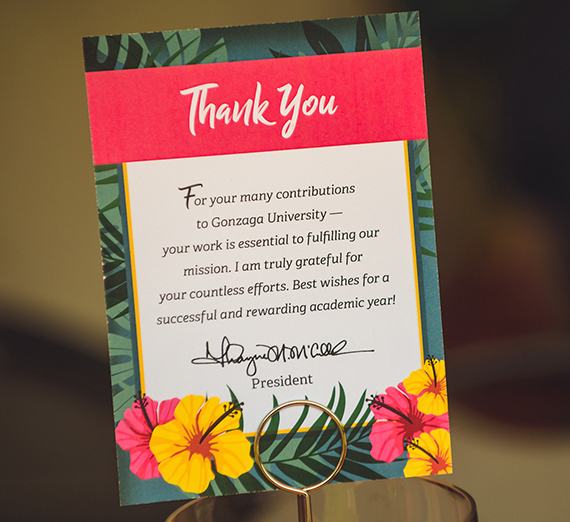 ---
Gonzaga's Staff Assembly is proud to recognize employees who have demonstrated exceptional support of the mission and created innovative solutions in the 2019-20 academic year. Congrats to these honorees.
Outstanding Service in Support of Mission
Graduate Enrollment Student Services Specialist Margaret McGuire
Director of the Center for Cura Personalis Nicola Mannetter
McGuire's focus is student experience and retention with graduate nursing and theology students. Described by her nominators as "one of the most selfless people you could meet,"
McGuire learned of a student who couldn't afford a flight and hotel room for an immersion weekend on campus, who planned to drive to Spokane at 4 a.m. and sleep in her car the
following night. McGuire was able to get a room paid for at the Ministry Institute and she personally paid upfront for the student to have meals on campus while they were here.

Mannetter spoke to Mission & Ministry staff fall semester, and said if there's one thing Gonzaga does well, it's focusing on the holistic well-being of its students. Every day her team
asks students about their well-being, in and outside the classroom. They talk about their classes, support networks, spiritual lives, hobbies and interests, and self-care practices.
"Nicola works to hold herself accountable not only to produce her best work, but so her staff and students can be their best," her nominator writes. The Refer form is an example
of her care for students, providing a means for others in the campus community to provide information about a person they are concerned about.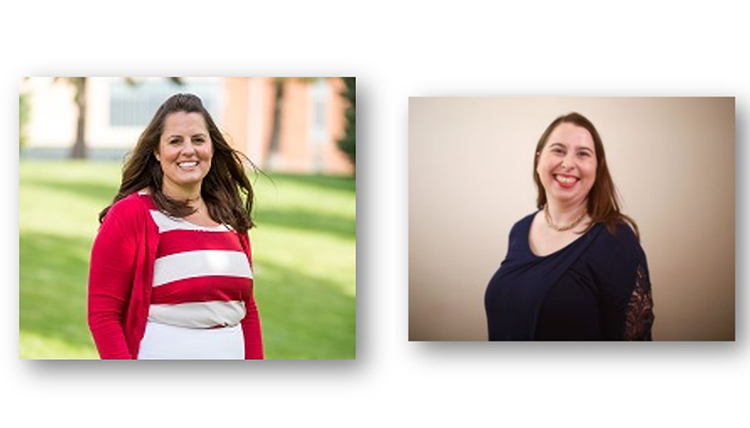 (left: Mannetter; right: McGuire)
Staff Innovation Award
Director of Undergraduate Admission Erin Hays
Marketing & Communications Web Producer Shannon Whitley
ITS's CRM Business Analyst Peggy Noble and Associate Director Rick Rasmussen

This group led teams that successfully transitioned GEL Weekend to a virtual format.The goal wasn't just to offer a few hours of talking sessions, but to bring all of GEL weekend online. This vision evolved into an entire day of virtual sessions that students could attend from small group chats with student ambassadors to live open houses, parent presentations, mock classes, campus tours and more. GEL Weekend normally draws about 500 accepted students to campus. More than 900 registered for virtual GEL, from all over the country and internationally.
Read about this year's Faculty Achievement Awards.