Gonzaga Honors Faculty with Achievement Awards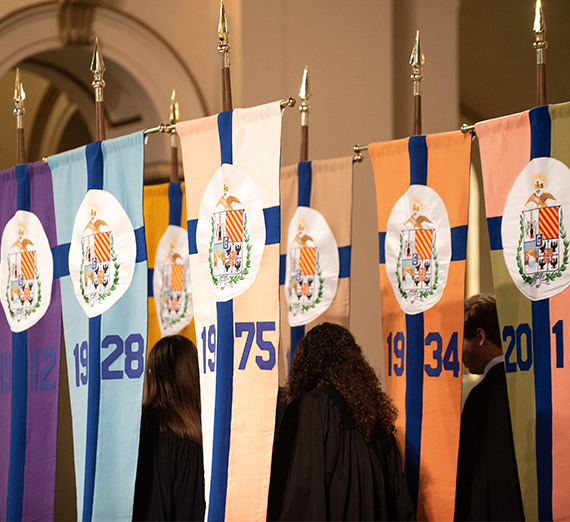 ---
Recognizing the work of Gonzaga faculty has taken on new meaning this year as the University has adjusted to times of uncertainty and unconventionality.
We're proud to acknowledge these professors, selected by the
Provost
based on
nomination and review by the Faculty Awards Committee.
Congrats to these
awardees
, who
will be recognized during Commencement Weekend in September.

Left to right: Jay Ciaffa, Gloria Chien, Jeff Ramirez
Teaching Excellence Award
This award recognizes exemplary performance by faculty in creating learning environments.
Tenured – Elizabeth "Betsy" Bancroft, Ph.D. | Associate Professor, Biology and Environmental Studies
Dr. Bancroft's exemplary teaching has achieved consistently high marks in student course evaluations, and her students say her impact has been a defining moment in their college careers. Her combination of traditional lectures with interactive techniques create a challenging but welcoming learning environment with the ideal blend of kindness, rigor, application, humor, and challenge.

Tenure Track - Gloria (I-Ling) Chien, Ph.D. | Assistant Professor, Religious Studies
Dr. Chien's impressive teaching portfolio exhibits intentional teaching, innovative pedagogical techniques and teaching philosophy, and well-crafted objectives. With an integrated approach to supportive student learning, it is clear she has a good command of students' needs and experiences.

Non-Tenure Track - Cathy DeHart, M.ED. | Lecturer-IR, Accounting
DeHart students' benefit from the rigor of her discipline and her role in leading the Accounting department to continuous national rankings. Outside the classroom, Dehart teaches small business owners to do their own accounting. A colleague remarked, "Cathy is the epitome of the culture at Gonzaga, one of the family."
Professional Contributions Award
The Professional Contributions award recognizes excellence in scholarly publications, professional presentations, and creative works.

Tenured - Jeffery Ramirez, Ph.D., P.M.H.-N.P., A.R.N.P. | Associate Professor, Nursing
Dr. Ramirez' implementation of the Washington State Suicide and Prevention Plan and the Health Department's improvements in suicide education requirements and training programs have advanced the field of nurse practitioners in Spokane and across the state.

Tenure-Track - John Tadrous, Ph.D. | Assistant Professor, Electrical and Computer Engineering
Dr. Tadrous' extensive research has focused on boosting the quality of content delivery in data networks by leveraging predictable human behavior in medium to long timescales together with untapped properties of data networks. His publications have had a noticeable impact in the research community, as he has become one of the most cited faculty at Gonzaga.
Academic Citizenship Award
The Academic Citizenship award recognizes exemplary service in any dimension of University citizenship.

Jay Ciaffa, Ph.D. | Associate Professor, Philosophy
As chair of one of the largest departments in the University, Dr. Ciaffa has guided the revision of the Philosophy major and minor, while also helping oversee the Kossel Track for seminarians and the graduate Philosophy program.
The Collaborative Work Award recognizes excellence in intra- and inter-disciplinary work conducted in collaboration with others.

Adriana (Addy) Wissel, Ph.D. | Associate Professor, Counselor Education
Dr. Wissel's two-fold methodology emphasizes collaboration between her students and the Spokane community. Her partnership with the Spokane Diocese created an internship for Gonzaga students to teach pro-social skills and to provide consultation at St. John Vianney Catholic School.
Diversity Leadership Award
The Diversity Leadership Award recognizes a faculty member who has made a significant contribution toward institutionalizing the mission and goals of our commitment to diversity.

Elizabeth Goldstein, Ph.D. | Associate Professor, Religious Studies
Since Dr. Goldstein's arrival at Gonzaga in 2010, there are numerous examples of her contributions toward diversity and the University's mission in her roles as both professor and rabbi. In keeping with our commitment to diversity, she has had a significant impact on students, faculty and the regional community.
The Open Category award recognizes exemplary work by faculty that is innovative or represents a unique individual contribution that would normally not be recognized in other categories of exemplary faculty awards.

Tenured - Marianne Poxleitner, Ph.D. | Associate Professor, Biology
Dr. Poxleitner developed the Biology Department's Phage Discovery lab, expanding from only 16 students to approximately 400 incoming science students. In her own words, students in the Phage lab "experience the thrill of discovery as well as the disappointment associated with scientific failure, which builds resilience and encourages tenacity."

Non-Tenure-Track - Don Hackney, J.D. | Associate Professor, Business Law
Hackney's high expectations ensure that each student learns a great deal, while the nature of his teaching has earned him high student evaluations and respect. His wealth of experience in the field is demonstrated in stories from his law practice that engage students' imaginations and bring the material to life.
Additional Recognition
Two additional faculty members received awards this year from Community Engaged Learning and Career and Professional Development. Though not granted by the Provost, these awards are a testament to the incredible work of Gonzaga's faculty.
2019-2020 Community Engaged Learning Faculty Member of the Year
Dr. Joe Johnston, Sociology and Criminology
This award recognizes excellence in community engaged teaching and learning. Student Derek Dunkin wrote of Dr. Johnson: "Joe embodies this University's mission statement, and his commitment to serving the greater Spokane area is unmatched. His ability to handle the complex issue of education inequality is astounding."


2019-2020 Compass Award
Dr. Becky Bull Schaefer, Management

Career and Professional Development recognizes a faculty member for their contribution to the career development of students. Dr. Bull Schaefer has helped multiple students obtain practical professional experience through co-curricular programming.
Professors Emeriti

Left to right: Sydney Chambers, Lyn Murphy, Mary Farrell, Gabriella Brooke
Recognizing lifetime contributions to their students:
Professors emeritus:
Gabriella Brooke

, Modern Languages

David Elloy, Business

Mary Farrell, Art

Georgie Ann Weatherby

, Sociology/Criminology
Associate Professor Emeritus:
Paul Hastings

, Education

Lin Murphy, Nursing

Sydney Chambers

, Foley Library
C
ongrats on these incredible
achievements!
See this year's Staff Awards for Mission & Innovation