McKenzie Lawrence Awarded 2020 Dean's Medal for Academic Excellence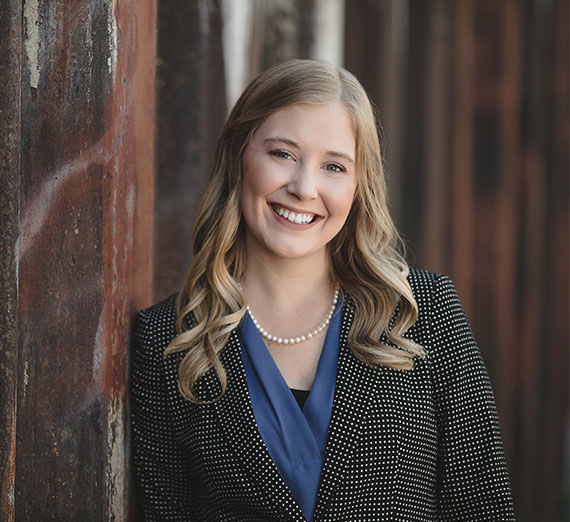 ---
Congratulations to McKenzie Lawrence for achieving the highest cumulative grade point average in the graduating Class of 2020 and being awarded the 2020 Dean's Medal for Academic Excellence!
Lawrence grew up in Puyallup, Washington. Prior to attending Gonzaga University School of Law, she attended Western Washington University and graduated with a Bachelor of Arts in Politics, Philosophy, and Economics.
Lawrence graduated from Gonzaga first in her class with a GPA of 3.96. She also received CALI Excellence for the Future Awards in recognition of earning the highest grade in 17 classes, including Wills and Trusts, Property, and Civil Procedure.
Outside of the classroom, Lawrence served as the Executive Editor of the Gonzaga Law Review, and the Women's Law Caucus liaison to the Spokane Chapter of the Washington Women Lawyers. She volunteered as a Street Law teacher at Rogers High School, and helped 1L students as a teaching assistant. During her 2L year, Lawrence teamed up with Lesley Gangelhoff and won the Linden Cup Oral Advocacy Competition, arguing before justices of the Idaho and Washington Supreme Courts in the final round.
During law school, Lawrence gained a variety of practical experiences. She worked as a legal intern for the private law firm, Witherspoon, Brajcich, McPhee, externed with Judge Fennessy of the Spokane County Superior Court, and worked as a law clerk with the Washington State Office of the Attorney General.
In the fall of 2019, Lawrence began working with the private law firm, Smith + Malek in their Coeur d'Alene office. She will continue at Smith + Malek as an attorney in the fall, focusing on business and real estate law.
McKenzie Lawrence is grateful to God for the opportunity to attend law school, and her success would not have been possible without the unconditional support of her husband, Isaac, as well as the encouragement of her family, church, and friends.
Amazing work! The future is bright.