Sustainability Q&A with Jamison Jouno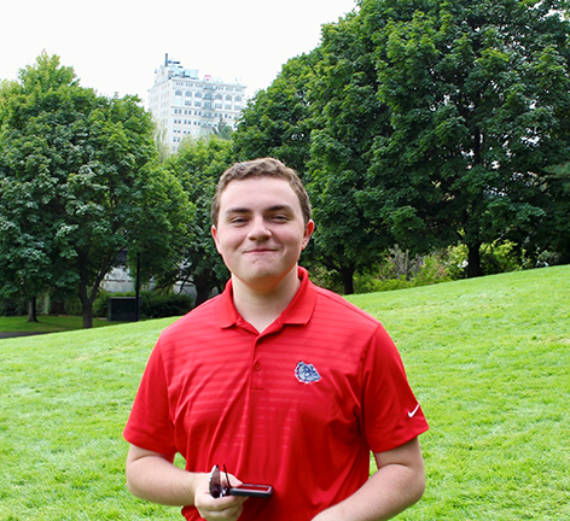 ---
What is your position or department at Gonzaga?
I am an AmeriCorps volunteer serving as the Sustainability Leadership Coordinator in the Office of Sustainability.
What does sustainability mean to you?
In having this position, my view on what sustainability encompasses and means to me has changed immensely. Initially, I thought of sustainability as primarily environmentalism, but this quickly changed as I started working in the field. Sustainability encompasses social, economic, and environmental initiatives like all other social justice topics. Sustainability to me means, living within your means to ensure the maintenance of our resources for the next generations. A big aspect of my thinking of sustainability is showing proper care for all of creation.
How have you been involved in promoting sustainability on campus?
As an undergraduate here at Gonzaga, I was a CCE student liaison. In that role I had the opportunity to research topics for our service immersion programs, such as environmental justice, native rights and sovereignty, and other social justice initiatives that intersect with sustainability. This year as an AmeriCorps volunteer, I have the opportunity to create and facilitate sustainability leadership programs for students, Gonzaga faculty and staff, and Spokane community members. Each of these sessions focuses on a different sustainability topic and participants have the chance to hear and discuss topics with local experts.
What are some things you do in your personal life to live sustainably?
Growing up, my family would garden, recycle, and look for ways to mitigate our water and energy usage. These are things that I continue to do to this day. I also now compost and utilize alternative transportation options such as public transportation, wheelshares, and walking.
How could Gonzaga continue to improve its sustainability efforts?
Gonzaga could continue to look at their landscaping practices, create more food options that would mitigate waste, divest in the fossil fuel industry, and create more space for sustainable education in many different capacities.
How will you continue to promote sustainability at Gonzaga?
My hope is to continue leading by example. I am excited to finish the year on a strong note for all three of my programs. I want to set the cohorts up for success beyond the program, so that they can continue to support sustainability efforts in their personal lives and in their communities. Additionally, I want to set up the next AmeriCorps to continue this work by creating detailed transition documents that they can rely on.
---