Avista Foundation Provides $50,000 Grant to UW School of Medicine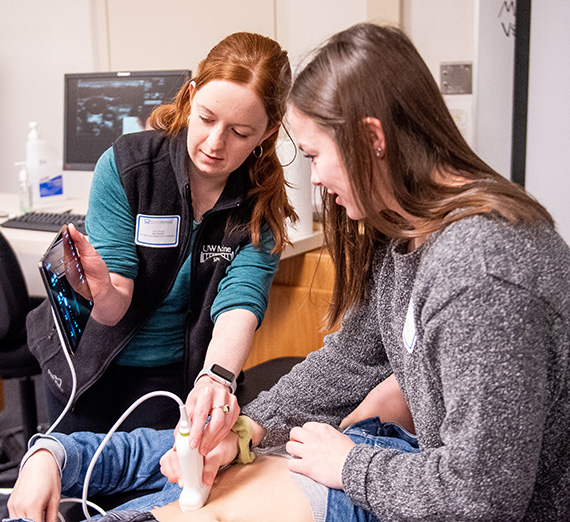 ---
Funding will allow medical school students to embrace emerging technology and enhance bedside care
The University of Washington School of Medicine (UWSOM) received a $50,000 grant from the Avista Foundation to help fund the purchase of handheld ultrasound machines, allowing medical students to enhance their learning and patient care.
"Handheld ultrasound devices will play an increasingly important role in patient care and safety in contemporary medicine," said Darryl Potyk, MD, associate dean for eastern Washington for the University of Washington School of Medicine in Spokane. "By incorporating point-of-care ultrasonography, we can improve medical students' knowledge and understanding of anatomy and physiology, reinforcing physical examination findings in real time."
According to Dr. Potyk, the use of these devices will allow the next generation of physicians to spend more time with their patients and also for patients to receive better care. He says they will allow doctors to confirm physical exam findings without sending them to labs for additional imaging and testing which will result in increased time at the bedside, more timely care and decreased cost.
"We care deeply about our communities and are pleased to support the purchase of these ultrasound devices," said Avista Foundation executive director Kristine Meyer. "Helping to ensure an enhanced educational experience is an important part of the Avista Foundation's focus."
In addition to benefitting its medical school students, the devices will also be used by UWSOM's health partners – Gonzaga University and Spokane's Residency programs – who are working in collaboration to improve the health of eastern Washington. Gonzaga University's nursing students and faculty will use ultrasound machines to teach human physiology, and Spokane-based residents will utilize them as advanced technology that benefits patient care.
Incorporating ultrasonography into medical education is one example of how UWSOM is a leader in medical education in the U.S. In 2016, UWSOM was one of 20 medical schools nationwide selected by the American Medical Association to join its "Accelerating Change in Medical Education" consortium to create the medical school of the future.
ABOUT the Avista Foundation
The Avista Foundation is a separate, non-profit organization established by Avista Corp. The foundation does not receive funding from Avista Utilities or AEL&P customers through rates. Since its establishment in 2002, the Avista Foundation has made grants totaling over $6.5 million. The foundation focuses its giving in the areas of vulnerable and limited income populations, education, and economic and cultural vitality.

About the UW School of Medicine/Gonzaga University Regional Health Partnership
In 2016 the University of Washington and Gonzaga University formed a Regional Health Partnership to continue, enhance and expand medical education and research in Spokane. The agreement makes Gonzaga a partner in the University of Washington's nationally recognized, regional medical education program, WWAMI (an acronym for the states it serves: Washington (Seattle & Spokane), Wyoming, Alaska, Montana and Idaho), and set in motion plans to advance health-related research, entrepreneurship and interdisciplinary health sciences teaching in Spokane. For more information: http://www.gonzaga.edu/RegionalHealthPartnership/ or http://www.uwmedicine.org/education/md-program/admissions/applicants/wwami-first-year/wwami-spokane