The Churches are Empty; So is the Tomb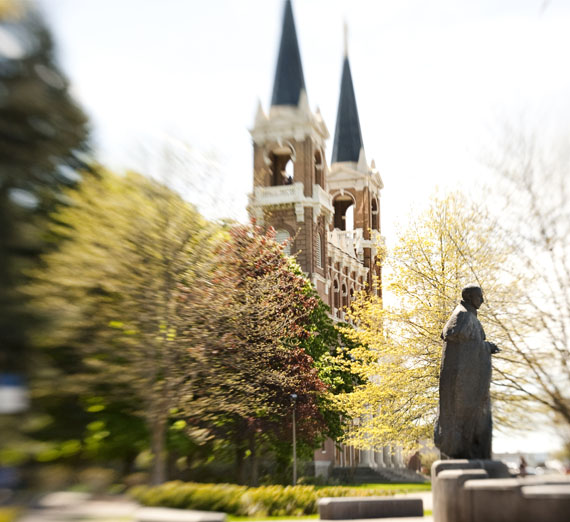 ---
One month ago, I celebrated Easter in the Church of the Holy Sepulchre in Jerusalem. This is the Church, honored by Christians for centuries, as the site where Jesus was crucified, where Jesus died and was buried, and where Jesus rose from the dead. My mention of "celebrating Easter" is not metaphorical – we actually the celebrated the Easter Mass, as it is customary when on pilgrimage to pray the "Mass of the place" rather than the Mass of the day in the liturgical calendar. We were a large group, nearly one hundred pilgrims who had journeyed throughout the Holy Land for ten days. We squeezed together in a small chapel inside the Holy Sepulchre. The space was full and so were our hearts as we sang "Alleluia!", basking in the joy of celebrating the Resurrection with one another in this most holy place.
That day was a Friday. A very rainy Friday. It began with us praying the Stations of the Cross, carrying a large wooden cross and stopping to pray at the various markers along the Via Dolorosa in the Old City of Jerusalem. The old stone streets were slippery, the narrow roads quieter and emptier than usual. As we ducked through the doorway into the courtyard outside of the Holy Sepulchre, the rain stopped. The skies cleared. We entered the Church, prayed the final stations inside, and stood in line to venerate the tomb of Jesus.
As I waited for my fellow pilgrims to visit the tomb and for Mass to begin, I sat on the floor and read the stories of the resurrection appearances. My back against a large stone column, the words of Matthew 28 echoed in my head: "Do not be afraid... he is not here." These were the words the angel spoke to Mary Magdalene and the other Mary, and they are also words for us this Easter.
Not long after my fellow pilgrims and I visited the Holy Sepulchre, it closed indefinitely due to the COVID-19 pandemic. The last time the Holy Sepulchre was closed for an extended period was in 1349 due to the Bubonic Plague.
This Easter, the Holy Sepulchre is empty.
All of our churches are empty.
But so is the tomb.

_____

Then the angel said to the women in reply, "Do not be afraid! I know that you are seeking Jesus the crucified. He is not here, for he has been raised just as he said. Come and see the place where he lay. Then go quickly and tell his disciples, 'He has been raised from the dead, and he is going before you to Galilee; there you will see him.' Behold, I have told you."

Then they went away quickly from the tomb, fearful yet overjoyed, and ran to announce this to his disciples. And behold, Jesus met them on their way and greeted them. They approached, embraced his feet, and did him homage. Then Jesus said to them, "Do not be afraid. Go tell my brothers to go to Galilee, and there they will see me."

- Matthew 28:5-10
---