Praying about Lent and COVID-19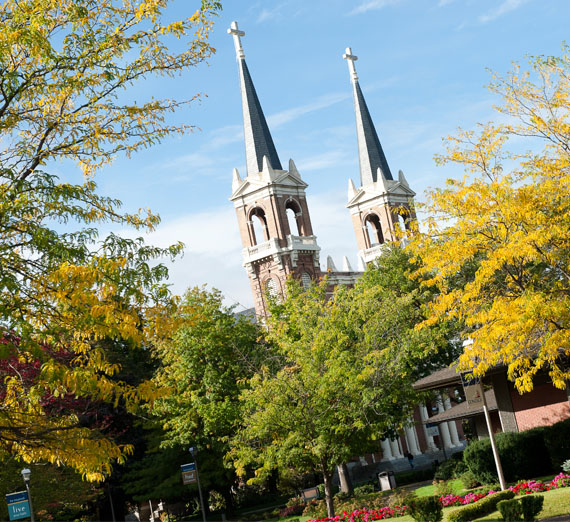 ---
A month ago, when I started thinking about writing my Lent reflection around the theme of Empty and Filled, I figured I might talk about how in the season of Lent I generally focus on emptying myself of distractions or things I waste time on so I can be filled by something new. Then, over the last month, the world turned upside down in a way that I certainly didn't see coming.
COVID-19 has filled me with anxiety and fear in a way that I could not have anticipated. It has filled me with sadness for our community and world, as well as with mourning for our class of 2020 and the particular sense of loss and challenge they must be feeling.
The strange thing about the season of Lent is that we often interpret it to be a season of doom and gloom, yet for Christians, it is more authentically the season of preparation for the eventual death and resurrection of Jesus Christ. With our theme for Lent being "Empty and Filled," we are invited to think about how we empty and fill ourselves in preparation for the resurrection.
In reflecting on this idea, the arrival of the effects of COVID-19 in our own Gonzaga community coinciding with the season of Lent felt like an opportunity for inviting myself to a particular way of emptying and filling:
I need to allow myself to acknowledge that I am experiencing fear and anxiety – that is real and fair. But in this season, if the opposite of fear is love, how can I empty myself of some of my fear to find space to love? As a person whose love languages are physical touch and quality time, I have to think about how to love others in a new way: my family and I zoomed last night, I've had the chance to write letters of gratitude to people in my life and call friends I haven't caught up with in a while. Filling my time with these opportunities to love has helped calm some of my fear.
How can I empty myself of some of my anxiety to find hope? There have been stories of hope all over: the blue skies in Wuhan, the clear water in the Venice canals, the healthcare workers caring tirelessly even with low resources and great personal risk, and the creative ways people are avoiding isolation even while honoring social distancing. Reminding myself of these moments helps me fill some of my mental space with hope and encourages me to find ways to bring hope to our community through new forms of digital ministry.
I know that the fear and anxiety will return – it would be dishonest and inauthentic to pretend those feelings aren't a reality for me and for many others. However, I know that this season can invite me into finding hope and working towards love in new and significant ways as I prepare for the coming Easter season.
---