Gonzaga Law in Action: Seattle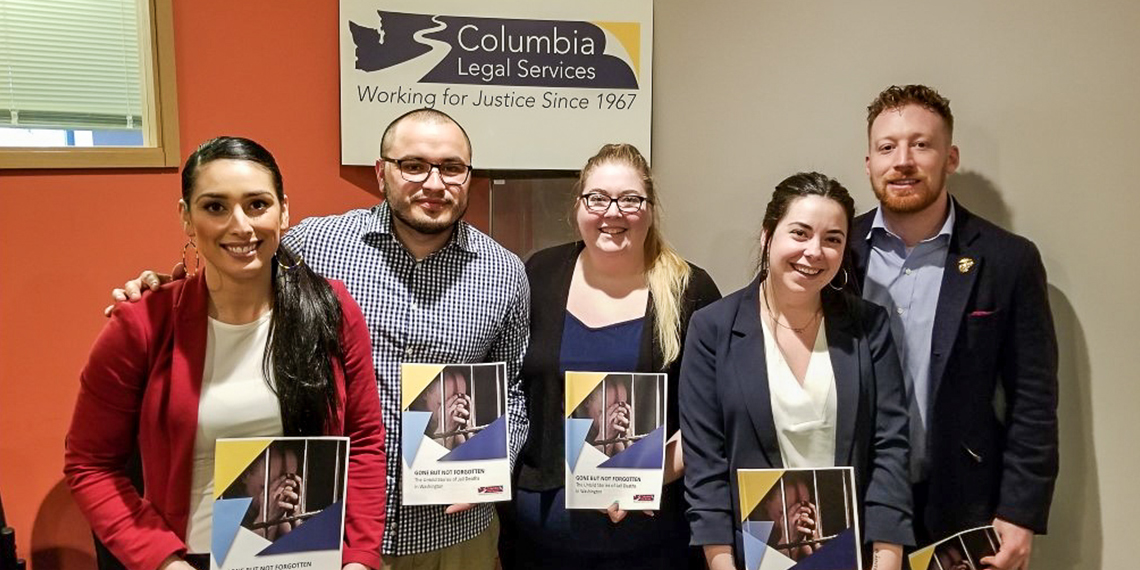 This spring break, Gonzaga Law students put their legal talents towards advocating for one of the most marginalized populations in society: incarcerated individuals.
From March 9 to March 13, five law students participated in the Center for Civil and Human Rights' alternative spring break program, Gonzaga Law in Action (GLA). The students, Shelbi Eller (3L), Hisrael Carranza (2L), Kathryn Lucido (2L), Bailey Pahang (2L), and Nick Cortes (1L), worked with the advocacy agency, Columbia Legal Services (CLS), in their Seattle office. The students' spring break goal: support and assist CLS in their fight against mass incarceration.
During their week at CLS, the students worked on various projects, from researching the harm that communicable diseases may cause in jails, to researching prisons' compliance with the Prison Rape Elimination Act. They also received trainings in the areas of mass incarceration and immigration. One student, Kathryn Lucido (2L), said, "It was so wonderful to play a role, even a small one, in the incredible work CLS does for those who are incarcerated. I'm very thankful for the opportunity to work with and learn from such an important advocacy group; and I am especially thankful that Gonzaga Law in Action opened the door for this incredible opportunity."
The Center for Civil and Human Rights created the GLA program to support law students who are dedicated to advocating for civil and human rights. Housing and travel expenses are provided to the students selected to participate in the program, and students may use their hours from GLA towards pro bono or public service hours.
This year's GLA took place during a particularly challenging time. At the beginning of March, the nation was just beginning to come to terms with the COVID-19 outbreak, and Seattle was the epicenter of the virus.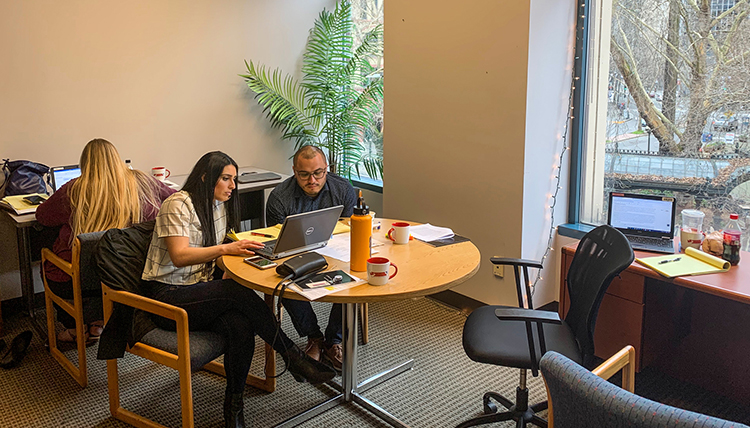 In their own words:
Hisrael Carranza (2L)
"Despite the craziness surrounding the COVID-19 pandemic, I found the experience with Gonzaga Law in Action to be invaluable. Working closely with attorneys that are so passionate to alleviate the horrors of mass incarceration was a dream come true.
"One of my projects had me look into the possibility of incarcerated persons' abilities to organize as a bargaining unit to combat the effects of forced labor in prisons. In particular, I researched whether incarcerated persons have the right to bargain for better wages. In another project, Bailey Pahang and I were tasked with researching compliance with the Prison Rape Elimination Act (PREA) in prisons. Our findings in this project were eye-opening, and I am glad I was able to contribute to the work in this area."
Kathryn Lucido (2L)
"During our week with Columbia Legal Services, each of us was assigned topical projects all centered around the harm caused by mass incarceration in Washington state. My partner, Nick Cortes, and I were assigned a research project focused on the harm communicable diseases like COVID-19 would cause if there were to be an outbreak in Washington jails and what those facilities could do to avoid them."
Bailey Pahang (2L)
"I feel empowered after participating in Gonzaga Law in Action over Spring Break with Columbia Legal Services. Considering that I am a former educator who strives to spend my life combatting the school-to-prison pipeline, the opportunity to work toward criminal justice reform meant everything to me.
"In one project, I partnered with Shelbi Eller to research policies for medically assisted treatment (MAT) options for those in Washington jails. People are dying at alarming rates from withdrawals that could be prevented through MAT. Our goal was to create systems to ensure the humane treatment of those with substance-use disorders in these facilities.
"This work is heavy. It is gut-wrenching. However, I am inspired by the attorneys who dedicate their lives to the humanization of those who are incarcerated. It is only when we have the courage to challenge the system and place human dignity at the forefront of everything that we do, that we will begin to make a change."