Ruff Always Ready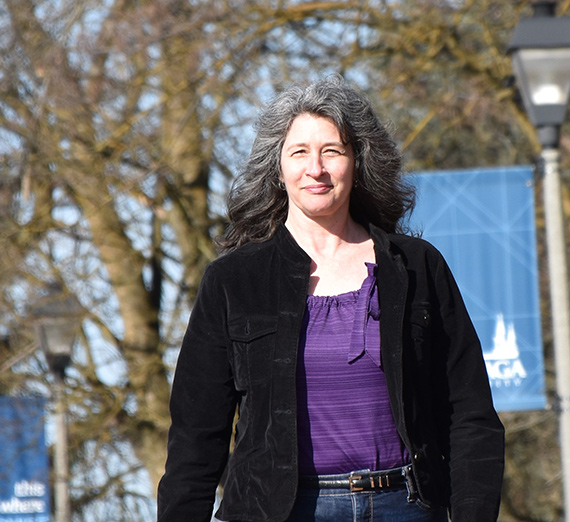 ---
Angela Ruff had toyed with the idea of living in a tiny house,
but never would have had room for all the hats she has worn at
Gonzaga.
She has worked eight jobs and occupied 13 offices over her nearly
32-year career here, starting as a 20-year-old receptionist in
the President's Office, and now, juggling ideas for how to create
commencement in these unique and interesting times, among
many other assignments.
During that span and multiple jobs, she has been called upon
for numerous special assignments, as well, most recently as a
member of the Emergency Management Team. Ruff also is proud
to have been one of the founding members of Staff Assembly, and
served as its president 2010-11.
But the carrot that has kept her here over the years is the people.
"I had no idea how interesting it would be to work here,
and always thought it was honorable to be working for this
institution," Ruff says. "I don't need to be a teacher to feel like
an active and integral part of what we're doing here in higher
education."
For the most part, Ruff has been invited to partake in the
succession of positions she has held, pulled by the confidence
people had in her more than a particular interest in any personal
pursuit.
Gifted with communication and organizational skills, she was
bolstered by her on-the-job training each new opportunity
afforded her, which she considers Gonzaga's gift to her. But it
was her Gonzaga degree, earned over 15 years culminating in her
2001 graduation, that set her mind on fire.
"The core courses helped me to better understand complex
systems, which allowed me to spend more time in pursuit of
practical applications of things in my job setting. My very last
class was also the first hybrid online/face-to-face course that
(Associate Professor) Mike Carey developed, and it gave me a
taste of what was coming in online education," Ruff says.
You have to be a little resilient, quite courageous and very
tenacious to take on eight different positions working for one
institution. And her most gratifying job may have been one of
the toughest: Gonzaga's first Banner trainer. She encountered a
community dealing with a new system that was very intimidating.
"Most of them had built their own systems, and were being asked
to give them up," Ruff recalls. "I loved the job because I was
able to whittle it down to something much less complicated for
our people, and I got to know a lot of very nice folks I might not
otherwise have met."
And she learned some important lessons along the way: "Curb my
personal opinions a little and be a listener rather than a talker,"
she says with her characteristic wide Ruff smile.
In her current job as academic events manager in the president's
office, where she began this memorable career run, she has
initiated a number of improvements to commencement: moved
from "keepsake" attire to rental gowns, saving grads money and
focusing on sustainability; injected energy and a modern feel into
the ceremony without losing tradition; and shortened the event,
much to the appreciation of family and friends.
She's not ready to hang it up yet, but as an empty nester, she is
pursuing other passions outside of work. She loves to travel, listing trips
to Italy, Vietnam and most recently Israel with her first boss, Jeannie
Norton, who was celebrating her 75th birthday. Ruff looks to making her
home highly efficient, one option being solar panels. She's converting her
entire lawn into a vegetable and berry garden. And she hopes to get more
involved in her community.
"And I'm always working on myself."