Rockwell Paints Bing: Welcome Addition to Crosby Collection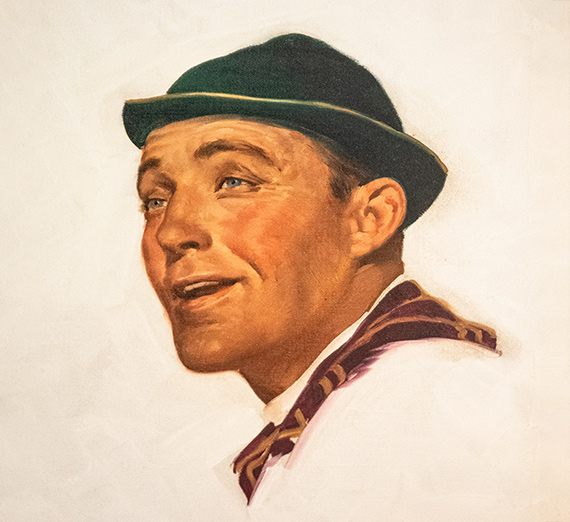 ---
Gonzaga's Crosby collection recently added this original Norman Rockwell painting of Bing, which was commissioned by the California Peach Association for magazine ads featuring the Crooner. Trailside Galleries in Jackson Hole, Wyoming, had held the painting for the past 25 years, and deeded it to Gonzaga after learning of the University's extensive collection of Crosby memorabilia. It will be hung in the Crosby House this spring, Archivist Stephanie Plowman reports.
Bing's portrait is taken from a promotional photograph of a character he played in the 1949 movie "Connecticut Yankee in King Arthur's Court," based on the novel of the same name by Mark Twain. Although Norman Rockwell was best known for his 323 Saturday Evening Post covers, his work was in demand by companies, such as Jell-0 and Mass Mutual, all wanting to use his images of everyday and popular Americans, including Bing.
The gift serendipitously coincides with the 75th anniversary of Crosby's lone Oscar as lead actor in "Going My Way."