Gonzaga Team Adapts Ministry to the Challenges of Coronavirus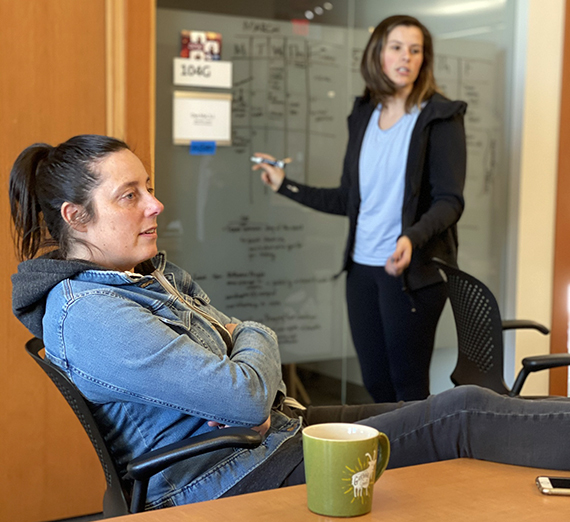 ---
As another whirlwind week of life in a COVID-19 environment winds up, a group of Mission and Ministry staff gathers to plan what student ministry looks like in a virtual campus environment.
Rev. Janeen Steer, Ben Goodwin, Ally Clapp, Meredith McKay and Daniel Dangca brainstorm ideas for the Lenten season through Easter. The goal is to figure out how to stay connected with students creatively on an emptying campus – all while practicing social distancing themselves in the common space of their Hemmingson Center office.
The team has pivoted its work from planning traditional in-person events and retreats to creating messages to share over digital channels, including the web, email and social media platforms. Instagram is the platform of choice for the majority of Gonzaga students, but content will also appear on Facebook, YouTube and (rumor has it) TikTok. Some discussions might take place on videoconferencing platforms such as Zoom.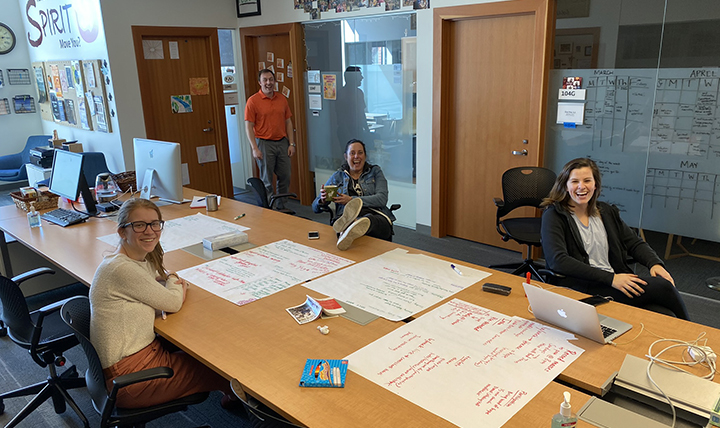 The team's brainstorming conversation ranges from moments of seriousness to lighter ones that allow the soul to maintain its space from the effects of heightened societal tension due to the ongoing novel coronavirus pandemic
Coping with COVID-19: Stories of challenge, hope.
They quickly fill out ideas on a calendar drawn onto the frosted glass wall of an office, then share their plans via an electronic calendar. By day's end, they will also send a video of encouragement for students on YouTube and distribute an email to staff, faculty and students doing the same. The purposes are to conduct outreach, offer comfort, and seek input about ongoing needs for support.
The format and themes of upcoming programming will vary, each designed to help the Gonzaga community navigate its way through some of the most challenging modern times. Thankfully, unlike prior eras, there is an unprecedented proliferation of technology to virtually connect with people.
"Our mission isn't bound to the physical place of Gonzaga," says Clapp. "That's a lesson people usually learn after they graduate but that many are encountering now. Our work is to care for our community regardless of physical place and we are grateful to find new and creative ways for pastoral care and mission work."
In doing so, they will lean on the inspiration and guidance of Aloysius Gonzaga, who died caring for those suffering in an earlier time. The office's web page says it all with this simple request:
"Saint Aloysius Gonzaga, patron saint of young people, students, and plague victims, pray for us."
>>> Learn more about the team's work at: www.gonzaga.edu/MissionMinistry
---
Q & A with Mission & Ministry
Q: What major themes are you planning for the Lenten/Easter season?
A: We're excited to get to plan daily engagement for Holy Week — usually because of Easter weekend, we don't have the opportunity to do programming specifically for our students. We are hoping to reflect day-by-day on the way our students engaged with Lent in this unusual season, how they might find healing and offer healing to others, the idea of the Kingdom of God as both "already" and "not yet," and how to live into the idea that Jesus invites us to love one another as he loved us. The themes of hope and of resurrection will figure strongly into our programming before Holy Week and after Easter, respectively.
Q: What issues are you trying most to address with your efforts?
A: We've spent time over the last few days reflecting on the following: this is proving to be an unprecedented time. It is deeply unsettling for things to be changing day by day and even hour by hour in some cases. Our faith, our understanding of the divine, and our grounding in mission can serve as means to find hope in the unknown, but it's also fair and necessary to acknowledge that doesn't mean we are without fear or anxiety. Knowing this context, how can we meet our students and our greater community to help them process as well as continue to find hope and grow in this time? How can we help those who feel particularly isolated or depressed in this situation?
We also have a particular concern for our class of 2020 and the disruption this causes in their process of leaving. How can we help them prayerfully say goodbye and transition?
Q: How is the departure of students driving your team to innovate?
A: We know we're incredibly lucky that we have the whole online world at our fingertips to engage with our students. Obviously, we will miss out on the particular benefits of our in-person events like retreats, but we are grateful to think about how we can meet our students through social media or video-conferencing both to continue personal connections and to offer formation and spiritual reflection. This also drives us to think about how we engage with themes of our mission and Catholic Social Teaching because as much as we will miss our students, we know that their distance is necessary to promote the common good.