Q&A with Gonzaga Nursing Students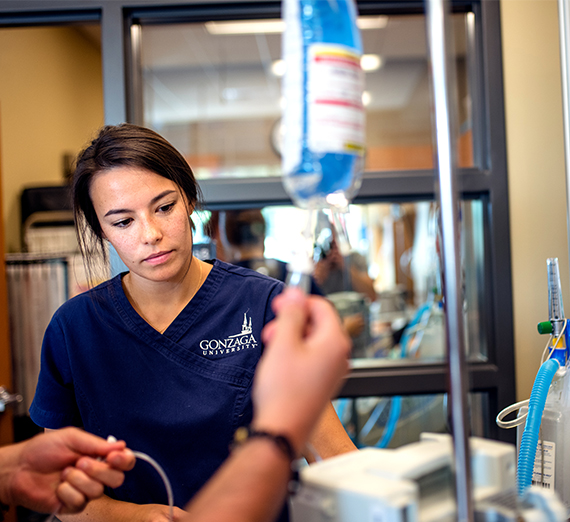 ---
Juju Ruiz ('21): I am a Junior Nursing Major from Southern California. I am the second eldest in my family of six.
Rafael Polanco ('23):
I'm a freshman nursing student at GU. I'm from Sacramento, California and one day I hope to work in pediatrics.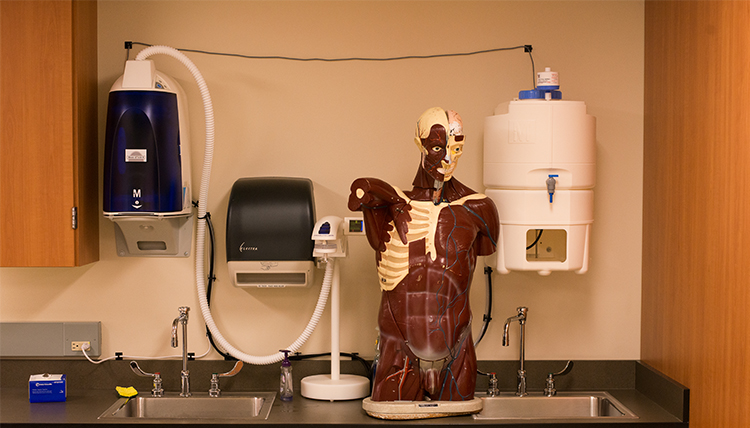 What area of clinicals are you most looking forward to and why?
JR: As a freshman, I was most excited to be working in pediatrics. I thought it would be the best rotation because I love working with kids. But, then I found out we have a rotation in labor and delivery, and I think being able to witness the miracle of life would be exciting, just as much as it would be terrifying.
RP: Pediatrics. I love kids and want to be able to help them in any way possible.
Are you taking any nursing classes in your first semester?
RP: The only nursing class that I'm taking in my fall semester is Nursing 101. It covers basic expectations of a nurse and the history of nursing.
What does your schedule look like with clinicals, classes, work, and all your other obligations?
JR: My clinicals now are on Tuesdays for now, and then I have class and lab the rest of the week. Because I decided to take a work-study position, I have work Sunday-Thursday after class.
RP: I'm not in clinicals at the moment, but I usually start class mid-day, finish by about 3pm, and then get some homework done before work or hanging out with friends.
What do you like to do for fun in Spokane?
JR: I really enjoy visiting Manito park with my friends as well as traveling a bit up north to Green Bluff to see all the nice greenery and farms. During the winter, I like to go up to Mount Spokane and go tubing with my friends. Gonzaga offers shuttles which is a really nice easy way to get up there if you don't have a car.
RP: I enjoy playing sports and hanging out with friends in my free time.
Do you have any advice for a student applying into the nursing program at Gonzaga?
JR: I highly recommend visiting campus. The tours of the campus and the community that I saw were particularly the reason that I chose to come to this school. I could see myself living in this city and see myself growing as an individual.
RP: Make sure that you get your application turned in as early as possible, and have fun with it. You worked hard in high school! Feel free to boast about your accomplishments on your application.
What activities were you involved with in high school? Were any of them health-science related?
JR: In high school I was mostly involved in sports and campus ministry, but I always excelled in my science classes and had a love for the human body and how it functions.
RP: I was involved in a number of community service groups in high school where I helped my community. My favorite was volunteering in a hospital, where I'd go in once a week to work in the Outpatient Surgery Recovery Center.
What was the application process like for you? Do you have any tips for students going through that process now?
JR: I am from a first-generation family so the application process was unfamiliar to me. I only understood what had been told to me via high school counselors. But I contacted my admissions counselor a couple of times when I had questions about the admission process and if there were any extra things that I needed to do besides the common application. I highly suggest reaching out to admission counselors because they are really helpful in answering questions and leading you in the right direction for applying.
RP: It can be stressful, but just know it will all pay off. It's a great feeling to be done with them and be able to look forward to your letters of acceptance. To avoid stress, make sure you start early and space them out.
How did you get your decision letter? What was that experience like?
JR: I got my letter during Christmas week since I applied early action [at the time]. I had come home from practice and my parents had placed the letter on the tree as a gift. I was so excited when I realized that it was there. I opened it Christmas morning with the rest of my family.
RP: I had just come home from my friend's house and my mom ran out to my car with my letter of acceptance. It was a great feeling and having my mom by my side made it even better.
How will your nursing degree help people in the future?
JR: Gonzaga's mission statement incorporates the idea of caring for more than just the physical being of a person. The mind, body and soul (cura personalis) should also be take care of. We include these elements when we are learning how to take care of people so we can be the best possible nurses. We are also taught to think beyond just clinically and look to see what we can do to help our patient with interventions and are prepared to be with a patient on what can possibly be the worst day of their lives.
RP: I want to be able to help various communities in any way possible. I hope to get into pediatrics, but wherever I end up I'm just excited to help people.
Visit our website for more information about Gonzaga's nursing program, or contact your admission counselor with any questions.