A God of Surprises and Love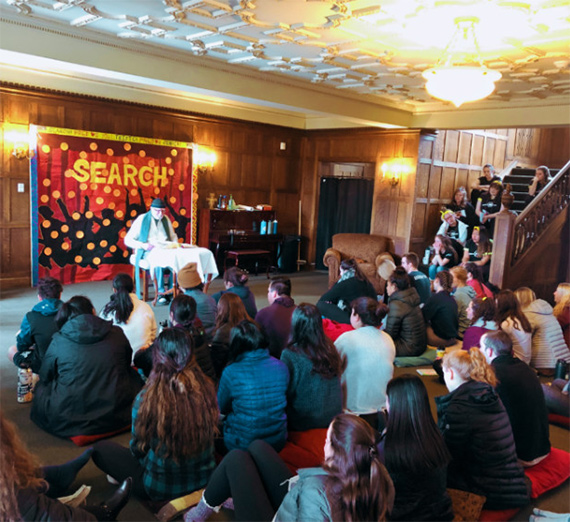 ---
If there's one thing you should know about me, it's that I hate surprises. Yes, hate is a strong word. And yes, I intended to use it here. Ever since I was a toddler and my parents called me "Paja" (pronounced pah-yah), I liked to know the plan. When they passed around family photos or discussed logistics about the next birthday party, my iconic line was, "Can Paaajaaa see that?" I was and still am a curious kid, always wanting to be in-the-know. It explains my independence, desire for control, and love of all things organization. Man, do I love it when I can check four things off my errands list in one, consecutive, efficient loop and make it back under an hour.
So (naturally), I signed up for Search—something campus treats like a top-secret CIA memorandum. I knew I was going to be in the dark, and it was terrifying. My friends who had gone said things like, "You have to go! But I can't say anything about it" or "Search is amazing! Filled with surprises." Oh boy, can I just say that God wrecks us when we least expect it, least want it, or least planned for it? When I say Search threw me for a loop, I mean it threw me. Now let me say something crazier: Search surprised me, over and over. Pleasantly. And I loved every minute of it.
If I had to sum up Search in an feeling, it would be getting buried in a warm heap of fresh laundry. Warmth, comfort, and contentment surround you, so much that you feel almost smothered—but never want to leave. When the warmth starts to seep out, you turn the laundry over to a new side and let the still-warm parts work their insulation magic. You lean into the smell, the feel, the heat. Search smothers you in that same feeling—and you never want to leave it. Unfathomable joy, peace, and friendship seep out of every corner of the weekend. I felt seen, known, and loved in a way I hadn't before. I felt like crying, I felt like dancing, I felt like turning over every surprise again and again in my hands, heart, and head to get a new burst of warmth each successive time.
I knew at these moments that this was what the heart of Jesus looked like, this was unconditional love. On of my favorite Bible verses goes, "For where two or three gather in my name, there am I with them" (Matthew 18:20). If I know nothing else about Search, it's that 'there Jesus was' with us. We came: in buses and cars, bearing sleeping bags and reusable mugs. We gathered: large group, small group, lunch table, floor-bound criss-cross, outside, in bunks, upstairs, on a train, on a plane… just kidding (about the last few). And we left feeling loved: in the best, most surprising ways possible.