Senior Richard Kennedy: A Positive Return on Investments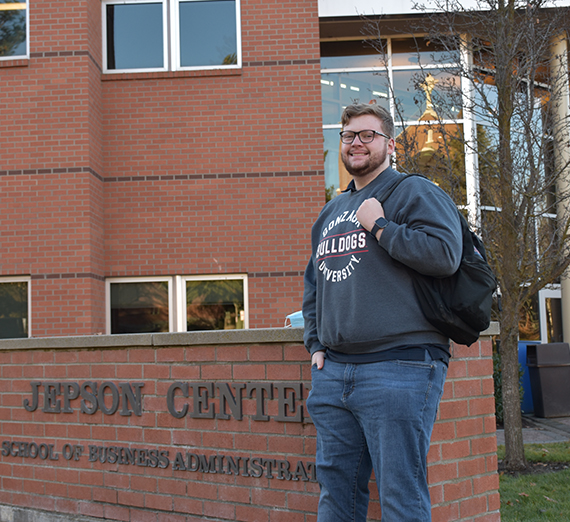 ---
Senior Richard Kennedy grew up in San Jose, bullied most of his young life and lacking self-esteem. He felt like he had never amounted to much, and wanted to make a change.

So, to start with, this 270-pound high school senior, with tendonitis in both knees, trained diligently for six weeks and completed a 26.2- mile marathon. He never lacked for discipline.

Take that, bullies!

The son of a founder of an insurance and HR consulting firm, Kennedy is using his entrepreneurial heritage, grit and due diligence in Professor Todd Finkle's Startup Accelerator class to plan the launch of a 36-unit, working-class apartment in Spokane. He has purchased the land and raised more than $1.5 million in investment capital so far, with a list of investors waiting to join the next project. He also has the support from many of the School of Business Administration's entrepreneurial advisory board. He hopes to break ground this summer.

After exhaustive research of the construction industry, he is confident he has found his niche:

• Prefabrication: Every unit will be prefabricated and shipped to Spokane. This offers an opportunity to create efficiencies, cut down costs related to mistakes and weather, and create an overall production cost-savings of about 15%. Kennedy sees this streamlined process similar to the automotive industry.

• The right target market: Addressing a distinct need in Spokane for working-class housing.

The target rent is affordable for a household earning slightly above the government subsidized limit, but under the target rent for most new construction apartments.

And he's done the homework.
"I have analyzed everything extensively, so I know I have a reasonable buffer margin for the properties to profitable," he says.
He has talked with numerous developers, property managers, landlords, city agencies and nine modular home manufacturers.
His vision is to build 200 units in the first five years. Already he is drawing up plans for his second Spokane apartment complex in the 50-60-unit range. His goal is to provide affordable housing for thousands of households, consistent returns of 12%+ for investors, create high-paying jobs and reward people for exceptional work, and give back to the community. His confidence comes from a network of experts, from his family – his grandfathers were entrepreneurs in real estate and investment – his father an angel investor, to many business people on the advisory board, including lawyers, accountants and construction managers.

"The network connected me with other people I needed. Their goal is to help people start on their journey," says Kennedy.

He appreciates what he learned from Associate Professor Don Hackney in business law, and Assistant Professor Casey McNellis in accounting, and the contacts provided him by Professor Finkle and the entrepreneurship program.

"My operations class got me thinking more in-depth about automation and the ability to transfer construction to a factory, where there are obvious efficiencies over traditional one-off construction methods," he says. "And the Startup Accelerator program is where a student with an idea can get the help they need."

His biggest challenge now, he says, is not getting too far ahead of himself. "I have a tendency to be thinking five or 10 steps ahead, but I realize I can't get there until I finish the next four steps," he says. "For example, he has already spent more than 100 hours thinking about how he can own his own manufacturing process.

Finkle, Gonzaga's Pigott Professor of Entrepreneurship, says "Richard has the characteristics of an entrepreneur. He's a self-starter. He doesn't need to be told what to do. He makes it happen. Even with COVID impacting us like it has, he still gets members of my board to sit down with him for coffee and he picks their brains. He's unlike any student I've had in my 30 years of teaching."
Bullies, look at him now.
Academics
School of Business Administration
Business Administration