Allen Gillette: Gonzaga provided "the whole toolbox" for career success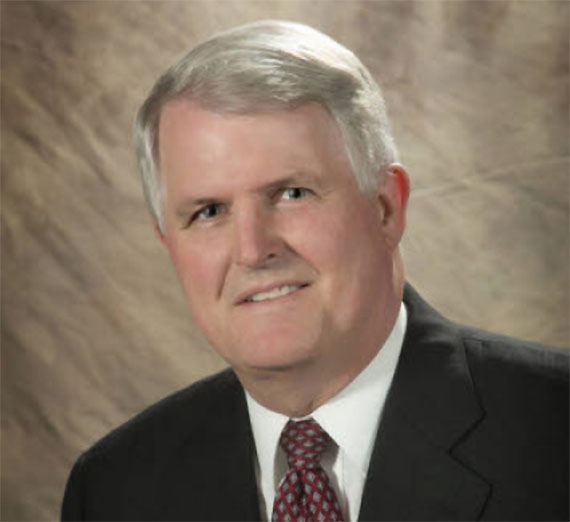 ---
In small Inland Northwest communities like Lewiston, Idaho, and Ephrata, Washington, if you weren't living on a farm you certainly were surrounded by them.
So it was for Robert ('48 E.E.) and Allen Gillette ('79 M.E.), father and son who learned how to take farm equipment apart and put it back together again. Hence, they both leaned into math and science in school. And both gravitated to Gonzaga University and its engineering program.
Robert enlisted in the U.S. Army in 1942, and served as a paratrooper with the 82nd Airborne Division through the end of World War II. After discharge, he enrolled at Gonzaga and earned his electrical engineering degree in 1948. His long career included a 25-year stint in Ephrata, serving the Grant County Public Utility District, the last portion as district manager, before finishing his career in Bellevue, Washington, with CH2M Hill as director of power generation, retiring in 1985.
After Allen earned his mechanical engineering degree from Gonzaga in 1979, followed by a master's in mechanical engineering from Purdue, he distinguished himself in research, design, development, production, application and technical services of electrical generators and mechanical drive products. His last gig included various technical positions and eventually executive vice president with Generac Power Systems from 1998-2018. Before that, he filled managerial and technical positions at firms from coast to coast.
At Generac, he was part of a team that was asked to re-think the traditional method of connecting multiple commercial and industrial generating sets. The objective was to develop a more reliable and cost-effective solution with smaller, integrated power modules working together.
"The project was multi-disciplinary, innovative, required a strong marketing approach and had a significant impact on our business," he says. "It also led to an international patent and new procedures for demonstrating safety and other regulatory compliance requirements for these systems.
"Despite much early resistance to the novel approach, the resulting team success was a great win for Generac and the outcome became an established market standard." He credits his work successes, in part, to the broad education he received at Gonzaga.
"When I was there they were talking about reducing some of the core requirements, and it made me want to take as much of the elective liberal arts courses as I could, in addition to my engineering classes," Allen says. "I enjoyed critical thinking, philosophy and English courses, as well, which I knew would benefit me regardless of my career choice."
During his undergraduate engineering education, he especially enjoyed his freshman project in which his team interacted with industry partner Washington Water Power Co. (now Avista) to solve a problem. "That was very impactful in my mind," he says. "Gonzaga provided me with the whole toolbox to think through a problem, write problem statements that adequately define the problem, and devise the solutions that are helpful.
"My career took me through several leadership positions, and I managed some fairly large staffs of people. I always felt that I benefitted from the communication skills I had learned at Gonzaga."
Now, Allen finds himself positioned to give back to the University that started him on his successful career path.
He joined the Engineering and Applied Science Executive Council this fall. As a tribute to his father, he also established the Robert Gillette Fund at Gonzaga as a competitive source of funding for SEAS student research projects. Currently, that includes two: Ethan Higa's "Low-gain Based Controller Development for a 2-DOF Helicopter Model, under faculty adviser/Assistant Professor Mary Zhang; and Leon Antonio Garcia-Mamargo's "Zipf's Law and the Speech of Children with Autistic Spectrum Disorder," under faculty adviser/Professor Paul DePalma.
"The School has kept some of the same traditions over the years, including a strong liberal arts core component," Allen says. "Second, it has continued to inject more technology and lab equipment into the curriculum, introducing more science into the engineering degree. Industry ties have grown significantly, and the faculty represent broad backgrounds and cultures.
"The engineering program, and the university, have grown from regional status to national and international recognition today. Living in the Midwest, few people had heard of Gonzaga back when I was a student. But today, only partly because of basketball, people are asking me about Gonzaga engineering graduates I might know. The transcendence has been impressive," Allen says.
And so have his ventures, from the early days working on farm equipment, to giving back to his alma mater in meaningful ways.