White Christmas Collection: Digital Archive of Bing's Greatest Hit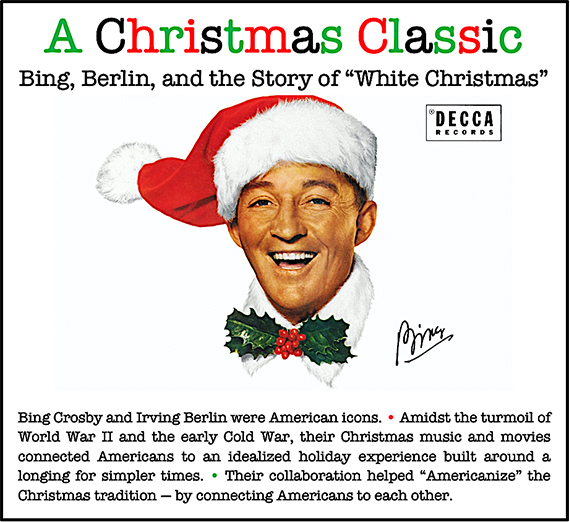 ---
SPOKANE, Wash. — This week a new digital resource goes live to showcase the works of Bing Crosby, who grew up on the Gonzaga campus and attended the university prior to going fulltime into showbiz.
"A Christmas Classic" – at achristmasclassic.org – results from the collaboration of Ray Rast, associate professor of history at Gonzaga and Mary Cate Babcock, a junior history major hoping to pursue a career in the history museum field. Rast has carried the project through two Introduction to Public History courses at Gonzaga.
"I think this is such an encouraging example of student-faculty projects, especially in light of the upheaval in instruction and challenges to collaboration created by the pandemic," said Rast.
Naturally, the exhibit is centered around the song "White Christmas" and tells the story of Irving Berlin and of Crosby. However, said Rast, "It moves beyond these two figures to examine the celebration of Christmas and how the meaning of Christmas has changed over time. One of the things I was most impressed by was the story of how Christmas has become more secular but also more inclusive over time, so that the nostalgia and the inspiration of the season is not reserved just to Christians."
Rast said there's another surprising aspect of the exhibit. "The song 'White Christmas' became popular during World War II when soldiers overseas, relocated workers, and families at home all listened to this song with the hope that maybe the next Christmas would see an end to turmoil and bring them all back together. I marveled at the timing of this message and the instruction (or inspiration) it offers us in 2020."
Beyond this digital archive – a growing trend using technology to preserve and display the humanities – Rast hopes to see the materials eventually presented on touch-screen monitors or tablet devices in the Crosby House, where thousands of Bing fans visit each year at 508 E. Sharp Ave. in Spokane. (It is currently closed due to COVID-19 restrictions.)
Learn more about the Crosby House at Gonzaga.