A Leader for Students: Fese Elango ('21)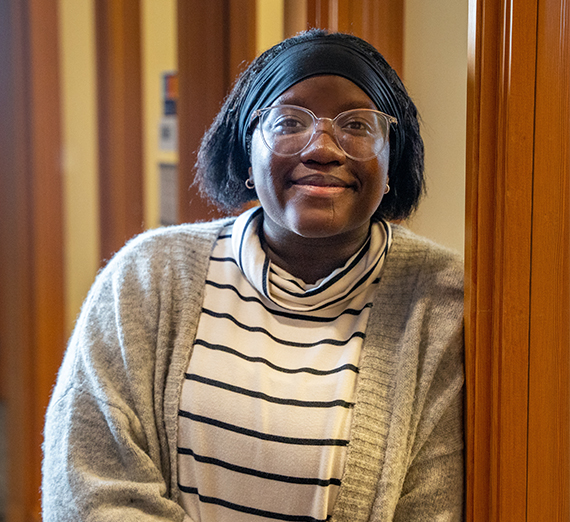 ---
Hometown: Denver, Colorado
Academics: Biology / Spanish / Sociology
Extra-curriculars: President, Gonzaga Student Body Association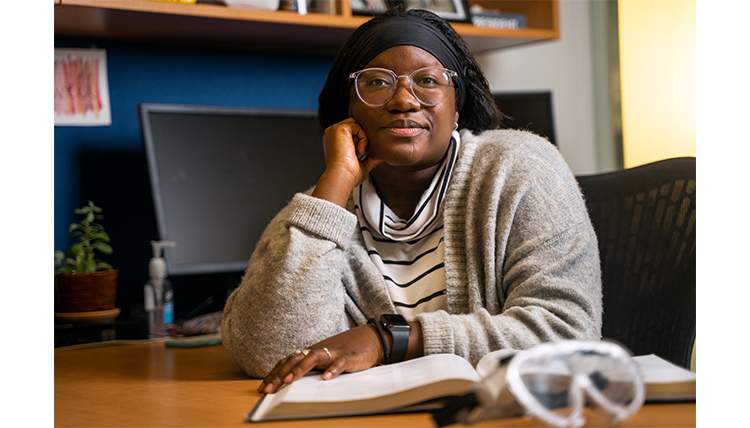 Fese Elango ('21) is one remarkable human, with a great resume already, balancing academic work and her leadership role with grace as she navigates the COVID-19 pandemic, all while making sure Gonzaga students are well represented.

Fese (pronounced feh-SAY) visited Gonzaga's campus as a senior in high school and knew almost immediately that she wanted to be a Zag. "I saw that everyone holds the door for others, and it sounds super cliché, but it just made me feel like I belonged even though I didn't really know anyone. And it was somewhere that I really wanted to be." Additionally, Fese valued the Jesuit mission and the holistic approach of education and care for the whole person present at Gonzaga.

Entering GU as a biology major, she switched from a BS to a BA which allowed her to take up a sociology minor, picking up an interdisciplinary element. "I really love the mix between biology and sociology because it really helps me analyze our human interactions and different ways in which systems that we depend on, like health care are disadvantaging certain populations of society. It is a whole collaboration of the things I enjoy."

Fese first got involved with GSBA her freshman year. She ran for two positions unsuccessfully, and then won the seat of elections commissioner. She credits failure for her ability to persevere. "I think failure and not having things come my way was crucial to me trying to persevere. I am glad I stuck with it."

Being GSBA President isn't a small undertaking; however, advocating for students, a beacon of accountability to the administration and a sounding board for student needs, makes it all worth it for Fese.
"I feel lucky. It has been awesome to be able to just be in those spaces where like student voice and decision making isn't really two things that interact."
Her motivation to run for the position stemmed from her passion for Gonzaga.
It came from, as she says, "understanding that GU is a place that I wanted to be, but a place that needs a lot of work. I think that sometimes there's a disconnect between like the words and the actions to what the mission says. I want this position to give me opportunities to get to be in the spaces where that accountability can happen."
Fese has handled the challenge of COVID-19 well. In fact, she says it's been rewarding. "Seeing the passionate people come into GSBA every day is inspiring and I'm grateful that they wanted to be a part of it this year especially with all this uncertainty and ever-changing climates."
The pandemic – among normal demands – has fostered resiliency. "I experienced extra-circulars that didn't work out right, but I've also experienced academic failure, says Fese, "Things don't always go as planned and (we have) to acknowledge that your path sometimes looks different than you would have thought."
Faculty Shout-Outs
"I am grateful for Joe Johnston (sociology) and him providing his office as a space for me to grow and learn, and for David Boose in biology for caring so much about me and my growth in my journey and always being a steadfast supporter," said Fese, "and then my advisor, Christy Andrade for being my fiercest advocate."

"I think GU creates a space where people who are really passionate about teaching and learning can really drive together," says Fese, "so I've been grateful to get to be here and to be able to learn from my professors."

"I wouldn't be able to balance sociology and biology if I didn't have professors who know my name and know my story and encourage me to be bigger than myself and to push myself."

Fese loves that Gonzaga's mission calls people to be unapologetic about the things they believe in and are passionate about and creates an encouraging environment for people to learn about the world beyond themselves.

She's also grateful for the "team support that comes from being a Zag."

Gonzaga is lucky to have Fese.


See other student stories in this series.
Academics
Student Life
College of Arts & Sciences
Biology
Spanish
Sociology