Well-Rounded: Cameron Orth ('21)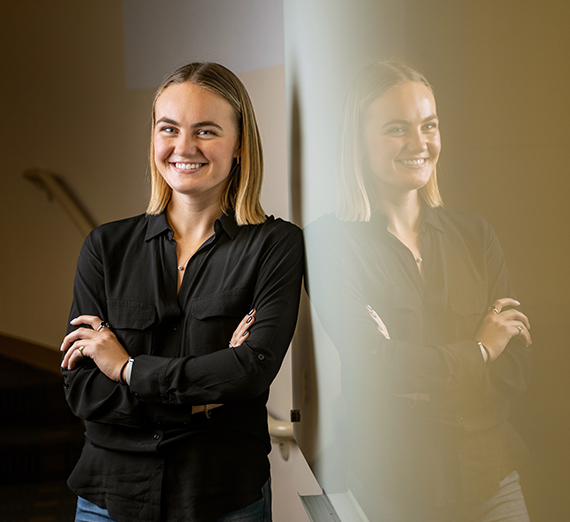 ---
Hometown: Mercer Island, Washington
Academics: Business, Finance, Marketing, HR
Extra-curriculars: Setons
Cameron Orth ('21) combines her love of business with her passion for service.

When she first visited Gonzaga, "I just felt like my people were here," she says. "I could build myself a community here and feel really comfortable and confident."

Cameron's favorite activity is the New Venture Lab, which she says has "really helped shape me as a person professionally," and sparked an interest in service-oriented business.

As a Seton (a female club for students interested in service), Cameron enjoyed the pillars of service, sisterhood and leadership. "It's a great way to meet other likeminded women and develop your leadership skills."
Holistic Views
Cameron appreciates Gonzaga for helping her become a more well-rounded person. "I'm attracted to the Jesuit education because of the mind, body, spirit focus of the whole person and educating yourself and others," says Cameron.
"Gonzaga does an amazing job of really forming you as a person not just giving you your undergrad education., A lot of people here really care about you as a greater person."
She credits that approach for being able to balance all her endeavors. "Everywhere you turn, there are encouraging people to be involved and every professor makes it work no matter what." There is a culture of involvement and community at Gonzaga and Gonzaga is lucky to have students like Cameron.
She says, "I take a lot of pride saying that I go to Gonzaga University."
See other student stories in this series.
Academics
Student Life
School of Business Administration
Business Administration