Of This Place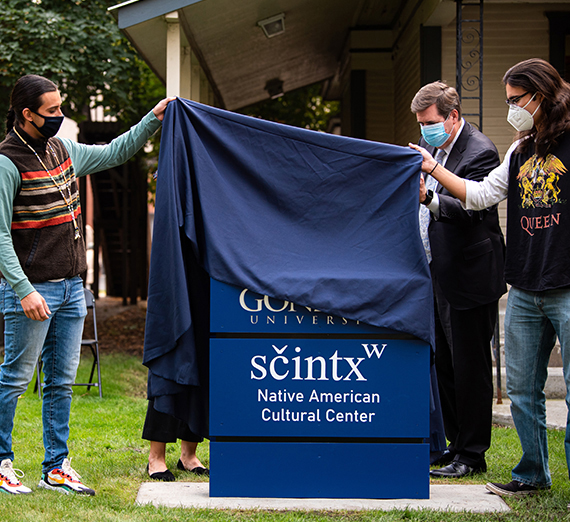 ---
Ever think about the rich history of this Northeast Spokane – the vibrant community that has evolved here and exceptional people who call it home?

Historical perspectives arose earlier this fall when Gonzaga rededicated its Native American Cultural Center on Sharp Avenue, on the occasion of the University's 133rd anniversary.

The center's new name - sčintxw (pronounced s-CHEEN-t-wh), is a Salish word that means much more than its literal translation, Indian house.

Spokane Tribal Elder Pat Moses told the in-person and virtual audience at the event that the house sits on sacred ground: "When you walk in here, you should feel Indian. You should feel the ancestry, the elders, the spirit and power of Mother Earth."

The event harkened back to the first inhabitants of this neighborhood and their revered commitment to the region.

Two new videos produced by Gonzaga University also tell the story of Northeast Spokane from an historical perspective. The Market Street Virtual Tour and Cook Street Virtual Tour will be used to familiarize students and newcomers with the rich history of this part of Spokane, and the people we partner with through Opportunity Northeast. Take a peek:

Market Street Virtual Tour

Cook Street Virtual Tour

Fast-forward to today, and you'll find people and partnerships working faithfully to support each other and improve our shared neighborhoods.
Logan Family Meals
Spokane Public Schools produced a video, Logan Family Meals, featuring many of the partners working with Logan Elementary School.

We are grateful for our rich heritage and the people we work with every day to make this a better community for all.