Back-to-School at UW School of Medicine in Spokane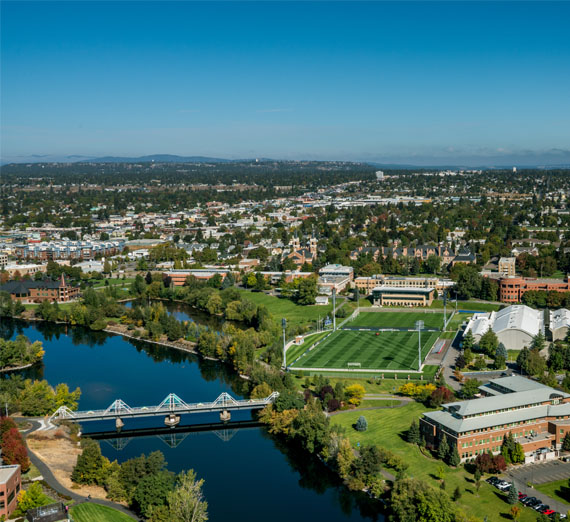 ---
Sixty Students Recently Began Medical School on Gonzaga University Campus
Back-to-school looks different for students everywhere this year, and that includes the incoming class of UW medical students at the UW School of Medicine-Gonzaga University Health Partnership.

"As a faculty, we've been working hard to create a safe environment for our students," said Dr. William Sayres, Jr., Foundations Assistant Dean and Smith Family Chair of Medicine at the University of Washington School of Medicine. "The pandemic has changed how we teach. Many of our classes will be presented online, and in-person learning will occur in small groups."

Sayres noted the unprecedented backdrop for this new group of future physicians.

"They're starting medical school during a pandemic that's brought to light inadequacies in our healthcare system," he said. "As a rule our students tend to be idealistic and socially engaged. It's a challenging, yet exciting time to embark on their studies."

There are upsides to online classes. For example, the Health Systems class taught by Dr. Sayres will feature Zoom lectures from presenters in England, Japan, Germany and Canada.

"I hope the physicians trained during this time will become a defining generation of physicians," he said.

This new class is already exceptional in that it features 40 females and 20 males, reflecting a continuing trend at the Spokane campus. Several students hail from Eastern Washington, and five are Gonzaga University graduates.

But one student has traveled much farther than most in her quest to become a physician. Atousa Rahbar and her family fled religious persecution in Iran, arriving in the U.S. in 2008. Here, she is finally free to study medicine.

"I've always been interested in science," she said. "But my interest in medicine evolved when a family member got sick, and we couldn't get a diagnosis."

Then her father suffered a fatal heart attack at age 48. She wondered what could have been done to save him.

These events spurred her to take the university entrance exam. However, in Iran religious minorities are excluded from higher education.

"I am Baha'I," Rahbar explained. "I took the entrance exam each year for three years and every time I got a letter saying my documents were not complete. They told me if I changed my religious preference from Baha'i to Islam they would admit me."

She refused.

"We had no health insurance, no basic human rights, so as a family we decided to move."

Rahbar, along with her husband, mother, brother and sister arrived in Bellevue, Washington, via Turkey. At 26, she began her education at Bellevue College.

"I had to learn a new language, a new culture — it was a steep learning curve," she said.

She and her husband took turns going to school and working. In 2012, she gave birth to their son. The next month she was back in class.

In 2014, she transferred to the University of Washington, graduating in 2016 with a degree in developmental molecular biology.

While she's delighted to be in Spokane, she admits the first few weeks of school have been daunting thanks to COVID.

"I thought my son would be in school, but now he and I both have Zoom classes at 8 a.m."

Her husband had to stay in Bellevue for his job, but she's getting support from her mother here. Rahbar's major hurdle is finding a quiet place to study.

"I feel very blessed that I have all these opportunities," she said. "I hope I'll be able to impact my patients on a daily basis and I'd like to be able to help young people in Iran facing the same discrimination I endured."

For her, a shining moment occurred when she received her white coat. Traditionally, the white coat ceremony is a gala affair, with friends and family joining the medical students and faculty for the occasion.

"Traditionally, it's been a formal welcome to the profession," Dr. Sayres explained. "This year we had to be creative."

Rahbar received her white coat with her mentor group of five at Duncan Gardens in Manito Park where their mentor had ordered dinner for them.

"It was lovely," she said.

Likewise, classmate, Mariah Oakes, relished the unconventional white coat presentation. She too, received it in a small celebration with her mentor group.

"They did a great job of making it special," she said.

Her route to medical school was a bit unconventional as well. At 13, she read a book about Doctors without Borders, and it sparked her interest in medicine.

"It opened my eyes to the different needs a career in healthcare can meet," she said.

As an undergrad, medical research fascinated her, and she considered pursuing a doctorate degree in virology or infectious disease.

"But something was missing," Oakes said.

What she missed was the patient care aspect, so she enrolled in the nursing program at Duke University.

"It's the best thing I've ever done," she said. "The program had a big emphasis on research and holistic healthcare, and I had amazing mentors."

And after working in the pediatric intensive care unit, she found her calling.

"I fell in love with the science and my patients."

She'd planned to become a nurse practitioner, but her time in PICU changed that goal.

"I knew I wanted to be a physician and focus on pediatric intensive care," Oakes said. "I'm passionate about the ethics involved in death, dying and end-of-life care, and the responsibilities that a physician has."

After graduating she moved back to Seattle to be closer to family, and enjoyed her nursing career while preparing for medical school.

"UW was my first choice-- the Spokane program, specifically," said Oakes. "It's really the best of both worlds. I thrive in learning in a small community and getting to know the faculty and my classmates."

Oakes isn't daunted by online learning and small group sessions.

"I'm excited to be here and start working toward this goal," she said. "There's so much to learn."