Gonzaga Co-Hosts Virtual Presidential Debate-Watch Oct. 22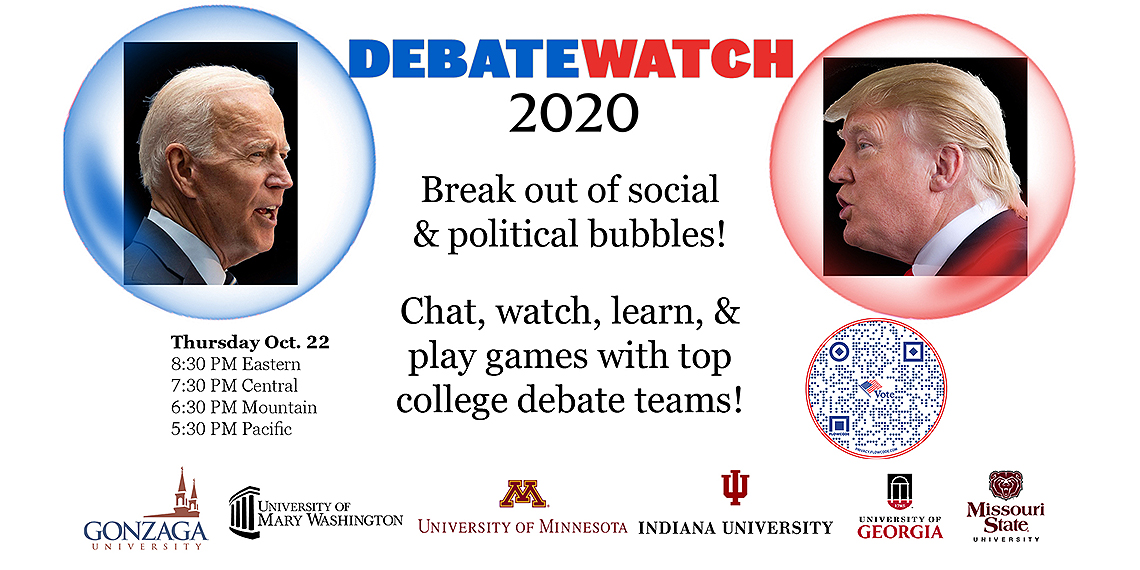 SPOKANE, Wash. — The debate teams from Gonzaga University, Indiana University, Missouri State University, University of Georgia, University of Mary Washington, and the University of Minnesota will jointly host a debate-watch and dialogue session for the final U.S. presidential debate on Thursday, Oct. 22. The event will take place via Zoom and is open to students and the public.
Registration is required and is available online at: https://bit.ly/3lWIeMu. Registrants will be emailed a Zoom link. Capacity is limited to 300 participants.
The final presidential debate, which begins at 6 p.m. (PDT), will be moderated by Kristen Welker, a White House correspondent and co-anchor of Weekend Today for NBC News. The debate will be divided into six segments of approximately 15 minutes each.
The GU debate team also joined with other universities nationwide to co-host debate-watch events for the first presidential debate Sept. 29, and the vice presidential debate Oct. 7.
"We are excited to again collaborate with our colleagues from across the country as we wrap up the strangest season of presidential debates in modern history," said Glen Frappier, director of forensics at Gonzaga.
Participants will connect to the Zoom event shortly before the debate begins for a brief introduction. Throughout the event, participants will be able to use the Zoom chat function and live polling to express their opinions. After the debate, participants will be sent to breakout groups to discuss the debate. The post-debate discussions will be guided by a moderator and will focus on what participants learned.
The event is part of the DebateWatch initiative created by the Commission on Presidential Debates in 1996 as a voter education and civic engagement program. The 2020 CPD DebateWatch participants include nearly 200 schools and organizations across 45 states and three countries.
Media Contact: Glen Frappier, director of forensics at Gonzaga, (509) 313-6663, frappier@gonzaga.edu.

For more information about the Gonzaga University Debate Program please visit https://gonzaga.edu/gonzagadebate.
Academics
College of Arts & Sciences
Debate
News Center