Longtime Gonzaga President Bernard J. Coughlin, S.J., Dies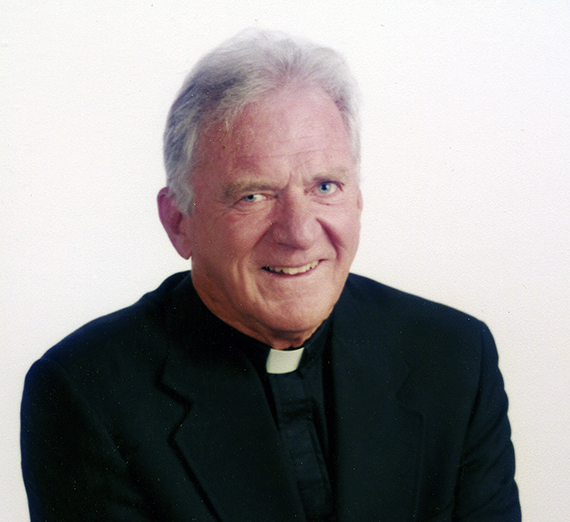 ---
Services Set
Gonzaga University's beloved longtime President and Chancellor, Rev. Bernard J. Coughlin, S.J., died Jan. 28 at Sacred Heart Jesuit Center in Los Gatos, California. He was 97. He is Gonzaga's longest tenured president, 1974-1996, and its first and only chancellor, 1996-2016. He served the University for 42 years. (Please see the end of this story for full information on services.)

Fr. Coughlin is a widely respected author, lecturer, social scientist and humanitarian who served on boards of more than three dozen professional and civic organizations. Fr. Coughlin's imprint is written all over Gonzaga, the greater Spokane community and around the world.

Coughlin was born Dec. 7, 1922, in Galveston, Texas, the second of five children of Eugene and Celeste Coughlin. His inner strength may well have come from his family roots, his grit from his Texas upbringing, his humor from his Irish descent, and his motivation from his love of God.

His father worked for the railroad, and "Barney," as his friends and family called him, began working for the railroad, as well. But he kept feeling a nudge from God to enter the priesthood, once remarking, "If God calls, you can't tell Him no." He entered the Society of Jesus on Sept. 2, 1942, and was ordained a priest on June 16, 1955. He earned a bachelor's degree from St. Louis University, a master's from University of Southern California, and his Ph.D. from Brandeis University.

While serving as professor and dean of the School of Social Service at St. Louis University, Fr. Coughlin accepted an offer in 1974 from then chair of the Gonzaga Board of Trustees, Harry Magnuson, to become the university's 23rd president. He came at a time of financial struggle, but by building strong relationships with business, civic and government leaders, increasing enrollment, fortifying Gonzaga's academic programs and growing the endowment, the university began to prosper. He inspired others to see the value in promoting a vision for a strong, values-oriented university. He said in a 2017 interview, "I believe that a president's job is to engage people who have the thoughtfulness and generosity and interest in seeing the University succeed." With time, that shared vision allowed Gonzaga to become an important part of the community.

In 1988, Fr. Coughlin was elected chair of the Spokane Area Chamber of Commerce. He was the first Jesuit priest to serve as a chamber of commerce chair in the United States, and his business acumen, compassion for the dignity of every human being, and his desire to see this community thrive, placed him among the influential business leaders of the time. A Spokesman-Review headline, on the announcement of his election to this office, tickled him: "Chamber to get chief who's made a vow of poverty." In the mid-1990s, Fr. Coughlin joined Spokane Mayor Jack Geraghty in founding the Task Force on Race Relations, which provided the catalyst for more concentrated efforts to address social tensions related to race and diversity.
Speaking in 1996 to a group of 800 colleagues and friends, many of them business and civic leaders, Fr. Coughlin said if he had one thing he, and the community, needed to work on, it would be loving one another. It was a simple message, but not simplistic. Indeed, love is a theme that characterized his life. He went out of his way to show people, through simple notes or a phone call, that you were special and important — and that he was praying for you.

On the global front, in 1986 Fr. Coughlin chaired the Northwest Citizens Forum on Defense Wastes. In 2005, during his time as Chancellor, he served on the International Moral Court, researching human atrocities in Iran and encouraging the government to create a humane set of laws and punishment. Early in his career, he was a Fulbright scholar at the Universidad Javeriana in Bogota, Colombia, with which Gonzaga now enjoys an educational partnership, as well as a social work consultant in Guatemala, Peru and Chile.
During his tenure at Gonzaga, Fr. Coughlin oversaw the planning for, and/or construction of new or vastly renovated buildings for the schools of Engineering (1984), Business Administration (1987) and Education (1994), as well as Martin Centre for Athletics (1986), Foley Center (1992), Jundt Art Center and Museum (1995) and Dussault and Burch student residences (1995-1997). His passion for securing the University's future was evident in his penchant to grow the endowment fund from $1 million in 1974 to $60 million in 1996. During his time the University's reputation grew significantly, earning top 10 ratings in U.S. News & World Report's Regional Rankings in its annual Best Colleges publication.
"Every major decision he had to make at Gonzaga was with students first and foremost in his mind," once said longtime friend and former chair of the Board of Trustees, Donald Herak (RIP).
His empathy was an incredible part of his character. His was a life of prayer, although the early-morning solitude of his prayer did not admit of easy observation. He lived a life of sacrifice, although no one kept good track of the countless hours he spent visiting the ill, wounded and dying members of our community. As priest and counselor, he became personally connected with many families – officiating at weddings, conducting baptisms, anointing the sick, celebrating lives and grieving at funerals, and sharing holiday meals.
"Like the Lord he always attempted to imitate, Fr. Coughlin led by example. I never heard him malign anyone," said Fr. Pat Ford, S.J., (RIP) former Academic VP, who worked with Fr. Coughlin for two decades. Fr. Coughlin's impact was noted by others. Among many honors, he received the Distinguished Alumnus Award from St. Edward's University (Austin, Texas) in 1981, the Anti-Defamation League Public Service Award in 1992, an honorary Doctor of Laws from Seattle University in 1994, and was inducted into the Spokane Citizen Hall of Fame in 2018.
"I will personally always be grateful to Fr. Barney, for the unfailing and gracious generosity with which he shared of himself with me for over three decades – as priest, president, chancellor, mentor and friend," said Gonzaga President Thayne McCulloh. "Fr. Coughlin was a tremendous ambassador for Gonzaga University and I consider myself extremely blessed to have been able to work with, and learn from, him. For those who have known him, his passing marks the end of an era, and he will be deeply missed."
Fr. Coughlin is survived by his sister Marilyn Wood and numerous nieces and nephews. He was preceded in death by his parents, and brothers Larry, Pat and Donald. Donations in memory of Fr. Coughlin may be directed to the Coughlin Family Scholarship, Bernard J. Coughlin, S.J. Endowed Chair, or the Fund for Gonzaga at Gonzaga University; or to the Jesuits West Province of the Society of Jesus.
Services Information
Visitation
Thursday, Feb. 20
11 a.m.-4 p.m.
Della Strada Jesuit Chapel
323 E. Boone Avenue
Spokane, WA 99202


Vigil
Thursday, Feb. 20
6:30 p.m.
St. Aloysius Church
330 E. Boone Avenue
Spokane, WA 99202


Funeral
Friday, Feb. 21
11 a.m.
St. Aloysius Church
Reception immediately following the funeral in the Cataldo Hall Globe Room.

Notes of Condolence may be sent to: Brian Branda (nephew), 3100 Richmond Ave., Houston, TX 77098-3015.

Visit www.gonzaga.edu/Coughlin to honor and remember the life of Fr. Coughlin, and view stories, photos, videos, an online exhibit of his life and more. Find a retrospective of his life from Jesuits West Province here. Please continue to keep Fr. Coughlin, his Jesuit brothers, family, and friends, and all those touched by his loss in your thoughts and prayers.