Honors Q&A: Linda Tredennick, Director of Honors Program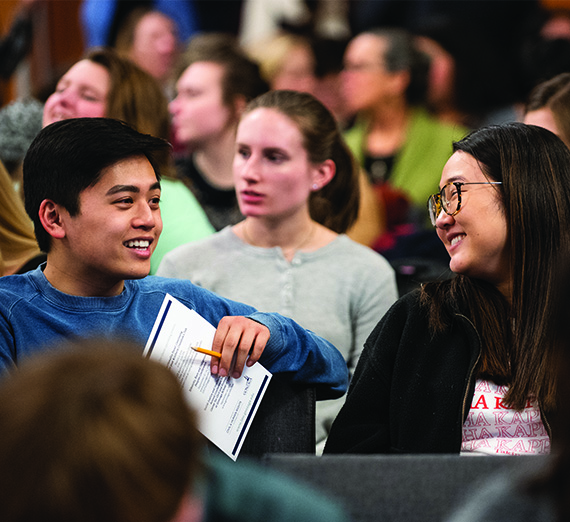 ---
What kind of students is the Honors Program looking for?
The program is looking for intellectually curious, engaged, creative students who are willing to take risks.
What can students expect from their Honors classes?
The classes are innovative and provide experiences unique to the program. They are student-centered, discussion-forward courses, with a focus on student production rather than test taking. As classmates, Honors students are prepared, respectful, and take education seriously.
From the Honors community?
The community is the best part about the program. This is a group of students who care about learning, academics, and challenging each other. The community extends past the classroom as well, to places like Crimont Hall [the Honors residence hall], where students can engage in Honors events, build community, and even participate in the monthly cookie baking night, as well as two annual retreats, a Christmas party, and an end of the year brunch to celebrate the graduating seniors.
What is your favorite part about overseeing the Honors Program?
The best part is definitely working with the students. They are smart, lively, and funny, and I love the chance to get to know them outside the classroom. Seeing them grow over four years, as opposed to just a semester, makes me optimistic about the future.
What should prospective students do if they want to be part of the Honors Program?
They should think about what that extra spark that makes them special is and how to capture that spark in a digital form. The application includes an electronically-submitted portfolio, where students can share what makes them special, and they have the freedom to show us what they want us to know about themselves. This could be a video log, a business plan, an art piece, or anything else. We hope that this is an application process that matches the values of our program and allows for students to showcase their creativity
What is the major difference between Honors and non-Honors?
The Honors program provides a pathway through the University Core. It brings students from all majors and programs into student-centered classes, and provides a few other perks. Students can participate in mentorship programs and the big/little program, which pairs a first-year with a junior or senior. This really helps open up the world to our first-year students, and they can see the possibilities available to them. Additionally, there is a $1,000 annual scholarship associated with admission to the Honors Program as well as a waiver of additional fees if Honors students take 19-24 credits per semester. They are also offered more study abroad options, for which they can use their Gonzaga Financial Aid. And, Honors students get free printing!
Application to the Honors Program is due January 1. Find more information here.