Gonzaga Students Conduct Medical Research at UW School of Medicine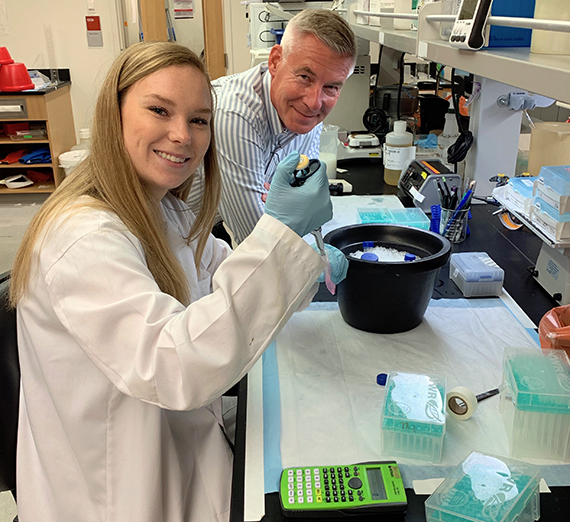 ---
SEATTLE — Five Gonzaga University students are participating in some of the nation's top biomedical research, working alongside noted experts to address health issues that affect Eastern Washington.
For the second year, Gonzaga undergraduates have been welcomed into University of Washington School of Medicine medical science research labs for summer internships. The program, developed by the University of Washington School of Medicine-Gonzaga University Regional Health Partnership, leverages the UW's research departments to advance medical research and education in the region.
Five GU students studying in such diverse disciplines as nursing, human physiology, biology, and biochemistry were chosen from 10 applicants for the career-expanding research experiences that began in mid-June.
Courtney Law, Ph.D., who leads Gonzaga's efforts within the partnership to expand and enhance medical education and research in the Spokane region, said last year's participants were particularly helpful in letting this year's applicants know what to expect.
"We've built upon the core strengths of last year's pilot for this new round," Law says, "pairing undergrads with mentors — either graduate students, faculty researchers or postdoctoral fellows — based on their career interests, and once again, the UW has offered in-depth, personalized experiences in their world-famous research laboratories. Our students know how fortunate they are to be here."
Megan Glenski ('20), a biology major at GU, is working in the UW's Genome Science Lab, researching the evolution of reproductive proteins in abalone. "This experience has an incredible learning curve," she states. "Already I have learned a lot of basic genetic techniques like PCR (polymerase chain reaction, a method to make copies of a specific DNA segment), pouring and running my own gels, designing primer pairs for amplifying genomic DNA, and extracting DNA from abalone samples. My biggest takeaway so far is how exciting genetics work is and how fast things change. The result of one experiment can yield five new ones. I have several projects underway. It is so exciting!"
Tackling healthcare from a completely different perspective, GU nursing major Holly Ebel ('20) is working at the International Training and Education Center for Health in the Department of Global Health at the UW. The team she works with is exploring differentiated service delivery models for HIV/AIDS treatment and task-sharing among healthcare workers in 60 different facilities across Tanzania.
"I'm helping organize the data the teams have collected, and I'll begin assisting in the data analysis soon," Ebel explains. "I'm really interested in how much there is behind each set of data that pose big challenges when conducting research. The work is led by women researchers, and there is a super inclusive work environment that's also very inspiring."
Over at the Bornfeldt Laboratory in the UW Diabetes Institute, Chloe Sciammas ('20), a biochemistry major at GU, is exploring how diabetes accelerates cardiovascular disease. Her assignment is to genotype mice to ensure comparative models so the team can observe the function of a specific enzyme thought to contribute to atherosclerosis, a specific type of arteriosclerosis in diabetics.
She, too, is enthusiastic about her first few weeks in the lab: "I have learned how to effectively engage with scientific material more easily and ask complex questions in response to my newfound knowledge. My perspective is expanding from student to researcher, and the creativity and curiosity that comes along with that has grown immensely since starting my time in the Bornfeldt Lab," she says.
John Slattery, Ph.D., vice dean for research and graduate education at the UW School of Medicine, who helped select the students, reports his goals for the program are to help the students experience some of the most modern biomedical research in the nation, and to connect them with experts who can help advise them in their careers.
"The UW School of Medicine is very happy to make a world-class research opportunity for GU students," said Slattery. "This program is a direct result of the UW's partnership with GU. It allows GU students to both enjoy the benefits of attending a relatively small University while also gaining access to the world-class laboratories at the School of Medicine. Both students and mentors enjoy the summer experience immensely. The benefits flow both ways."
All of the GU students remark on the cohesion and shared commitment to excellence within their work environments.
"There are more than five countries represented on our small team, including scientists from Sweden, China and Japan," Sciammas states. "I have been pleasantly surprised by the amount of community and collaboration that is present within the lab. Although each researcher aims at answering a different question, every scientist has a finding or result that can contribute to answering another scientist's question."
The internships conclude in mid-August and GU students will have the opportunity to discuss their experiences at the UWSOM-GU Regional Health Partnership Poster Session Oct. 24 on GU's campus.
The UW School of Medicine-Gonzaga University Regional Health Partnership
In 2016 the University of Washington and Gonzaga University formed a regional health partnership to continue, enhance and expand medical education and research in Spokane. The agreement makes Gonzaga a partner in the University of Washington's regional, community-based medical education program, WWAMI (an acronym for the states it serves: Washington [Seattle & Spokane], Wyoming, Alaska, Montana and Idaho), and sets in motion plans to advance health-related research, entrepreneurship and interdisciplinary health sciences teaching in Spokane. Learn more about the Partnership.

Media Contacts: Courtney Law, Gonzaga's director of the Regional Health Partnership, at (509) 313-5658 or lawc@gonzaga.edu; Kim Blakeley, director of UW Medicine Strategic Marketing & Communications at (206) 685-1323 or krb13@uw.edu.