Zags Share Their #SummerGig Internship Stories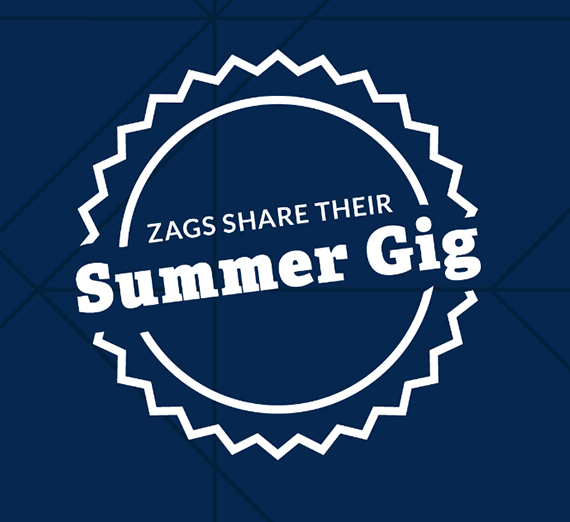 ---
We reached out to current Gonzaga students and asked them to share their #SummerGig stories of internships across a variety of majors with top companies around the world.
Watch their videos on our YouTube channel (#SummerGig playlist) and see new ones on Gonzaga's Instagram Stories. Below is a look at some students who've shared their stories:
Gonzaga #SummerGig Videos
Matt, Marie, Matthew, and Delaney - Seattle Seahawks
Gonzaga alumni Marie Hayman ('18), Matt Peterson ('17), Delaney Clark ('19) and Matthew Beaird ('19) had #SummerGigs working with the Seattle Seahawks in various departments across the organization.
Ann Monroe, Gonzaga University
Ann Monroe ('20) is a senior public relations major from Portland, Oregon who stayed on the Gonzaga campus this summer to intern with our Marketing & Communications department. Ann has been the person behind the scenes on our social media channels and developed this #SummerGig video series. She's been sharing others' stories ... now she's sharing HERS.
Morgan Graves, Go BIG Media
Morgan Graves is a political science student earning #SummerGig experience working for Go BIG Media in Alexandria, Virginia right outside Washington, DC. While working on client's campaigns, she learns how to leverage technology and design to tell stories.
Alyssa Rustik, KPMG
Not only does incoming senior and accounting student, Alyssa Rustik get to intern at KPMG for her #SummerGig, but she gets to do so in Sydney, Australia. Hear how Alyssa experiences working as an audit intern on the other side of the world.
Annie Mayfield, IBM
Gonzaga business administration major, Annie Mayfield landed her #SummerGig at IBM in Atlanta, Georgia as a Digital Sales intern. She's thankful for IBM's guidance in developing her professional skills and sales techniques.
Joseph Werner, City of Red Wing
Joseph Werner is a business administration student at Gonzaga University. Tasked with overseeing and maintaining infrastructure for a city 45 minutes outside Minneapolis, Joseph enjoys spending his #SummerGig in Minnesota as a part of the City of Red Wing's Public Works Department.
Sanna Darvish, Human Performance Research Lab, Colorado State
Sanna Darvish is a human physiology major at Gonzaga University. She received a fellowship through the American Physiology Society to work at the Human Performance Clinical Research Laboratory at Colorado State University, learning about research related to aging and chronic disease.
Liam Allan, Columbia Records, NYC
Liam Allan is a business administration major at Gonzaga University. Through some creative networking, he landed a dream #summergig with Columbia Records in New York City.
Abigail Morris, Contra Costa Co. District Attorney
Abigail Morris is a criminology major at Gonzaga University. Her 2019 #SummerGig is with the Victim Witness Unit for the Contra Costa County District Attorney's office. She was able to land this opportunity with assistance from Gonzaga Center for Career and Professional Development.
Julian Moreno, Gonzaga University
Julian Moreno is going into his senior year as a history major at Gonzaga University. He has worked with Gonzaga's Undergraduate Office of Admission since freshman year, and enjoys interacting with prospective students.
Diego Valdez, Microsoft
Diego Valdez is a Computer Science major at Gonzaga University. He is spending his 2019 #summergig at Microsoft as a Program Management intern, creating services that allow Window's developers to be more efficient.
Bryce Parsons and Devon Smith, Tableau Software
Both of these Zags are spending the summer before their senior year at Tableau Software in Seattle, Washington. Hear about their #summergig experiences as a Customer Success Analyst intern, and Customer Engagement intern.
Makenna Girard & Darby Howat - NDSU Williston Research Extension Center
Makenna Girard ('21), a Spanish and Biology major, and Darby Howat ('20), an Environmental Studies and Biology major, have spent their summer in North Dakota working with the NDSU Williston Research Extension Center for their #SummerGig!
Made possible by GU Career & Professional Development