Picture This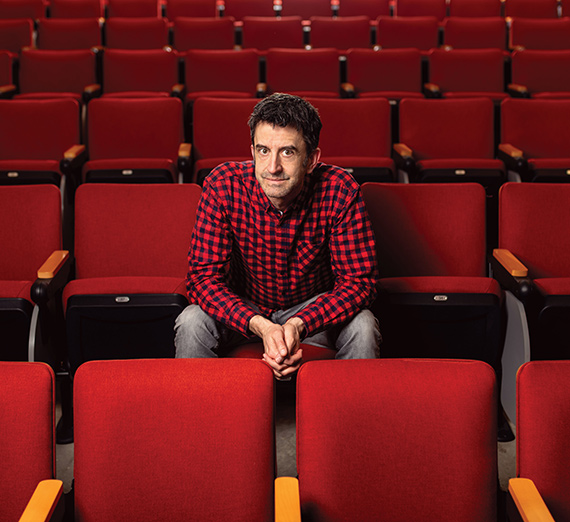 ---
In summer 2017, Matt McCormick was enjoying breakfast with friends at Kendall Yards overlooking the Spokane River gorge.

"I had come here many times over the past 20 years," he says, "but that particular time I thought 'Spokane is really popping. Too bad there aren't any schools here with a film program.'

"A year later a friend forwarded a job description, I applied and here I am," says the man hired away from Portland State last year to orchestrate Gonzaga's new minor in Visual Literacy, a collaboration of the Integrated Media and Art departments.

McCormick is quick to credit department chairs Susan English and Shalon Parker with completing the groundwork for the new program. They hired the former Portland State filmmaker and teacher to implement, fine tune and expand the program, he says. "We're really excited about the potential for overlap between documentary filmmaking and GUs mission of social justice.

"Making a film gives one the opportunity to really explore a topic or people. It takes them places they may not have ever gone. Looking at social justice issues, students realize they can make a powerful statement that will be heard by others. I see students becoming aware of their own voices," McCormick says.

The new program is a combination of technical and analytical aspects of visual production, approaching photography or film and video production in a professional manner. Students are asked to dive deep into their subject matter, but also look at the history of the art form and the theoretical ideas behind it, and explore what makes film images striking. "They make work that is powerful and responsible," McCormick says.

Already the University has 20 declared minors, and that number is growing. In addition to teaching, McCormick also is an accomplished documentary filmmaker. "I gravitated toward teaching because I felt good about the work. And while teaching makes me a better filmmaker, filmmaking makes me a better teacher." Two of his recent documentaries were featured in April at the Magic Lantern, "The Great Northwest" and "Buzz One Four."

A juried selection of student-made film and video work was presented May 3 at the first Gonzaga Film Festival. And it popped.