Damon George Receives 2019 Garrigan Award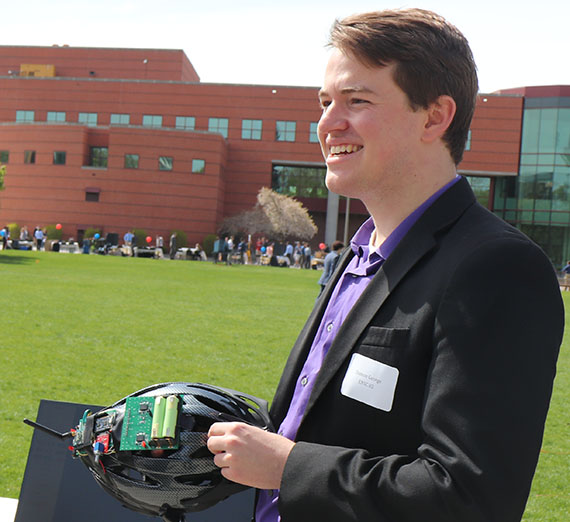 ---
Updated May 17 with Q&A with Damon George
Engineering courses are notoriously difficult, but engineering student Damon George managed to do more than excel in his classes. His four-year Gonzaga GPA was higher than any other graduating seniors, earning the computer engineering major the Garrigan Award at the May 12 undergraduate commencement ceremony.
This came as no surprise to his academic advisor, Dr. Yanqing Ji. "Damon George is the best student in my classes over the past 12 years at Gonzaga. I have seen students who consistently get A's in their classes, but I have never seen a student who is as smart as Damon. He does an almost perfect job for each assignment and exam," Ji said.
George's perfectionism transferred to his senior design work. He and two other students created a bicycle helmet with sensors to warn cyclists of nearby threats. It was one of this year's top design projects. George "would say he would put together this or that part of the project, and whatever he brought back to the group was 100% right," said project advisor Tim Ecklund. "That was very nice, and normally not the way things go."
Dr. Ji said that George spent time playing on intramural sports teams and in jazz combos. That love of music and sports showed at commencement, when Interim Provost Lizbeth Martin announced that "his favorite moment at Gonzaga was being in the Kennel on Senior Night."
George plans to attend Oregon State University next year to pursue a Ph.D. in computer science, with a focus on Artificial Intelligence.
The William A. Garrigan, S.J., Award is a gift of the University to the member of the graduating class who has achieved the highest cumulative grade point average for four years of undergraduate work at Gonzaga. The award honors the memory of Fr. Garrigan, who served Gonzaga from 1904-1919 under various titles, including vocal music teacher, sports officiator, and prefect of discipline.
Q&A with Damon George
Were you surprised when you learned you earned this award?
Yes, I was very surprised when I learned that I had received this award. I knew I had a really high GPA, but I had never considered that I could have been at the top of my class. It was an amazing surprise!
What inspired you to go into Computer Engineering?
I was originally introduced to software programming in high school by my dad, who works in the software industry as well. I quickly discovered that I really enjoy programming, so when applying to college, I knew I either wanted to study Computer Science or Computer Engineering. I chose engineering because I thought it would challenge me further to not only learn programming, but to also learn how computers and electronics are built.
Who has supported and/or inspired along the way?
My parents have definitely been very supportive of me throughout my time at Gonzaga, helping me whenever I needed it. The teachers in the electrical and computer science departments have inspired me to learn as much as I can and to work as hard as I can, which I am extremely grateful for. Lastly, I am extremely grateful to my close friends in the computer science and electrical departments for keeping me on my toes throughout the past 4 years.
What's the first/ a memorable project you did that made you feel this was the right path for you? What about it was special?
The first time I realized that I knew I wanted to become a software programmer was during my summer internship at Open Sky Software after my first year at Gonzaga. I developed an advanced website prototype template that the company uses to build future websites and upgrade existing ones. This project was special because it was the first large scale programming project I had ever worked on and because I was working on it by myself, for the most part. Being able to succeed on that project on my own, and having fun while doing it, taught me that I could actually become a great programmer.
You kept interning with Open Sky Software in Bend during your summers. How did that tie into your studies, and vice versa?
Working at Open Sky Software was fantastic. I developed and programmed advanced web applications, which really helped to improve my coding ability outside of school. It also gave me a great look into what a real career in programming looks like and taught me the professional methodologies for programming that are actually used in the workplace. Sometimes it is hard for school to prepare you for how jobs actually work out in the world, so I am very glad for that internship.
What activities/groups outside of engineering have you participated in?
Throughout my time at Gonzaga, I played guitar in the Gonzaga music department's jazz bands. It was a ton a fun, helped me to meet a bunch of people I wouldn't have normally met through the engineering school, and gave me time to relax from my studies.
What's next for you?
Next fall I will be attending Oregon State University to pursue a Ph.D. in Computer Science, with a focus on artificial intelligence and machine learning. I am very excited to continue learning more advanced and cutting-edge topics in the field of computer science. Graduating from Gonzaga, I didn't feel I was quite ready to leave school behind, so I decided to commit to some more years of schooling and research because I think I will really enjoy it.
Why did you choose Gonzaga? What would you tell others considering coming to SEAS?
I chose to attend Gonzaga because of their fantastic engineering program, because of the campus's great location in the northwest, and because I fell in love with the community. The people at Gonzaga are simply fantastic. I'm pretty sure that few other universities can claim to have a more tight-knit and loving community of students and faculty than Gonzaga.