Morgan Smith Gives Voice to Social Justice
Zag Grads 2019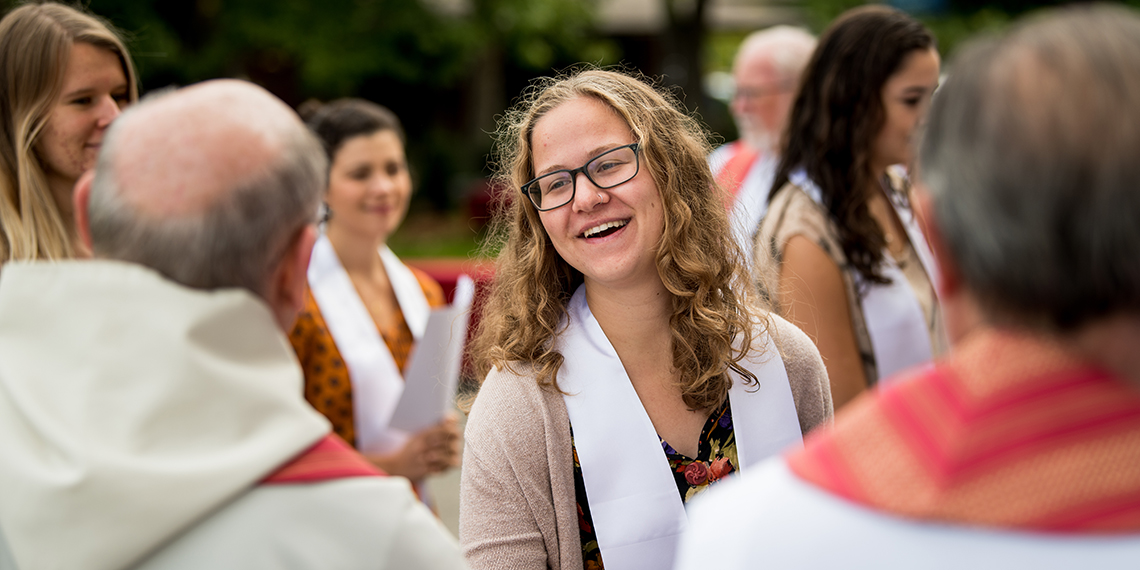 SPOKANE, Wash. — Senior Morgan Smith says she couldn't have imagined all the places she would go at Gonzaga University, but she's thankful for the journey.
Smith says her campus visit confirmed for her that she was meant to be at Gonzaga, which she saw as a place for growth. She has thrived since. She was active in service during her high school years and appreciated GU's established culture around serving others.
Smith is majoring in communication studies, minoring in English and solidarity in social justice. She has honed those skills both in the classroom with inspiring faculty and in immersive service program opportunities with caring mentors. Those closest to her are consistent in their praise of her qualities.
"Morgan's life as an academic is oriented toward fostering good in the world. Her dedication to service is evident in her post-grad plans working in development (empowering women) in Cambodia. Morgan embodies all we hope to see in those who are the product of Jesuit education," says Luke Lavin of Mission & Ministry.
Ministry colleague Ally Clapp couldn't agree more with that assessment.
"Morgan has a gift for intentionality and moves through this world seeking and serving the sacred," says Clapp. "She constantly reflects on her impact on others, reverently honors the stories of people and places she comes across, and purposefully walks with love. She is a critical thinker, a passionate leader, and a remarkable light to others."
While Smith has been a spiritual leader on campus, her calling for social justice brought her to the Center for Community Engagement, where she's served in various programs.
Smith volunteered in Campus Kids, Justice in January, and Mission Possible. She also worked as a CCE student liaison, supporting the development of the student staff team. For the past three years, Smith has served as a Community Engaged Learning (CEL) intern, supporting community partner agencies, CEL faculty, and Gonzaga students.
"She has shown a tremendous capacity to articulate Gonzaga's mission of providing learning experiences that educate students for lives of leadership and service for the common good," a CCE staff colleague wrote. "Morgan has been able to balance her responsibilities at work while representing our office with warmth, authenticity, and enthusiasm. She doesn't just talk about service and justice, she is also always attempting to live her life in ways that are consistent with her beliefs."
Smith seemingly always gravitates toward leadership roles, serving in that capacity for Reality Camp for three years after being a participant her first year.
"Morgan is very thoughtful and intentional in the way she carries out her work and in how she thinks about social justice. She is willing to engage on a deep level and genuinely invests time in building connections and community with others," wrote a CCE colleague.
Smith is always building bridges and fostering connections, including those between Mission & Ministry and CCE — two programs that represent Gonzaga's heart and soul.
"As a spiritual leader on campus, Morgan has pushed students, staff, and faculty to a mature responsibility of our faith. She is in constant dialogue to ensure that the voice of the margins are present in our faith narratives," says Lavin. "She has brought together a passion for 'faith that does justice' with a 'justice that does faith.'"
Academics
College of Arts & Sciences
Office of Mission & Ministry
Community Action and Service Learning
Communication Studies
English
News Center