Family over Everything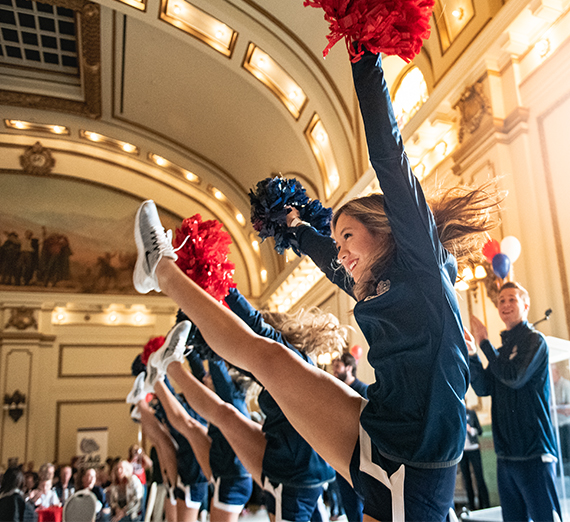 ---
Some of the hardest-working athletes on the basketball court aren't the ones playing; they're the ones cheering on the sidelines. As the frenzy of basketball season has ended, we want to put a spotlight on the Gonzaga cheerleading team that works tirelessly throughout the season, appearing at several athletic events a week and committing to weekly practices. They also balance their academics and athletics, a feat that's not easy, especially during tournament season when they are traveling frequently.
"Balancing athletics and academics has been a challenge but overall, I believe that it makes me a better student, because it forces me to prioritize my time," says Emily Froeber ('19). As a nursing major, Froeber spends several days a week in clinical rotations, but has managed to continue cheering while balancing her school schedule. "Because academics are our number one priority, our coach allows me to show up late to practices and games. I can't express how thankful I am that she allows me to do this because throughout my four years at Gonzaga, I have been able to get an incredible education and have an outstanding cheerleading experience."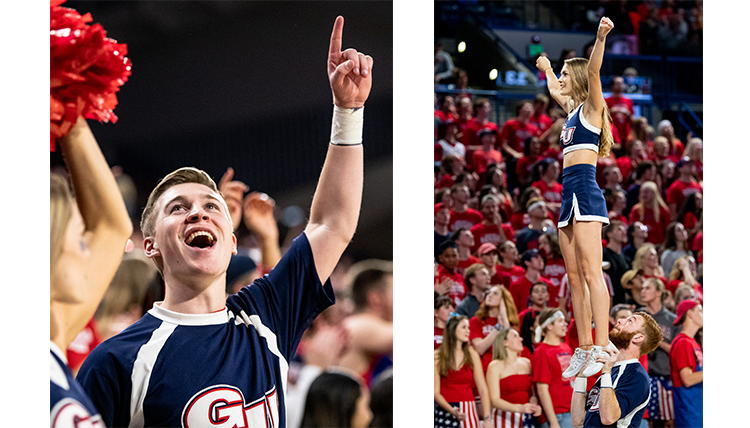 Coach Michelle Wilson echoes Froeber's commitment to academics. "When we're traveling with the basketball programs, the students will set up study tables, or put in their headphones and do homework on the plane," she says. "They know they are responsible for their education and they take it very seriously."
Of course, the team experience is more than just doing homework while away from campus. Wilson says the group makes an effort to explore whatever city they are visiting, choosing a local restaurant for dinners and enjoying a new place. "We are so close, so traveling with the team feels like going on vacation with your family," says Froeber.
One aspect of the team that both Froeber and Wilson continually highlight is the closeness and supportiveness of the students. In fact, the men tape their wrists before games and write "FOE" on the tape – "Family over Everything."
"They have to trust each other, because they are literally holding each other's lives in their hands," says Wilson.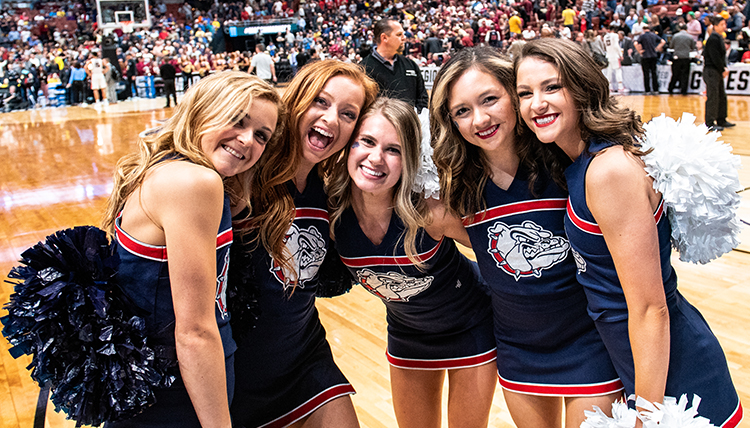 The cheerleading squad is unique because many of the athletes did not cheer in high school. It combines previous cheerleaders and athletes from all majors into one tight-knit group. As Froeber says, "Even though we all might have different athletic backgrounds, we have built an amazing team. If it weren't for cheer, I don't think many of us would have met or become friends simply due to our different majors, grades, and hobbies. However, because of cheer we have become a family."