Bloomsday: An Entrepreneur's Story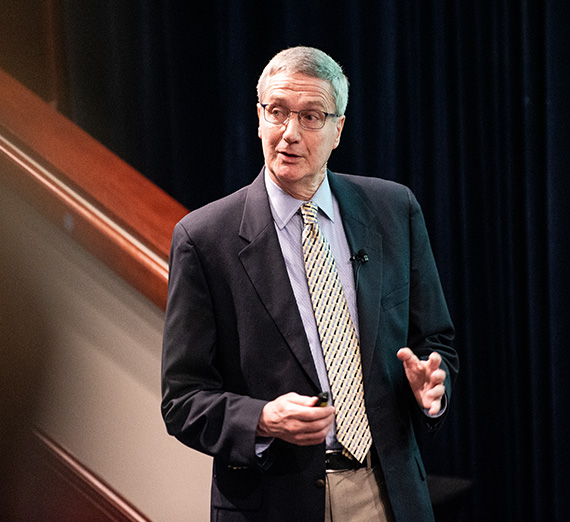 ---
Every year on the first Sunday of May, a bubble of energy and activity bursts through the streets of Spokane. Donned in athletic shorts, tank tops, running shoes and bold numbers – some in wheelchairs, some on foot – thousands of individuals gather behind a banner of multicolored balloons to participate in one of America's largest road races: Spokane's annual Lilac Bloomsday Run.
Gonzaga's School of Business Administration invited Bloomsday's founder and Race Director Don Kardong to speak about his entrepreneurialism at the 2019 Pigott Lecture. Kardong – retiring after Bloomsday 2019 – reflected on the origin story, changes and challenges of this iconic, Spokane event.
Kardong said he never thought of himself as an entrepreneur. He started running as a student at Seattle Preparatory School to train for basketball, but eventually found his niche with running. Additionally, a group of friends at Stanford encouraged him to push himself as a runner. After years of training, he came in 4th during the 1976 Summer Olympics marathon. The Olympics generated publicity in Spokane, where Kardong was teaching at the time. He ran in the 1976 Peachtree Road Race, which accumulated an astounding 2,000 runners for its time. With Spokane's recently-renovated downtown and the brand-new Riverfront Park from the 1974 World's Fair, Kardong recognized Spokane's potential as a location for a large race like Peachtree.
Creating Bloomsday, Kardong said, was actually the result of a coincidental series of events. At first, a reporter stopped to interview him during a small run in Spokane, where Kardong mentioned the idea. Later, he encountered former Spokane Mayor David Rodgers, who recognized Kardong from the reporter's newspaper story, and a member of Spokane Jaycees in an elevator. Both individuals showed interest in helping Kardong bring the event to life.
"I wasn't sort of trying to start a run, but I thought it would be good, and fortunately I ran into Mayor Rodgers," Kardong explained. "[The mayor] said to me, 'You're that Olympic runner, right?' and I said 'Yes.' He said, 'Well, I read what you said in the newspaper. I think that would be a great thing for Spokane.'"
The name "Bloomsday," Kardong explained, was inspired by James Joyce's 1922 novel "Ulysses." The story follows the day-long journey of Leopold Bloom through the streets of Dublin, paralleling Ulysses' adventure in Ancient Greek mythology. "Ulysses" enthusiasts gather annually to celebrate this day in literature and to recreate the events. June 16 has since become known as "Bloomsday," from which Kardong drew his inspiration.
"I sort of said, 'You know, if James Joyce can use Dublin, Ireland, and a character meandering his way through the streets of Dublin as a parallel of the journey of Ulysses, then I can use the same thing for the streets of Spokane," Kardong shared. To distinguish between the run and the celebration of Joyce's novel, he expanded the name to "Lilac Bloomsday," after Spokane's favorite flower.
During Bloomsday's opening run in 1977, Kardong and his team hoped for 300 entrants. Instead, Bloomsday's first and second events saw a whopping 1,200 and 5,000 entrants, respectively. The numbers continued to rise, reaching around 56,000 runners in 2011. Maintaining these numbers, as well as managing the course, t-shirt orders, security, event flow, new elements each year, and positive experiences for participants of all abilities, are some of the behind-the-scenes challenges of Bloomsday's success, Kardong said.
Since 1977, Bloomsday has welcomed participants locally and around the world, producing over $13 million in estimated, economic impact and years of memories for the City of Spokane.
The Pigott Entrepreneurship Lecture is made possible through a permanent endowment established by the Pigott family to educate the next generation of global leaders. Learn about other lectures and events hosted by the School of Business Administration here.